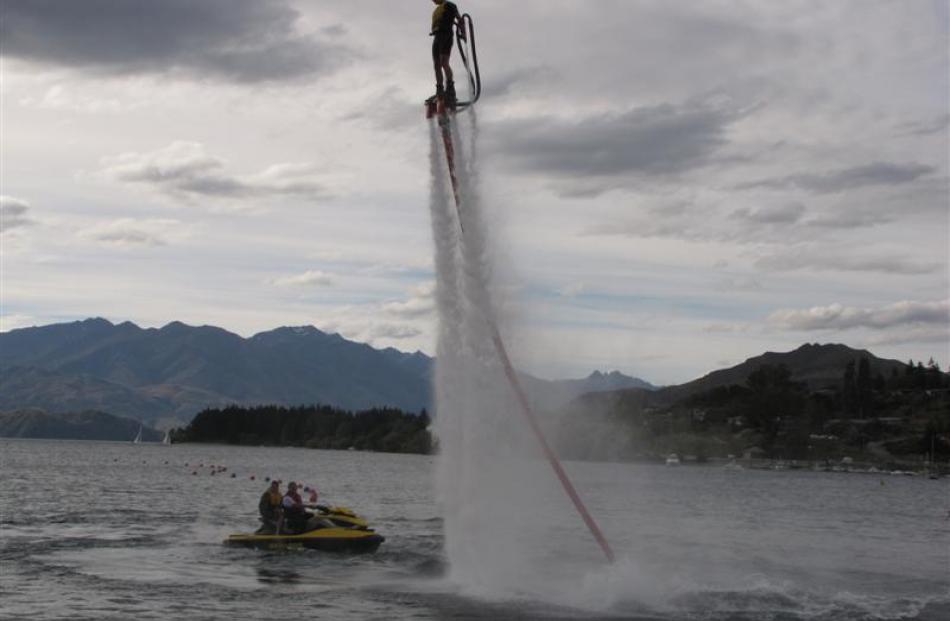 As a child, Pablo Varley dreamed of being able to fly. This summer, the Wanaka watersports enthusiast's wish has been fulfilled - almost.
As the proud new owner of a futuristic-looking Flyboard, which he bought as a Christmas present to himself, Mr Varley (42) and his family and friends have spent many hours soaring over Lake Wanaka on the water jet-powered flying device, which has been drawing the attention of curious onlookers.
''Every time we go out you'd be amazed how many boaties are sitting around watching and filming ... to actually see it in front of you, it's really quite bizarre,'' Mr Varley said.
''We're not really after that attention thing, but we just can't help but get it.''
Mr Varley's teenage daughters are becoming particularly proficient on the machine, which is attached to a jet-ski by a 15m hose allowing propulsion under the water and into the air, and is controlled by the wearer tilting their feet.
Because the Flyboard is reasonably easy to master, Mr Varley is always eager to offer others - even strangers - a turn.
''I like sharing my toys.''
However, he reserves plenty of practice time for himself, too, to realise his childhood dream.
''I remember as a kid we used to hold on to umbrellas and jump off the roof. I always wanted to fly like Mary Poppins.
''Our generation grew up with The Jetsons. We should have been flying by now, anyway.''
Jamie Anderson, sales director for Flyboard distributor Luxury Toys NZ, said Flyboards retailed for $14,000 to $16,000. About 10 had been sold since they were launched here in November. Mr Varley was the first in the South Island to buy one, and remains the only Otago Flyboard owner.
All purchasers are put through a basic training programme approved by Maritime New Zealand.
''You can't just walk into a dealer and buy one and walk off with it,'' Mr Anderson said.
Taupo will soon have rental Flyboards available to the public and other centres are expected to follow.
The Flyboard was invented by Frenchman Franky Zapata who developed it into a viable mainstream commercial product after fine-tuning prototypes. When it first appeared on YouTube in December 2011 it attracted 2.5 million viewers in 15 days.