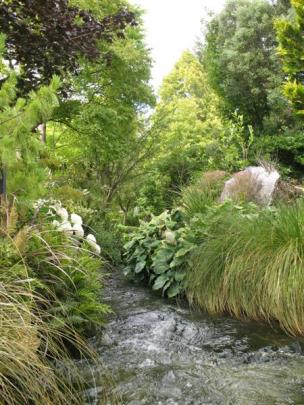 Wanaka has its first ''garden of national significance''.
Pat and Keith Stuart have been tending their 4000sq m of land on the corner of Warren and Helwick Sts, near central Wanaka, for 30 years and a few weeks ago learned their work had been recognised by the New Zealand Gardens Trust.
Gardens in the same category include Dunedin's Chinese Garden, Glenfalloch Woodland Garden, on the Otago Peninsula, Blair Garden, at Lake Hayes, and Briar Dell, at Cromwell.
Both Mr and Mrs Stuart have long backgrounds in horticulture. Mr Stuart worked at the Dunedin Botanic Garden about 60 years ago and Mrs Stuart worked at the Christchurch Botanic Garden, where the couple met.
They have previously farmed and gardened at Waipahi, in South Otago, and 40 years ago founded a business exporting hellebores [winter roses], mostly to Japan at that time.
That business has grown into the biggest hellebore nursery in the southern hemisphere and is still run by a family member.
Speaking to the Otago Daily Times this week, Mrs Stuart said maintaining their Wanaka garden was time-consuming, especially at this time of year, and they were aiming to make it more ''easy care''.
''We just want to simplify it and make it easier.''
The garden is always open to Wanaka residents at no charge and Mrs Stuart said that had never created serious problems.
''Occasionally, the odd bit of seed goes missing, but nothing drastic.''
Mrs Stuart said Wanaka had excellent growing conditions which had meant many trees had become too big and had needed to be removed over the years.
The criteria for gardens of national significance include such things as the style and character of the garden, the use of space, ornamentation, plant health and ''wow'' factor.