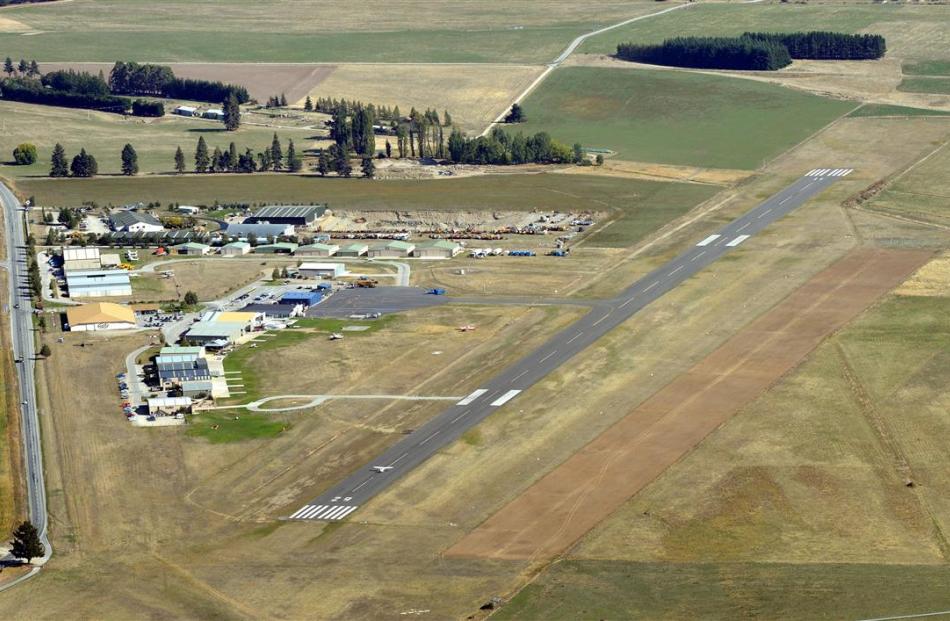 More land, more runway, more hangars, more passengers, bigger fees and a change of ownership are in the wind for Wanaka Airport.
At its meeting tomorrow, the Queenstown Lakes District Council will consider a report by Auckland aviation consultant Astral.
It contains a long list of suggestions to deal with expected growth at the 132ha airport over the next 40 to 50 years.
But the biggest immediate decision for the council could be around ownership of the airport.
The council is the current owner. Management is carried out by Queenstown Airport Corporation (QAC).
The council, in turn, owns 75.01% of QAC, with the remainder owned by Auckland International Airport Ltd.
Astral favours either selling Wanaka Airport to QAC or forming a new council-controlled company (see box).
The report noted that while the airport was well run there had been a lack of long-term planning, and responsibility for it within the council appeared to be ''very fragmented''.
''The strategic value of the airport asset is at risk of being lost through this and high staff turnover with little institutional knowledge.''
The report considered the Wanaka airport's role would be to accommodate the ''spill-over'' from Queenstown - such things as general aviation, maintenance and plane parking but potentially with some 50-seat scheduled and charter flights.
It found the commercial area of Wanaka Airport was ''very constrained'' because of the 200m setback required from either side of the runway centre line and potentially a 300m setback.
Previous plans had suggested hangars be allowed for on the northern side of the runway, towards the Clutha River, on land owned by Big River Company.
However, the report suggested a better option was to buy nearly 40ha land on the south side, now owned by the Pittaway family, and almost next to the existing airport commercial area.
''Its acquisition by the airport would provide nearly 40ha of flat land ideal for commercial development once zoning issues are addressed.''
The piece of land, known as Windermere Farm, is on the market, with a deadline private treaty closing tomorrow. Resource consent for 11 aircraft hangars on the Windermere land had lapsed and would need to be renewed by the council.
The report said the airport already had 12 ''firm requests'' for new hangars accommodating 23 aircraft and covering 22,800sq m.
One request was from Nasa, requiring a building of at least 2500sq m to for its high-pressure balloon-launching facility.
The report noted the airport had gross revenue of $472,000 for the year to the end of June - 39% from landing fees and 55% from ground leases.
It was considered the average lease of $6.75 per sq m should be closer to $10, and landing fees, less than half Queenstown's, should be increased.
It believed there were cost advantages for 50-seat aircraft such as Air New Zealand's Bombardier Q300 to use Wanaka over Queenstown.
''However, the issues are whether the market can support a year-round operation ...''Four landings per day would boost landing-fee income by about $300,000 per year.
The report noted the airport had assets of $900,000 and long-term internal debt of $789,000, and therefore had ''insufficient equity and leverage to fund a large asset purchase or major maintenance''.
The plan it proposed requires spending of $15.5m over 15 years.
---
Airport options
Astral Aviation Consultant's favoured options for Wanaka Airport Ownership: A new Wanaka Airport company
•Controlled by Queenstown Lakes District Council.
•A board of directors consisting of two senior council executives, two Queenstown Airport Corporation (QAC) executives and an independent chairman.
•The board to have ''a duty to consider what's best for the airport ahead of any related party interests''.
•Airport management by QAC.
•Advantage: Retains asset ownership 100% within council ''thereby not triggering any Treaty [of Waitangi] claim process''.
Sell Wanaka Airport to Queenstown Airport Corporation (QAC)
•''Effectively'' retains council ownership through the council's 75% ownership of QAC but ''would vest 25% in the minority shareholder, Auckland International Airport''.
•Wanaka Airport could be ''completely integrated'' into QAC's operations or ''could be held as a wholly-owned subsidiary with its own board of directors''.
•Would ensure governance and management of the Queenstown and Wanaka airports in a ''complementary way''.
•Possible disadvantage: Requirement for a return to shareholders rather than profits being ''ring fenced'' for reinvestment in Wanaka Airport.
•Possible disadvantage: A Treaty of Waitangi claim could arise from the sale of the airport to a non-government entity.
---