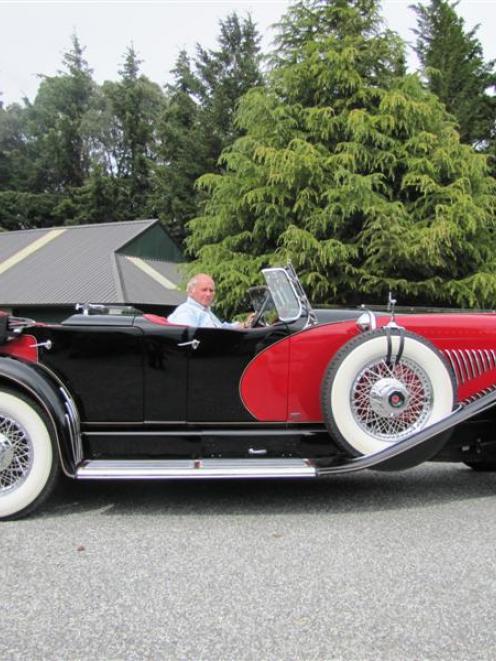 Wanaka earthmoving contractor Robert Duncan is a little vague on how a 1934 Duesenberg Model J car once owned by Hollywood movie star Carole Lombard came to be in Wanaka.
All he will say is the move, from the deceased estate of an American car collector to the Wanaka Warbirds and Wheels Museum, was achieved legally.
He also sidesteps any questions about how much the car cost, but notes a similar model fetched $10.34 million at an auction last year, potentially making this the most valuable car in New Zealand.
Mr Duncan says he prefers to be known as the car's ''caretaker'' - ''because I say you never own these things - especially a Duesenberg. You just look after it for a little while until the next person gets it.''
Mr Duncan collects Cadillacs and Packards but was on the lookout for a Duesen- berg because it was ''the iconic American car''.
''I mean, there is nothing better.''
The Duesenberg brothers, Friedrich and August, German immigrants to the United States, started out early last century with a bicycle shop in Iowa, before building motorcycles and cars.
In the late 1920s, Fred was set the task of producing ''the greatest automobile ever made in the United States'' and by the mid-1930s was turning out eight-cylinder supercharged cars capable of 140mph (225kmh).
Mr Duncan said they were far more powerful than most cars at that time and were considerably more expensive.
Al Capone could afford one, and so could Howard Hughes, William Hearst, Mae West, Clark Gable and his wife, Carole Lombard.
There were 481 model J chassis Duesenbergs built over nine years before the company folded in 1937, and 378 have survived.
The Wanaka Duesenberg has some unusual features. The brake lights spell out ''stop'', the two headlights turn with the steering, there are separate windscreens for the rear passengers and the exhaust manifolds are coated in green porcelain glaze.
Mr Duncan says the car would have cost $US17,000 new.
''To put that in perspective, a surgeon earned $US3000 a year and for $18,000 you could buy three Cadillacs or Packards ... and you could buy about 60 Fords or Chevs.''
Lombard and Gable, famous for his lead role in Gone With The Wind, owned 15 Duesenbergs at various times, including the one now in Wanaka.
Mr Duncan, who spent 18 months negotiating with the deceased estate of a ''Duesenberg specialist'' in Nevada to get the car to New Zealand, says there are rules in the United States about removing rare vehicles. But the car ''went through all that OK''.
''If it was a bit rarer; if it was only one of one, it wouldn't have been allowed to leave America.
''It left America legally.''
Since then, Wanaka, Cromwell and Geraldine tradespeople have been restoring it, re-creating some parts that were missing.
Mr Duncan, who owns and operates the family business of Maungatua Contracting, said although the car would be on display at the museum, he would drive it ''occasionally''.
Asked how one would drive such a valuable car, he said: ''Fast. They don't like going slow.''
And asked what it was like to drive, he added: ''Absolutely .. awesome. It's so smooth, it's so powerful, it's just got such a presence.
''You get a lot of smiles per gallon.''