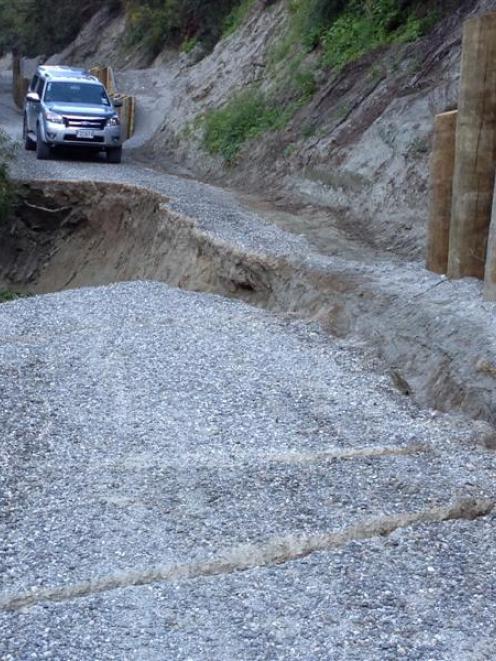 A detour has been put in place on a section of the Kawarau River Trail, part of the $5.4 million Queenstown Trail which opened in October, after a 20m section slumped over the weekend.
Queenstown Lakes District Council community services general manager Paul Wilson said the section of the trail, which borders Remarkables Park, had first been reported as slumping on Friday after high river levels had scoured the bank.
''Over the weekend it became apparent the area was slumping further and we have had to take action to close the trail at that point for safety reasons,'' Mr Wilson said.
The 12km Kawarau River section of the 110km Queenstown Trail - part of Prime Minister John Key's $50 million nationwide cycling initiative - was the only section not fully completed before the October 18 deadline, due to the extent of historical slips discovered.
At the time Wilson Contractors put a 3km ''diversion trail'' in place, allowing users to access the full trail, while work was continuing on the trail proper.
That diversion was now back in place until repair work had been completed on the slump section - likely to take up to three months.
Mr Wilson told the Otago Daily Times yesterday the slump ''may be a reactivation'' of an historic slip. Geotechnical investigations were being made.
''It's fair to say we've always known that section is prone to slipping. High river levels have exacerbated that.
''You can actually see water bubbling up from the bottom of the slip.
''It's quite possibly some underlying water is causing it, as well.''
He said there was no way the slump could have been prevented during the construction phase.
''It's just a natural occurrence that we're going to have to have a look at on the track.
''There are a couple of other places with minor cracking that we're keeping an eye on.''