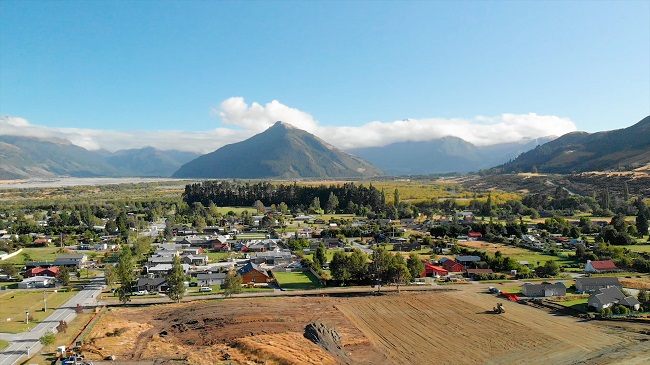 Glenorchy's real estate market is taking off as the township is increasingly viewed as value for money in the Wakatipu.
Leading the charge is the top-of-the-lake's largest subdivision, 60-lot Alfred's Terrace, where 25 sections have sold and four are under contract.
Prices ranging from $300,000 for 800 to 1250sq m sections represent "by far the best-value sections in the Wakatipu", local Ray White co-owner Bas Smith, whose firm has the master agency, says.
"These days we are finding Queenstown people, young families, professionals, health advocates and lifestylers, are seeing Glenorchy as amazing value when they consider the growing, vibrant community culture alongside the incredible amenity of nature which is right there for them."
Smith – who personally named the subdivision after one of the first white men to set eyes on Glenorchy, Alfred Duncan – says it used to be "a bit of a macho town", but that's changed radically.
Among the buyers is local developer Douglas Rikard-Bell, who believes Glenorchy "represents a strong relative value proposition in the wider region".
This year he paid $2,495,000 for an 8079sqm lakefront site where he's recreating the historic Mount Earnslaw Hotel which burnt down in 1959.
He's also looking at building a cheaper lodge and worker accommodation huts on other sites.
Also developing is Queenstowner Kath Cruickshank, who owns Glenorchy Motel.
She's applying to subdivide into eight sections a 7866sqm Mull Street section she bought this year for $1,040,000.
She says section prices have more than doubled in the past three years – in that time, she bought a section for $145,000 and sold it for $315,000.
Local Colliers International agent Rowan McDonald, who's been selling Glenorchy property for at least 10 years, notes that Queenstowners are nowadays far keener to live there and, if necessary commute, than they used to be.
And other Queenstowners like the idea of holidaying there – "they're thinking, why buy a holiday home in Nelson, or wherever, and use it twice a year, whereas you can whip up there every other weekend".