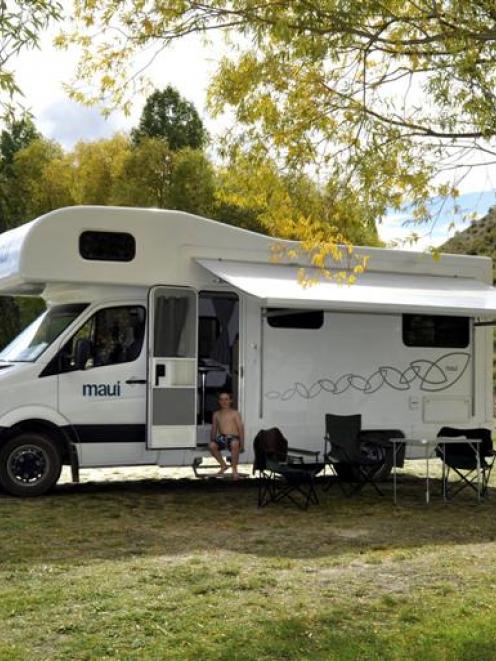 Campervans may be the bane of motorists' lives, especially when stuck behind one, but research says travellers using ''fridges on wheels'' contribute almost half a billion dollars a year to the economy.
Queenstown has the second largest concentration of campervans in New Zealand, after Auckland. Campervan company desks line the arrivals hall of Queenstown Airport and new campervan service depots have been built near the airport in Frankton in the past 18 months.
A Tourism Holdings Ltd report, released on Friday, confirmed campervan tourists spend their money on a range of items, including holiday parks, fuel, groceries, restaurant dining, retail, attractions and activities.
The research also highlights the value of New Zealanders using campervans to holiday in their own country. Domestic travellers who hire campervans spend $38.1 million a year outside their home regions.
The analysis of spending patterns and tourism behaviour of campervan tourists in New Zealand in 2011 was based on 1719 responses to an online survey of campervan hirers.
The results were adjusted to exclude the impact of the 2011 Rugby World Cup on spend and travel patterns.
Research company Covec reported there were 63,930 campervan hires in the calendar year 2011, 10,220 by New Zealand residents and 53,710 by international visitors.
Each domestic hire involved 2.1 adult occupants and each international hire involved 2.2 adult occupants.
A total of 138,124 adults travelled in campervans in 2011 - 21,347 New Zealand residents and 116,776 international visitors.
Domestic campervan occupants generated 194,453 visitor nights (9.1 nights per person) and international occupants generated 2,302,959 visitor nights (19.7 nights per person).
Campervan occupants spent $547.2 million in New Zealand, including money paid to Air New Zealand.
The total expenditure by campervan occupants was $447.9 million excluding international airfares, comprising $38.1 million by New Zealand residents and $447.9 million by international visitors.
New Zealand residents spent an average of $1787 per person ($196 per night) and international visitors spent $3836 excluding international airfares ($195 per night).