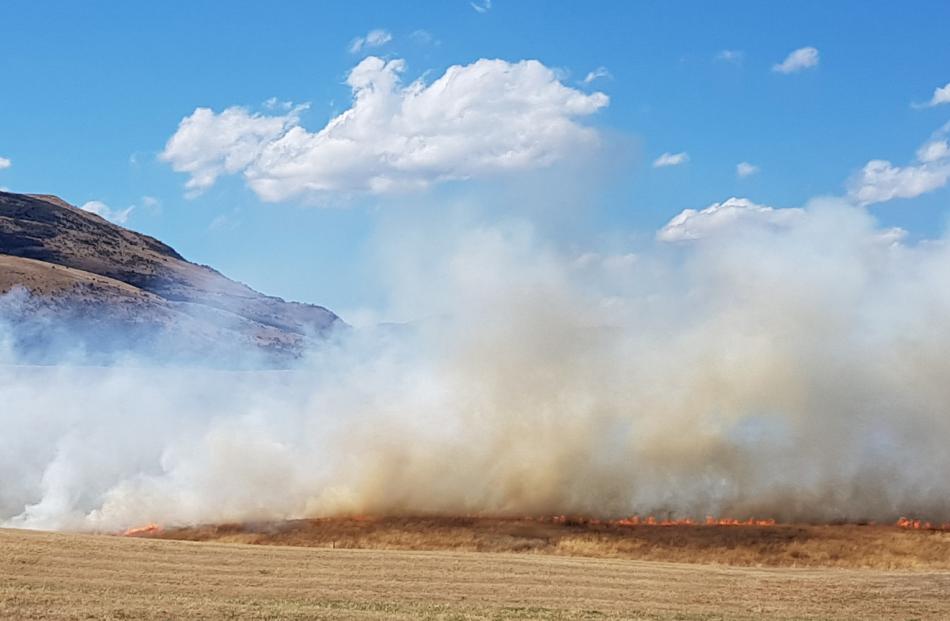 Fire crews yesterday scrambled to the second grass fire at Jacks Point in five days.
Golfers were cleared from the course and some houses evacuated as a precaution after the fire took hold about 4.15pm in about 3ha of grass in The Preserve, an area of exclusive home sites overlooking Lake Wakatipu about 10km south of Frankton.
Deputy principal rural fire officer Mark Mawhinney said the blaze was started by a spark from an angle grinder at a house build.
Despite the contractor using the power tool having a hose and fire extinguisher at the ready, he was unable to stop the fire spreading.
The temperature in the area at the time was about 31degC, with a relative humidity of 20%, Mr Mawhinney said.
''I can't emphasise enough that you have to think about activities that might cause a fire.
''They can start from the slightest spark, angle grinders, motor mowers, ATVs, motorbikes, even cars stopping in long grass.
''It's a terribly scary time to be a rural firefighter.''
However, the response time of the fire crews had been ''impressive''.
About 25 firefighters and two helicopters using monsoon buckets brought the fire under control by 5pm.
Witness Alister Brown said he was sitting in his Jacks Point office when he saw smoke billowing over the hill from behind the golf clubhouse.
He rushed up to The Preserve to check on a home his firm had designed, and saw ''the whole area was in flames''.
Fire and Emergency NZ shift manager Ian Littlejohn said multiple calls were received by the fire service from 4.20pm to ''scrub on fire'' at the golf course.
Crews from Arrowtown and Frankton were initially called out, but as the fire progressed a ''third alarm'' was transmitted, triggering a response for a fire three times the size. That meant the Queenstown and Kingston brigades also responded, as well as rural fire crews.
Last Friday, about 8ha of grass burned in another part of The Preserve about 1km south of yesterday's blaze.
That fire was started by a spark from machinery similar to a rotary hoe.