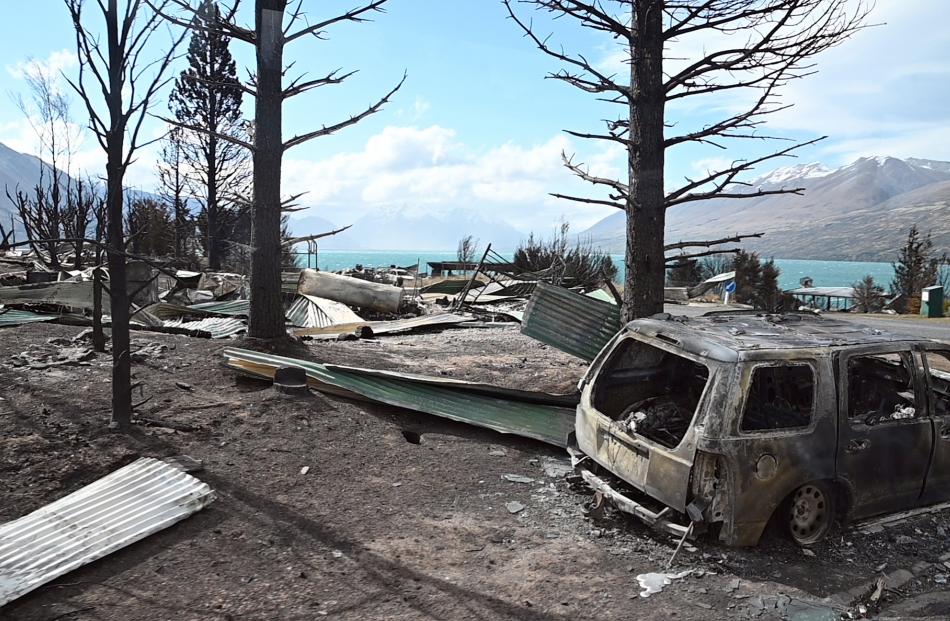 Lessons will be learnt from the fire that tore through Lake Ohau Village last year, Waitaki Mayor Gary Kircher says.
On Saturday, Lake Ohau residents and property owners met authorities - including the Waitaki District Council, Fire and Emergency New Zealand (Fenz), Environment Canterbury and the Department of Conservation - in Twizel to identify lessons from the fire which damaged or destroyed 48 houses and structures in October.
About 50 people attended the meeting in person, and another 20 joined via Zoom, all giving their feedback and suggest opportunities for improvement, Mr Kircher said.
"Overall, there were many compliments about what happened and how our council, Fenz, and other organisations responded, and we will continue to do what we can to improve further, when inevitably another event happens again," Mr Kircher said.
Property owners valued the fire alert system and fire evacuation plan.
"They made acknowledgement of how lucky they were to get out and there was learning for similar villages that they hoped would be officially shared.
However, concerns were raised, some residents finding the media coverage prior to formal notification of which properties had been damaged difficult.
Some locals who were rebuilding in the village aired their frustrations with the council's building control operations, as they navigated significant new standards, Mr Kircher said.
"There's a lot of us working really hard to make [rebuilding] easier for them, but sometimes it does seem like the hurdles end up being higher because of those changes we can't do a heck of a lot about.
Some had decided not to rebuild.
"That's all for different reasons. For some people, it's just a stage of life, and others, they've been through a lot and it's been a challenge."
Medium- to long-term planning for the village was also discussed at the meeting, residents requesting the council develop a replanting plan to manage land after pest and damaged trees are removed, a guaranteed water supply and to ensure frameworks or rules protected the special landscape of the area in the district plan.
Fenz also provided an update on the investigation into the fire. This was continuing and it would "still be a number of months before it is finished", a Fenz spokesman told the Otago Daily Times yesterday.
Waitaki District Council recovery manager Lichelle Guyan would compile all the feedback and requests from the meeting and identify what department would do the follow-up work before her departure at the end of the month.