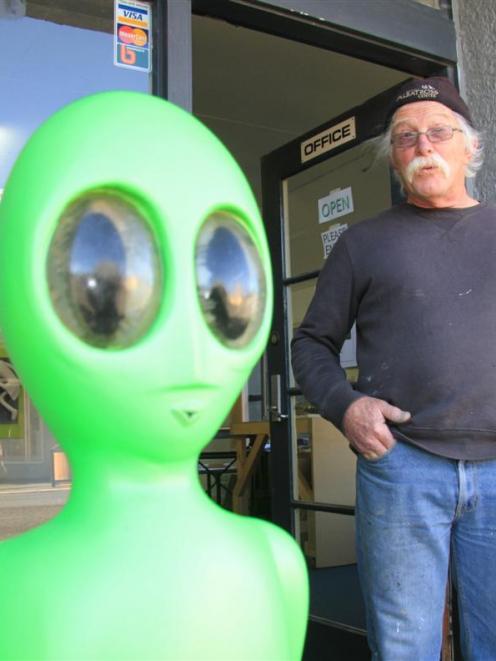 Window displays in the old office and administration building of Tuapeka Gold Print suggest new life on Lawrence's main street: brightly blooming orange flowers stand almost a metre tall.
And the green man standing watch outside Graeme Furness's Exit Studio gallery suggests that life might be a little otherworldly in the small town.
Mr Furness (60) moved into the neighbourhood six months ago, and already the little alien has attracted a few passers-by.
People stop for a selfie and an eventual look inside the gallery.
On a street dotted with cafes, Exit Studio is nestled between the town's fire and St John stations.
Mr Furness spent most of his time when he arrived last July renovating.
He put back a wall that had been there when the building housed a fish and chip shop, and took out rows of power points where computers were once plugged in.
He had only recently begun working on the wall reliefs and paintings that are starting to fill the walls.
But the main work has been completed and the gallery would be fully open soon.
''I'm just about there. A couple more paintings and then I'll make an open sign and make it more obvious,'' he said.
Mr Furness worked as a commercial artist for three decades.
Much of that involved designing screen printing for men's clothing for Farmers, Hallensteins and Shanton.
He now described his work as tourism prints, mountain bikes, surfing, skating prints and whatever popular taste required.
He began screen printing in Whangamata in 1971, working from a garage for an American T-shirt printer who relocated to the Coromandel Peninsula.
But life took a turn when he moved to Dunedin with his wife and daughter in 1994.
''It wasn't a very good move, with the recession of the late '90s,'' he said.
''A lot of people got pinched, including us. A lot died, they just couldn't compete.
''Certainly the clothing industry haemorrhaging didn't help and that was brought on by cheaper clothing coming in from overseas.''
While living in Thames, Mr Furness started working with newspaper pulp and through success and ''a lot of failures'' started to develop a process that he now uses.
He drops newspaper into a washing machine with blades on the agitator, strains the water, and adds wallpaper glue to drop into a mould.
His work dries as if it were clay.
''I've always done art as well: paintings as well as commercial art - I don't know what the difference is, really,'' he said.
Mr Furness' paper pulp sculptures hold prominent places in some well-known Dunedin attractions, including the New Zealand Marine Studies Centre and Aquarium at Portobello and the Royal Albatross Centre.
As he got older, Mr Furness said he decided he wanted a flatter place, rather than living on the ''slopey'' section his partner Anna Wiles owned in Dunedin.
She visits on the weekend.
He enjoys life in Lawrence and living where he is.
''I look at is as living in a workshop, rather than having a workshop in a house. I've always wanted to live in a workshop, an industrial area - I quite fancy that.''