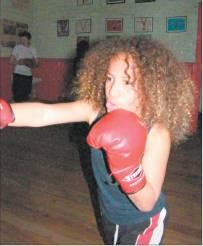 This Saturday a group of competitors from the Gore Boxing Club will be in Timaru for the annual South Island Golden Gloves tournament at the Scottish Hall in Barnard St.

Gore Boxing Club coach Russell Newton said because boxing was on the rise nationally, there had been a big increase in entries for the tournament.
''With over 80 received so far, this means that if these boys make good progress, they could be fighting two or three times on the day,'' Mr Newton said.
''A hard training regime leading up to the tournament has meant that all of the young boxers should be well prepared and conditioned should this happen.''
Gore's promising representatives in the tournament include New Zealand 42kg champion Javan Tuhakaroa (14), who will be fighting for decisive wins in the 42kg-44 kg division. That will give him the opportunity to represent the South Island in an upcoming North Island versus South Island bout.
''The North Island boxers are a lot more experienced, so we want to keep him where he'll be at his best. He's learnt that he has to be as fit as he can to regain the successes of last year,'' Mr Newton said.
Tiarete Wanahi (11) is fighting in the 32kg division.
''We're desperate for him to get a win as he's been training so hard and is a great kid. If he loses this week, it certainly won't be from lack of trying.''
On Saturday, Tom Timpany (14) will have his first fight this year. He had eight fights last year with five wins.
Daniel Barclay (20) had his first fight in Gore last week and was ''exceptionally impressive'', Mr Newton said.
''We are very proud of him. He showed boxing maturity beyond his experience and won 39-31.''
Renata Karena (23) is the club's most experienced boxer, with eight wins out of 14 fights.
''His rapid rise and potential mean that he's fighting the best in the country,'' Mr Newton said.
In last year's Golden Gloves he lost to New Zealand champion and Oceania silver medallist Nathan McKewan (21), of the Blackball Club.
The Gore Boxing Club is supported by 25 local sponsors.
Mr Newton said the club was ''totally indebted'' to the business community of Eastern Southland.