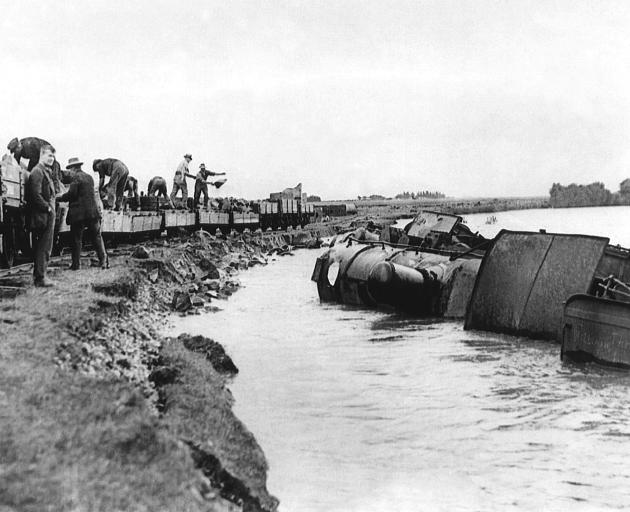 Wheels are turning for the Lumsden Heritage Trust whose project to retrieve two 1885 V Class steam locomotives that were submerged for nearly a century gains momentum.
The six-year project aims to retrieve locomotives buried in the Oreti River in 1927.
In 2018, the trust undertook exploratory work at the site to determine the feasibility of removing them and from that a plan was drawn up.
Since it received funding, the trust planned a recovery date of January 29 when a combined effort of participating organisations will haul the locomotives from the river.
They will be relocated to the specially built track at the Lumsden Railway Precinct to be displayed after 93 years of being buried, and will be the oldest exhibit.
On a Facebook post, a trust spokesman said in December last year, ''Slowly the track sets for the V Class locomotives display have made it to Lumsden ... they are now ready for a spruce up before being ready for placement at the Lumsden Railway Precinct. Got some work to do.''
During the exploratory dig in 2018 they posted, ''a vertical boiler from a crane was recovered from one of the wagon loads dumped to the east. It was interesting when someone today made a statement that the 1927 dumping in Mararoa Junction, at the time seemingly a waste, has by default offered up the ability of these relics of the past to potentially be recovered for not only static display but potentially restored.''
Trust chairman John Titter said the locomotives were specifically designed for use in New Zealand ''to meet freight demand'' and built in Manchester. They were used for passengers and freight.
The trust received funding from organisations including the Lottery Grants Board, Community Trust South, Northern Southland Development Fund, Rail Heritage Trust of NZ, Communities Initiatives Fund and the Regional Heritage Fund.