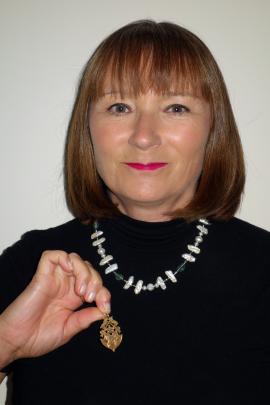 Plucked from the Mataura River mud and preserved for decades, a treasured fob honouring service during World War 1 is about to be returned to the original owner's family.
In 1919, Southlander Corporal Samuel "Tui" McMillan was presented with a gold engraved fob, gratefully acknowledging his service in the war.
It was well-deserved, as his war record was far from ordinary: he pretended to be his elder brother William to beat the age limit for enlisting, was wounded four times, and in 1918 was awarded the Military Medal for gallantry.
However, some time between 1919 and the 1950s the precious memento was lost and ultimately ended up in the Mataura River.
Forty years and another world war later, Dunedin couple Les and Muriel Barkman were making  regular fishing trips to the river with daughter Sandra.
On one of those trips, Les made an unexpected catch — Corp McMillan's presentation fob, languishing in the mud on the river bank.
After several unsuccessful attempts to find ''S McMillan'' or his family, the fob became a valued keepsake of the Barkman family.
"After my dad passed away four years ago my mother contacted the Southland RSA to see if they could help her find the family of Corp McMillan and when they would not help, she contacted the Riverton Museum," Sandra Barkman – now Robinson – said.
"The fob is so beautiful and has such lovely detail that you just knew that this must of have been presented to Corp McMillan for some outstanding service so I really wanted to find its proper home.
"Over the last few years I have shown it to several people asking for suggestions on how to solve the mystery of the owner."
In keeping with the accidental history of the fob, the keepsake has taken a roundabout route to make its way back to Corp McMillan's family.
In December, the Otago Daily Times ran a story about Southland historian Iain Davidson's efforts to identify old soldiers in unnamed World War 1 portraits.
That story was seen by a Christchurch-based militaria collector who knew the Robinsons and the mystery fob and contacted this reporter — who passed the information on to Mr Davidson.
He in turn contacted Ian Martyn of Medals Reunited, which returns medals to families which have lost them.
Research by Mr Martyn tracked down Corp McMillan's records – including a sworn statement he had lied about his age when enlisting – and then his descendants.
Presentation fobs were common gifts, particularly from small communities where everyone knew everyone else, Mr Martyn said.
However, the one Les Barkman found was unusual as it appeared to be bespoke.
"The whole fob is hand-engraved as opposed to being a mass produced, machine pressed fob ...  with the inclusion of the crown, rifles, the entwined 'NZ' and fern leaves on the obverse side and  the reverse containing the personal inscription, and the detailed small engraved embellishments.
"So I would put money on this fob being the only one of its kind."
While the fob spent several years lying a drawer, in recent times it has returned to active service: Sandra Robinson has taken to wearing the artefact to memorial events in her home town, Blenheim.
"I felt so sad that this beautiful fob has sat hidden away in a drawer for so long and was not honouring Corp McMillan and his service," she said.
"Encouraged by a friend, I put the fob on to a gold chain and wore this to the last few Anzac Day and Armistice Day services,where we remembered not only my family's service, but also that of Corp McMillan."
While proud to own the fob, Mrs Robinson is delighted to be able to give it away: a meeting has been arranged in Wellington late this month for the fob to be presented to Laurel Johnson, Corp McMillan's granddaughter.
"My family and I are all thrilled to see this fob returned to Corp McMillan's family," Mrs Robinson said.
"It has always been our goal to find its rightful owner and I just wish this could have happened years ago."
Laurel Johnson had not heard of the fob until she was contacted by Medals Reunited.
Corp McMillan moved to Wellington after marrying and Ms Johnson lived with her grandparents for some time.
She left for England in 1966, not returning to Wellington until 1988. Her grandfather died in 1974.
"I kept regular correspondence with my grandmother and spent a lot of time with her upon my return to Wellington," Ms Johnson said.
"All she told me about my grandfather's war  experience was that he had received a medal for bravery but would not go to collect it, sending his mother in his place."
Ms Johnson described her grandfather as a very kind man who loved rugby, horse racing, the odd glass of beer, and playing cards.
By chance, earlier this month Ms Johnson retrieved a small bookcase her grandfather made her when she was a child.
"I brought it back home to Wellington thinking of my grandfather, then I received the message from Medals Reunited. What a coincidence."
Almost as strange as the sequence of coincidences which will see the fob back in the possession of the McMillan family.