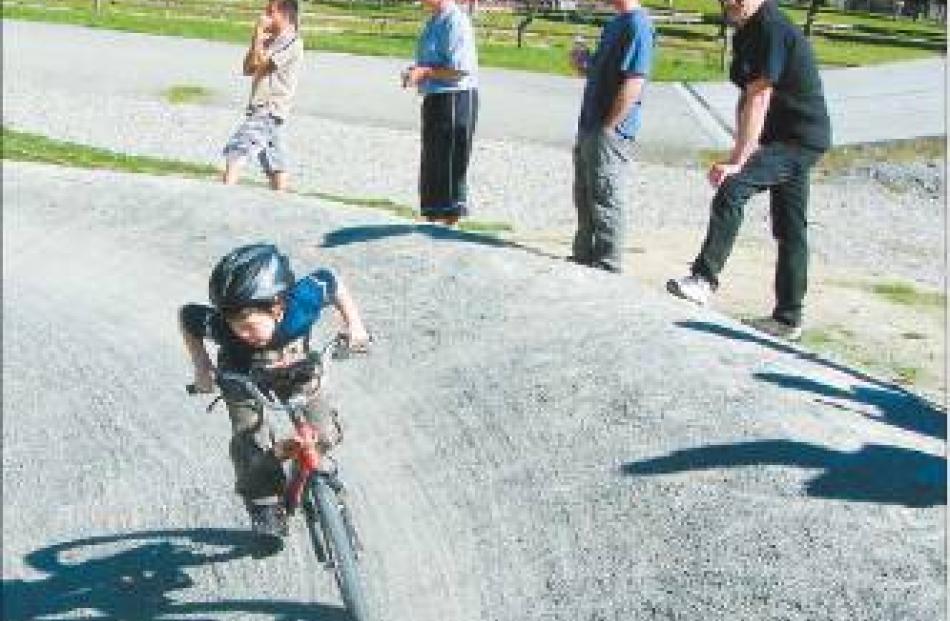 The sun shone brightly, the racing was fast and furious, and the competing children had a blast, at the concluding meeting of the Gore BMX Club, held at Hamilton Park on Sunday afternoon.
Club secretary Gary Mackenzie said since it was the last meet of the season, they decided to hold it on a Sunday afternoon, rather than the usual Friday.
''It's getting a bit dark at night now, so it seemed a good idea to hold the last one of the season in the afternoon.''
Mr Mackenzie said the number of children who attended the club's meets varied from 20 to 30.
''There is the competitive element, but for most of the kids, it's just about having a bit of fun with their classmates,'' he said.
Club treasurer Lynne Burns said the track at Hamilton Park, which was remodelled about four years ago, was an ''excellent'' facility for the Gore district.
''Riders from outside the region always comment on what a good track it is.
''We even have riders coming up from Invercargill to practise up here.''
She said the club had a lot of young riders coming through the BMX grades.
''We have 10 meets a season here, and we've been getting a lot of kids along for the fun and competition,'' Mrs Burns said.
RESULTS
- Pre-school: Ben Burnett, 1.
- 5 years: George Goodger, 1; Matthew Highsted, 2; Ben Wyatt, 3.
- 6 years: Max Radka, 1; Campbell Johnstone and Sol Wyatt, 2=; Griffin Gee, 3; Jakob Bell, 4.
- 7 years: Josh Burnett, 1; Braden Shields, 2; Ben Lockrose, 3; Conor Riley, 4.
- 8 years: Jordan Kelly, 1; Toby Burdon, 2; Joshua Walker, 3.
- 9 years: Connor Donaldson, 1; Lachlan Mackenzie, 2.
- 10 years: Callum Burns, 1; Slaine Hadley, 2.
- 12 years: Dean Henderson, 1.
- 13 years: Todd Burns, 1; Kane Bell, 2.