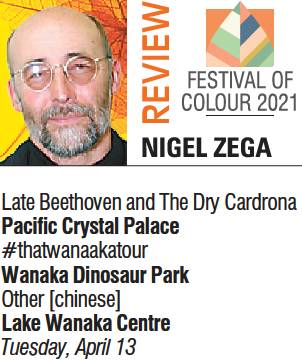 MORNING: James K. Baxter's 1950s poem
The Dry Cardrona
has been used and abused in folk song for 60 years, but it springs anew as inspiration for a pensive, trance-like Barton Price composition.
Festival regulars the New Zealand String Quartet revelled in Cardrona's understated beauty before tackling six varied, complex pieces from the end of Beethoven's life - original, surprising, sometimes startling, with a highly educational alternative ending.
AFTERNOON: take the coach tour for people who hate coach tours. Yes, #thatwanakatour is all the nightmares you imagined it would be, carefully corralled from experience by versatile writer Liz Breslin and directed by Emily McRae.
It's rough and ragged and there are substantial visibility issues for action up front, but you find yourself smiling at the end, and not just because you got off the coach alive.
EVENING: Humans seem hard-wired to be tribal, grouping up for support and to resist/attack other groups. Why?
Each of us has to ask ourselves that question, but spellbinding guidance is at hand from Alice Canton, whose inspired and smart direction of Other [Chinese] gives us glimpses of what it's like to be in a minority in society.
It's something understood by expats living in other countries, something townies can find moving to the country and vice-versa, and something anyone could run into at some time.
Canton's insightful questioning of generous Otago and other Chinese people teases out attitudes and experiences with often amusing results, largely positive but occasionally negative with far-wider ramifications.
Chinese, once marginalised in New Zealand, are now a large and important proportion of our largest city, yet still face issues.
This revealing and captivating live docu-theatre focuses on Chinese but the underlying psychology applies to any minority group in any country.
Prejudice and bias are things we can and should recognise. Other [choose ethnicity here] has much to teach us all.