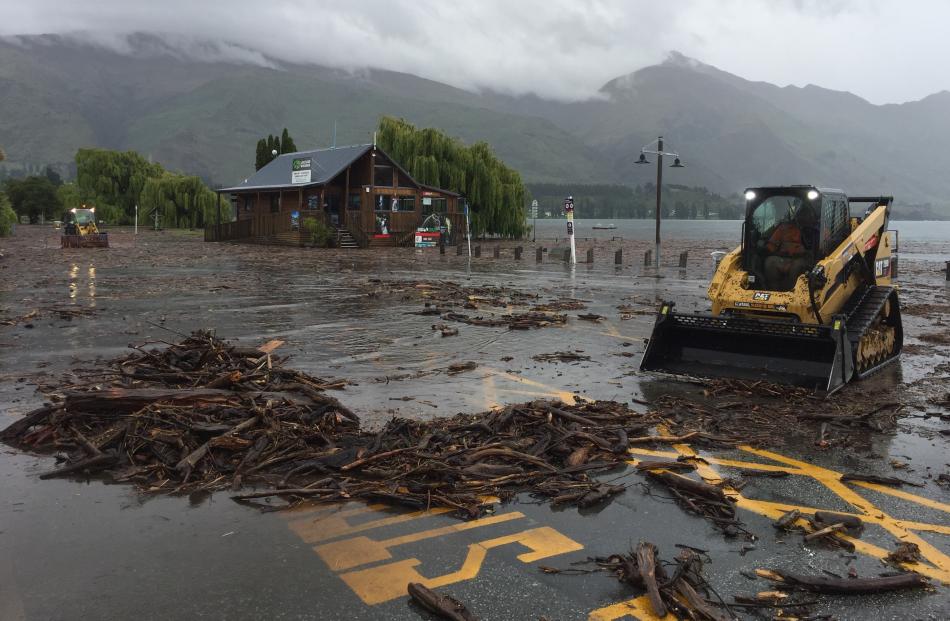 Wanaka business and building owners in the flood zone are prepared and waiting for rising lake waters to enter the central business district.
All along Ardmore, Helwick and Dungarvon Sts properties have been wrapped in sheets of plastic and sandbagged and almost all have been evacuated and sit empty.
Yesterday afternoon the Queenstown Lakes District Council implemented additional precautionary measures, closing all public vehicular access to the flood-prone area. All lakefront public toilets in Wanaka were also closed.
QLDC said today that staff and contractors were continuing to respond to high lake levels in and around Wanaka and Queenstown in line with the latest modelling and the local situation.
"Ongoing precautionary measures include debris clearance on both lakefronts with some 40 truckloads of driftwood removed from Wanaka alone yesterday."
Wastewater remained isolated on Ardmore St and lower Helwick St in Wanaka on Saturday. A small additional area of the Wanaka CBD will have its wastewater services turned off from midday as a precaution to protect the network in case of further lake level rises.
This would affect low-lying parts of Dunmore St. Council contractors were meeting with individual business and property owners to inform them in advance that they will not be able to use toilets, sinks and other drains from midday.
Normal vehicle access remains to most of the Wanaka CBD, except Ardmore St from Lakeside Road to McDougall St, and the lower part of Helwick St between Dunmore and Ardmore Sts.  A temporary 30km/h speed limit remained in place where signed.
There is some restricted pedestrian access in specific areas close to the Wanaka lakefront. QLDC said fencing would be moved throughout the day as the lake level change. People are asked not to enter flooded areas both for their own safety and also to protect private businesses.
Road closures elsewhere in the district remain unchanged on Saturday. They include Paradise Rd, Rees Valley Rd, Kinloch Rd, The Branches Rd (from the boulders) and Mt Aspiring Rd (from Roys Peak).
Stock remains in Glenorchy and Wanaka should it be required while feedback from the Kingston community confirms the township has sufficient sandbags.
A Downer contractor said seven truckloads of lake debris, each truck carrying six cubic metres, was removed on Thursday from the Wanaka lakefront and more than twice that number yesterday. A team would be working over the weekend until the water became too deep for the machinery to operate, he said.
CLOSE EYE ON RIVERS AND LAKES
The Otago Regional Council (ORC) and QLDC are monitoring lake and river levels, and are prepared to implement local road closures in affected areas if necessary.
ORC's duty flood officer Pete Stevenson says heavy rain predicted on Friday by MetService fell overnight and had dropped off today, with lower intensity rain expected to continue for the rest of the weekend.
There were still significant flows feeding into Lakes Wanaka and Wakatipu from rivers such as the Dart and Matukituki, but these were starting to recede, he said today.
ORC expected water levels for Lakes Wanaka and Wakatipu to flatten out soon, but they would take time to recede.
Lake Wanaka
Lake Wanaka was at 280.29m at 8.30am on Saturday. Previous expectations were for it to reach 280.5 to 280.8m by the end of the weekend. However, Mr Stevenson said the  latest modelling predicts Lake Wanaka may reach a lower level of 280.4m (not taking into account the impact of wave levels due to wind)
This level is above the January 2013 peak (279.4m), but well short of the November 1999 peak (281.3m). There is a continued possibility that the lakes could rise again, meaning there is a risk of further flooding there should be more prolonged heavy rainfall.
Lake Wakatipu
At 8:30am on Saturday, Lake Wakatipu was at 311.285m and slowly rising.
Mr Stevenson said ORC's prediction for Lake Wakatipu was largely unchanged from Friday. The lake was expected to reach 311.4m by Monday morning, not accounting for wind. This lake level for Wakatipu was still well short of historic flood levels such as the November 1999 event (312.8m) and May 2010 event (311.48m).
Downstream River Flows
Outflows from Roxburgh Dam were being maintained at 1800cumecs (cubic metres per second).
The Clutha / Mata-Au River flow at Balclutha was currently holding steady at 1700cumecs. As the water flows travel down from the headwaters, this may reach 1800 - 1900cumecs later on Sunday.
ORC said the river was expected to be well contained within the Alexandra and Lower Clutha Flood Protection Scheme flood banks.
People operating in the vicinity of the Clutha / Mata-Au river in the coming days need to be aware of the possibility that the river level may rise rapidly because of high rainfall in the headwaters, regardless of the local weather.
Mr Stevenson said should no more rain fall after Sunday, the level of Lake Wakatipu was predicted to drop 0.6m in the next week, taking it to 0.6m above the mean December level.
Lake Wanaka was predicted to drop 1.6m, taking it to 1.18m above the mean December level.
QLDC harbour master Marty Black reiterated yesterday's warning about swollen rivers and significant risk due to the possibility of floating debris and submerged structures.
"We recommend everyone stays off the lakes and rivers, in particular the Mata-Au Clutha River which is at High-Level Alert. We are continuing to monitor the levels and flow rates and if necessary will explicitly prohibit any activity on our waterways."
QUEENSTOWN PREPARING
Over the hill in Queenstown businesses were also preparing for the worst. Those on Steamer Wharf had sandbags stacked outside. 
A 130m-long concrete block wall was completed at Queenstown Bay yesterday afternoon to protect the nearby pump station and Bathhouse Café from wave action, QLDC said.
The cafe's owner, Karen Brown, said it was a case of ''battening down the hatches and hoping the clean up isn't too bad.''
The historic building had been ''raised'' following the floods on 1999 - and she wasn't too concerned about major damage.
Alan Bouglas, general manager of lakefront pub Pog Mahones, said staff decided to put sandbags and tarpaulin sheets in place as a ''precautionary measure''.
More sand and a further 1000 sandbags were delivered to Queenstown today, QLDC said. Five hundred bags were available from the Rees St site, with an additional 500 bags at the Beach St site.
Yesterday afternoon council contractors lifted cement slabs into place on the waterfront and a digger moved debris washed up on the shore. Pathway entrances to Queenstown Bay were also sealed off and cordons were in place.
Public toilets along Marine Parade were also temporarily closed and sandbagged as precaution. The MetService has a heavy rain warning in place until 9am today and a further warning is likely to be issued for the remainder of today and tomorrow.
On Thursday afternoon, the Wanaka i-Site relocated from the lakefront to the Mt Aspiring Department of Conservation visitors centre in Ballantyne Rd.
Acting manager Elizabeth Hills said tourists were being advised virtually all outdoor Wanaka tourist activities were ''in lockdown'' and to head east.
All jetties at Lake Wanaka were now closed and due to the heightened risk of floating debris and submerged structures, lake-based operators, boat users and watersports enthusiasts were advised to stay out of the water.
Wanaka Watersports Facility spokesman Michael Sidey said the building was designed to be near the water but not in the water.
He said he would never have expected a week after opening of the facility the lake would have risen a metre and a-half and be lapping under the bottom cedar boards.
Architect Alistair Madill said the lake flooding had been factored into the design of the facility and it would have to rise ''a long way ... before he would lose any sleep over it''.
- additional reporting ODT Online