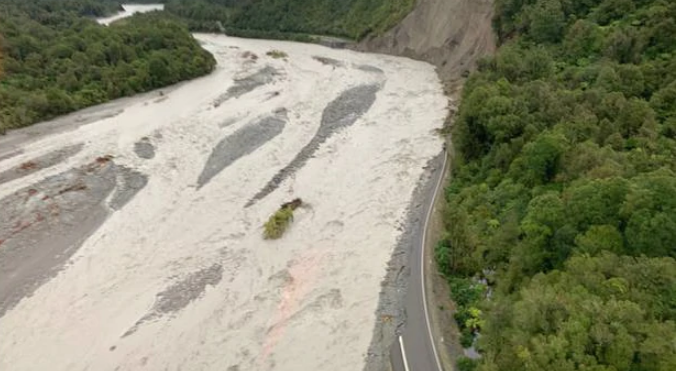 A huge landslide at Fox Glacier is moving by 11cm a day and is so large it can be seen in satellite images.

The Department of Conservation said on Saturday the access road to the glacier would remain closed for the "indefinite future" after the slip and floods wiped out a large section of the road.
GNS estimates the slip contains 70 million cubic metres of material. The side of the mountain is falling down and moving at least 11cm a day, and 70cm after heavy rain.
GNS predicts valley conditions may take several years to settle.
Between 2008 and 2018, it cost just under $3.5 million to keep the road open, but to reopen it now would cost $16 million, DOC said.
The department has released a report by Matthew Gardner and Gary Williams, who said the slip fan from Mills Creek now extended over the entire valley floor and has been pushing the Fox River against the northern side, where the main access road was formerly located. Most of it has been washed away.
"This widening of the river channel and build up of the Mills Creek fan is very clearly visible in . . . satellite imagery, which has been obtained from the Sentinel 2 satellite system operated by the European Union Copernicus programme."
The road access on both sides of the valley had been severely damage by river erosion in the recent flood events.
"A major contributing factor is the rapid increase in the supply of material from the Mills Creek system, with the formation of a large and active fan across the whole of the valley floor of the Fox Valley," the report said.