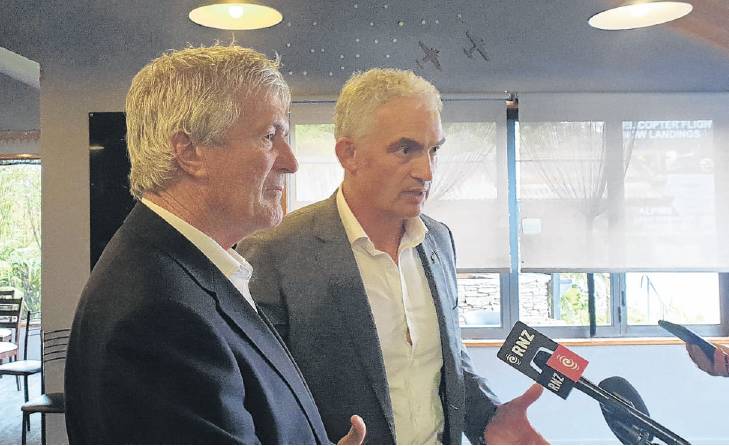 Tourism Minister Stuart Nash says he will not make any promises to struggling communities in Franz Josef and Fox Glacier.
Mr Nash was on the West Coast yesterday to speak to businesses and residents about their concerns after a plea for more support and a nearly $35 million wish list to keep the communities afloat.
Mr Nash has ruled out funding the entire request, especially the wage subsidy extension.
He said the Government was working on a support package, but he would not be pushed on what or when.
He was not in Glacier Country to make promises or announce any support, he said, and that meant some businesses reliant on international visitors would have to face some hard truths.
''It is time to have that very difficult discussion with your bankers, your employers, your creditors and your community, because we cannot save every business.
''We looked at a wage subsidy for the five regions that were impacted the most by tourism and the cost of that was between $500 [million] and a billion dollars - that was till the end of the year - and that's just not sustainable,'' he said.
''Queenstown isn't going to get anything special over and above the other districts that are suffering to the point that I mentioned before.
''There's about five that are over 50% reliant on international tourism for their local economy.''
West Coast Tasman MP Damien O'Connor acknowledged the $35 million wish list would not fill the hole left behind by international visitors.
''My view is that they probably need a lot more than that. Obviously, that wouldn't go anywhere near replacing the turnover.
''They put a package and some ideas [together] and we're working on some of those. What the total quantum of some of those,that depends on a number of discussions at Cabinet but there are some infrastructural projects here that should be able to run.''
The meeting did not go quite as Rob Jewell from Fox Glacier Guiding expected. About 97% of his business is usually focused on international visitors.
''I actually arrived with high expectations that the tourism minister had taken that time to come and travel all the way down to Glacier Country and that he would have something for us very tangible in terms of support.
''But unfortunately he's come down here, he said the main purpose of his visit was to listen and there wasn't anything forthcoming so... he's left and we're empty-handed and there's no additional support at this point. Disappointed.''
He thought 12 months into the pandemic, the Government would be on top of things.
''We've been hanging on for 12 months. How much longer do we need to hang on?''
Development West Coast chief executive Heath Milne said he was prepared for no support to be announced, but it was still a sobering day.
He remained hopeful that some of the region's wish list could still get approved.
''We haven't given up, the minister left the door slightly ajar.''
Glacier Country Tourism co-chairman Richard Benton said he was left with more questions than answers after the meeting.
He acknowledged Mr Nash did mention a support package in the works, but said that was nearly the extent of their knowledge on it. He said it was a high trust model.
With no government support on the immediate horizon and no firm transtasman bubble dates, Glacier Country communities are bracing for even more losses.