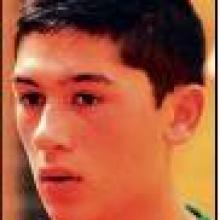 In possibly the youngest Otago football transfer, Rahan Ali (15) has signed for Premier Scottish side Inverness Caledonian Thistle, and will leave for Scotland on January 11.
The youngster actually played for University in Southern League last season when he was only 14 years old, as Varsity's Brazilian coach Luiz Uehara spotted the talented lad and gave him a chance to test his undoubted skills at senior level.
Uehara said, ''Young Rahan has very good technique, is quick and sharp . . . but his best quality is decision-making - when to pass, when to hold, and he has a really good tactical awareness.''
An Otago Boys' High School pupil, Ali has also been a regular choice in Footballsouth's national talent centres, and has represented Otago throughout junior grades. In the Futsal squad, he trains and plays alongside Ben O'Farrel (14).
At this weekend's National League Futsal tournament, Rahan showed his skills in Footballsouth's team, which is coached by NZ international Mike Sannum, and scored one of its goals in the 3-1 win over Canterbury.
Rahan's father Shokit Ali and mother Fiona are originally from Inverness and this year took Rahan to Aberdeen Football Club for trials, but preferred the Caledonian Thistle set-up and felt more comfortable at the prospect of Rahan having family support over there.
Inverness Caledonian's youth team coach Charlie Christie was impressed with Rahan's skills and reportedly said that at 15 he was as good as the 16 and 17-year-old boys he had in his youth team.
Rahan will join Inverness as a ''schoolboy'' signing until he is 17, after which he hopes to sign full apprentice forms.
Ali will stay with his grandfather and attend the Royal Inverness Academy.
It is years since the likes of Michael McGarry went to Newcastle United on trial, then Graham Marshall went to Crystal Palace.
It is hoped Ali can follow Cam Howieson's path in signing for Burnley, rapidly becoming an All White who played Olympic football against Brazil.