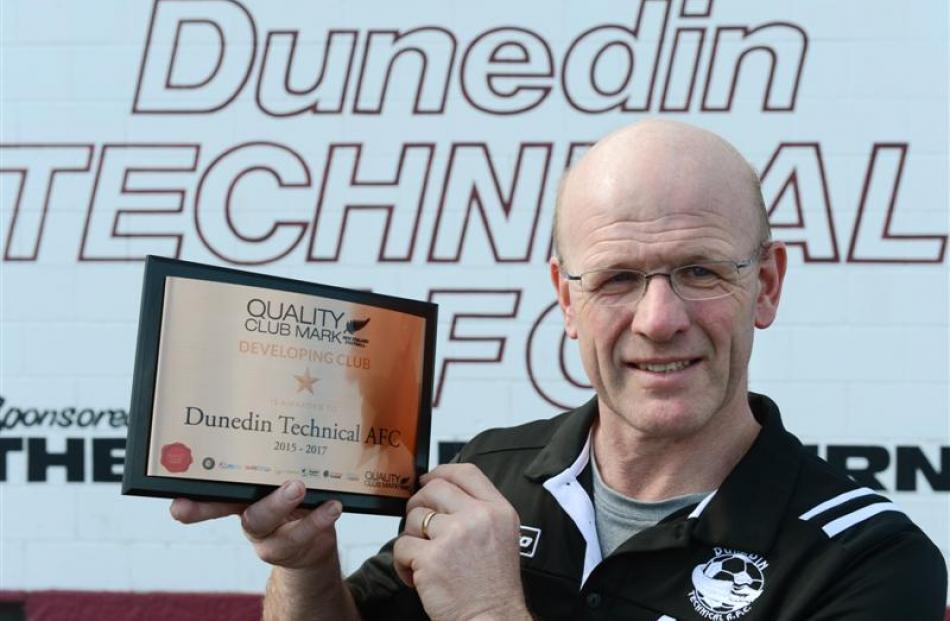 Dunedin Technical may have had to bow to Caversham in the Football South Premier League on the field this year but the club has won a big prize off the paddock.
The Dunedin club has been awarded the New Zealand Football quality club mark, the first club in Dunedin to win the prize, and just the second club in the South Island.
Club acting president Andrew Whittaker said the award was for all parts of the club, from how the club's committee operated to coaching of players.
It also covered all teams from the youngsters having their first kicks to the premier league team.
The premier league team finished second behind Caversham this year although it did manage to beat Caversham when the sides met last month.
Whittaker said the award was a good recognition for the club and all its hard work.
The club had 10 senior teams and 15 junior teams with a membership of about 400.
He said the club worked hard to get structures in place so players and supporters had an easy time to make their time at the club worthwhile and fun.
The club had finished second in the premier league and second in the Fletcher Cup - the division down from the premier league - while the top Technical women's team had won the women's league for the third year in a row.
The club was looking at appointing some coaching co-ordinators next year to help coaches in the junior ranks.
The Winton club in Southland is the only other South Island club to have won the award.
Football South general manager Bill Chisholm said the club had worked hard and deserved the plaudits.
The quality mark brings in standards of uniformity across all clubs and aligns them with New Zealand Football's whole of football plan.
Chisholm said clubs needed the structure in place so if a few important members dropped out the club could still operate successfully.
''A few clubs are doing bits of what is needed but Technical has gone the whole nine yards. It has reached a certain standard that can be ticked off.''