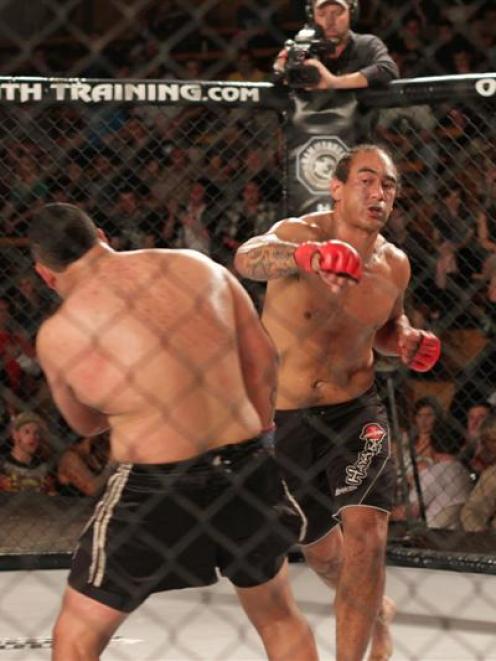 Apii Taia successfully defended his heavyweight title on Saturday, but he knew he had been in a scrap.
The 33-year-old Team Hammerhead fighter retained his International Sport Karate Association South Island professional heavyweight title with a unanimous points decision over Palmerston North's Bishop Poi Poi at the Caledonian gymnasium.
Taia used his superior height, jabs, vicious knees and head movement to set up the win, while Poi Poi's overhand right looked ominous throughout the three 5min rounds.
Taia kept his distance in the first round, landing some nice two/three straight punch combos set up by leg kicks. Poi Poi attempted three takedowns, but each time they were thwarted, then punished.
The second round saw Taia breathing heavily in his first fight in 14 months. Poi Poi gained confidence by flooring Taia with a crisp right hand a minute into the round. Taia was quick to get to his feet, remained calm and was soon landing straight punches.
Poi Poi's best round saw him land about six hard rights, and towards the end briefly had Taia backing off.
The third round was totally dominated by Taia. After both fighters traded big punches early, Taia took Poi Poi to the ground and scored freely with venom-packed punches.
The final minute saw both standing, with Taia winding the clock down knowing he had done enough.
Taia said he was thrilled with his win.
''I was always keen to test myself and shake that ring rust,'' he said.
''If you're not getting hit, you are not in a fight.''
The win leaves Taia with a record of five wins and one loss in MMA. He also has a couple of kickboxing wins.
On the 12-fight undercard, Saatia Leti (Tumatauenga) was heading for fight-of-the-night honours when he brutally dismantled Darcy Purches (Dunedin Fight Club).
Leti left Purches in a bloody mess after he knocked him out in the third round of their welterweight clash.
Fight of the night was snatched from him when Craig Masina (Team Hammerhead) knocked out Leo So'oialo (Ashburton Combat School).
Masina was floored in the first round of their three-round middleweight clash but got to his feet to mount a fine comeback.
In the second round, with the look of a man possessed, Masina ferociously kneed and uppercut his way through So'oialo, much to the delight of the 800-strong crowd.
Submission of the night went to Renan Secco (Carlson Gracie/ Tumatauenga) for his middleweight triangle choke win over Matt Ball (FightShop NZ).
In a sublime move, Secco fell on his back, locked Ball's arm and head between his legs, and cut off Ball's blood flow, forcing him to tap out just 36sec into their fight.
Other Dunedin fighters to impress were Team Hammerhead welterweights Matt Sproule and Josh Jenkins for their first round rear-naked-choke wins. Dunedin lightweight Shem Murdoch (Combat School) also had a fine first-round submission win.
Female kickboxer Kirsty Brownlie (Centre City Martial Arts) was gutsy and tenacious in her unanimous points win, and Beathe Korneliussen (Team Hammerhead) showed nice hand speed and combinations in her unanimous win.