Dunedin-born trainer Amber Hoffman claimed the last honours from 111 years of racing at Forbury Park after the track was given a rousing farewell on Thursday night.
Hoffman won the final race at her home track when Dodgethebullet burst out of the pack to win the Forbury Park Pacers Cup for driver Sarah O'Reilly in front of the biggest crowd seen at the venue in the past decade.
Hoffman has been an integral part of the fabric of Forbury Park since her training career began in 2010.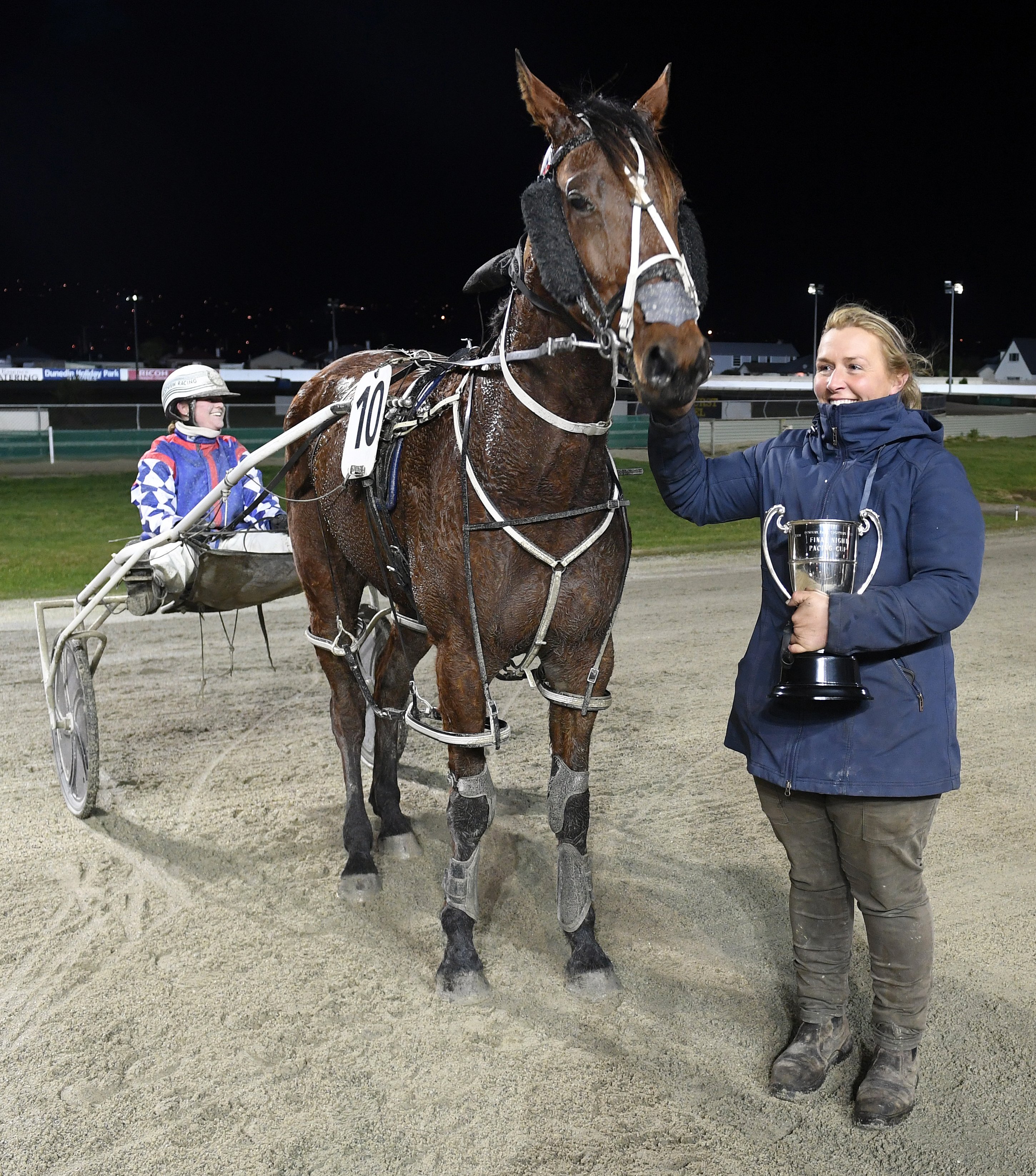 "It was really cool. I wasn't expecting it but it was great to be able to win the last race at Forbury," the trainer said.
"Forbury has been great to me. It has suited a lot of the horses that I have had and I have managed to win a lot of races there."
Hoffman grew up in Dunedin and initially worked with thoroughbreds before being introduced to harness racing by future training partner Graeme Anderson, Forbury Park's most winning trainer.
"I owe Graeme a big thank you for introducing me to harness racing and teaching me so much about it."
"I have had a lot of help over the years from a lot of people like Hec Anderton and Brian Anderton.''
Dodgethebullet became the Waikouaiti trainer's 115th winner at the track, ranking her fourth equal in the track's history books, tied with
Phil Williamson.
Hoffman got under way with 61 wins in partnership with Graeme Anderson, then produced 18 wins with Jonny Cox and went on to win 36 in a solo capacity following her double at Thursday night's farewell meeting.
Hoffman's highlights at the track include producing Ballindooley to win the Group 3 Forbury Park 4yr-old Championship in 2013 with Anderson.
"There have been a lot of highlights. Probably Yokozuna would be right up there. He was a lot of fun — he had tendon problems as a young horse and didn't race until he was seven but he did a great job."
Dodgethebullet is raced by Canterbury owners Stephen and Jo Blair, who are no strangers to success at Forbury Park.
Stephen Blair, a former Forbury Park Trotting Club committee member, produced Sauteuse, Anschutz, Duke Of Whiz and Race For The Stars to win at Forbury Park between 1992 and 2007 when he trained at Milton.
Dodgethebullet sealed a winning double for Hoffman's stable after Owes Me Dough produced a tough win in race 2.
The 4yr-old dug deep in the last 50m of his victory after sitting parked throughout his 2200m contest.
With the removal of Forbury Park from the racing calendar, Hoffman is now facing the prospect of more travel with her horses. But she does not see that as a negative.
"We already do a bit of travel anyway. We are obviously going to have to go to Canterbury a bit more."
Mataura horseman Jimmy Bond clinched a final Forbury Park memory with the win of Tweedledee in the Forbury Park Trotters Cup which capped more than four decades of success at the track for the former trainer-driver.
Bond races the trotter who was prepared for a big win off the back mark of 40m in the 2700m handicap by his son Lyndon.
Bond trained 20 winners and drove 27 horses to victory following his first win at the track in 1978 with Be Sly.
Crafty Cobber's win in the 1985 Group 2 Forbury Park 4yr-old Championship is among Bond's victories at Forbury Park.