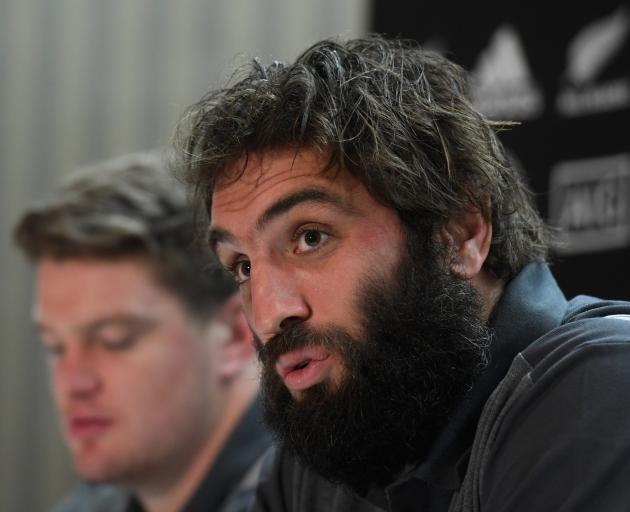 Whatever way you look at it a strong Whitelock current flows through the All Blacks final test of the year in Cardiff.
From Sam's first time captaining this team to Luke's remarkable rise to replace Kieran Read at the back of the scrum to their parents in stands of the Principality Stadium.
If that's not enough, there's also the fact their grandfather, George Nelson-Dalzell, a lock who featured in 22 matches and five tests between 1953-54, played the last time Wales beat the All Blacks, some 64 years ago.
"It's something Luke and I are probably aware of more than anyone else," Sam said as the All Blacks completed their captain's run under the roof ahead of Sunday morning's (NZ time) final outing. "It would be nice not to be like him."
Sam has played 95 tests and will attempt to treat this one like any other.
But it will undoubtedly be different in some aspects; the first when he takes pole position at the point of the arrow-head formation for the haka.
"It's one of those things I've played a few times and done it enough so hopefully it's up to scratch."
Playing alongside younger brother Luke for the first time in a black jersey is something the family will cherish.
"I've played a lot of age-group stuff and a bit at the Crusaders with him as well as the two older brothers so to do it in a test match is going to be unreal.
"I know my parents are going to be in the stand and they'll be quite emotional. The best thing for us is we're doing what we love so it's nice and easy."
Luke, who plays for the Highlanders, beat Sam to the captaincy role after leading the All Blacks mid-week team, in his just second outing, in the victory over the French XV in Lyon last week.
The pair will join Wellington brothers Harry and Marcus Nicholls (from the 1920s) as the only set of brothers to have captained the All Blacks.
"I might have to ask him a few tips. He did a really good job so hopefully I can do the same."
While a next level honour, assuming the captaincy should sit comfortably with Sam after he did such a superb job accepting the responsibility with the championship-winning Crusaders this season.
Seven starters are missing, but Whitelock still has the likes of Sam Cane, Beauden Barrett and Ryan Crotty to lean on for support.
"It is really special for myself and my family and people who have been involved in my career from under-5s all the way through.
"It was always a dream to play for the All Blacks. I've never been too fussed on being captain but the longer I've been around it's something I've been more aware of and trying to help out previous captains as much as possible so that's probably where it has grown from.
"It's massive in my playing career but the beauty is there's so many guys in the team that have done it before.
"It's never up to one person to lead so all I've got to worry about is going out and playing well; do my own job first and then hopefully it should all come naturally."
- By Liam Napier