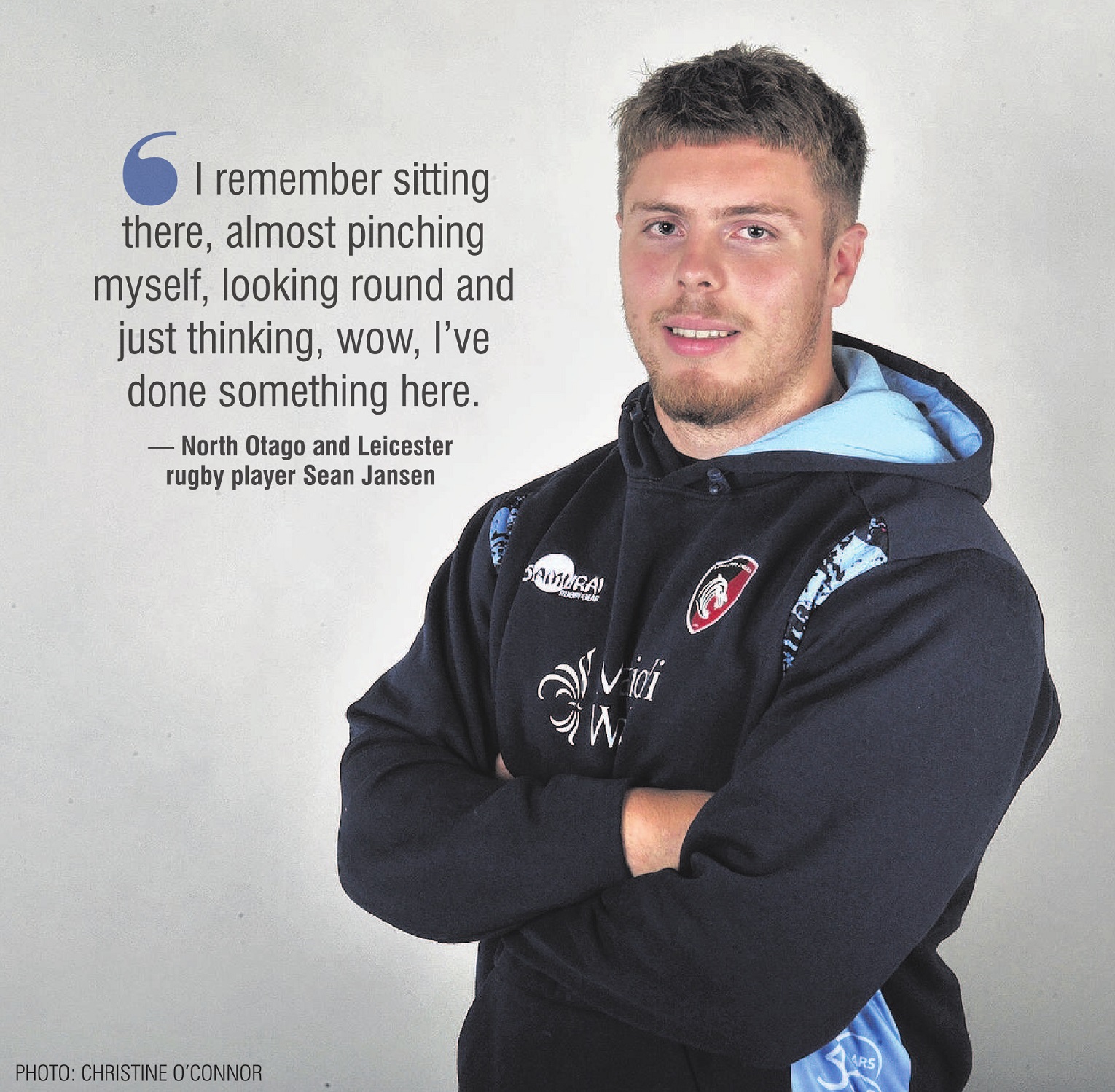 Sean Jansen smiles because he has heard the question before and he knows everyone has been scratching their heads for a while.
How does a 23-year-old Green Island and North Otago rugby player jump straight to a contract with a global rugby powerhouse like the Leicester Tigers?
That was the remarkable career move for Jansen, the abrasive loose forward who starred in the Heartland Championship last year as a loan player for the Old Golds before joining Leicester on a short-term contract in February.
He did so well the English mega-club offered him a full one-year deal for next season.
And it all came to pass in a very modern way.
"I was looking at going somewhere else but I had no firm plans," Jansen said.
"I wasn't sure whether to move away or to stay and try to give Otago a really good shot, so I made a highlight video of my games."
That video was given a push by Jansen's uncle, who works at the Australian Institute of Sport and has some handy contacts.
It caught the attention of someone at the Leicester club.
"The Tigers showed some interest, so I had a FaceTime with them, and the next minute I am flying to England.
"When my uncle called me and said the Leicester Tigers were interested, I thought, yeah, that sounds familiar.
"So I looked them up to find out more and thought, wow. So it all happened pretty quickly."
Leicester was an impressive club led by an outstanding coach in Steve Borthwick, Jansen said.
The former Otago Boys' High School star reflected on a "surreal" couple of months after first joining the Tigers.
"It was a bit full-on at first. I was coming from North Otago rugby to just full-on elite professional rugby.
"But everyone was so welcoming and helped me get up to speed. It took me a couple of weeks, but I had lots of coaches pushing me and helping me."
Jansen made his debut at No 8 for the Tigers in a Premiership Rugby Cup game against the Newcastle Falcons at Kingston Park, Newcastle.
He played four games, mostly filling in for Springbok Jasper Wiese.
The highlight was a clash with fellow glamour club Harlequins at a sold-out Stoop.
"That was very cool, with fireworks going off and everything.
"I remember sitting there, almost pinching myself, looking round and just thinking, wow, I've done something here."
He enjoyed getting to know former Crusaders winger Nemani Nadolo and Pumas hooker Julian Montoya, and is eager to get more game time next season if Wiese is on duty with the Boks.
"They have windows when the international players are away, so there's maybe an opportunity for me there to rip in and play some games, and you never know what can happen."
Jansen returns to England next Friday.
The one-year deal was perfect, he said, as it gave him a chance to keep his options open.
If things keep going well with Leicester, the sky is the limit, but he does not want to completely abandon his long-held dream of playing for Otago, the Highlanders and the All Blacks.
"I want to focus on this year and not worry too much about what comes after that."
He hopes his family will be able to head over to watch him play for Leicester.
And he knows that, even in a relatively short spell, he made friends in North Otago who are delighted to see him get this opportunity. Jansen had hoped to be playing NPC rugby with Otago last year but relished the chance to rip into the Heartland Championship.
"It was awesome. It has a bit of a different edge to it, you know.
"You train twice a week, and rock up to Fat Sally's for a feed. Then you fly to these little towns in the North Island to play some good footy. It's such a great experience.
"You've got local boys who work hard all week and rock up to play rugby. There are lots of good boys up there, and I made mates for life."