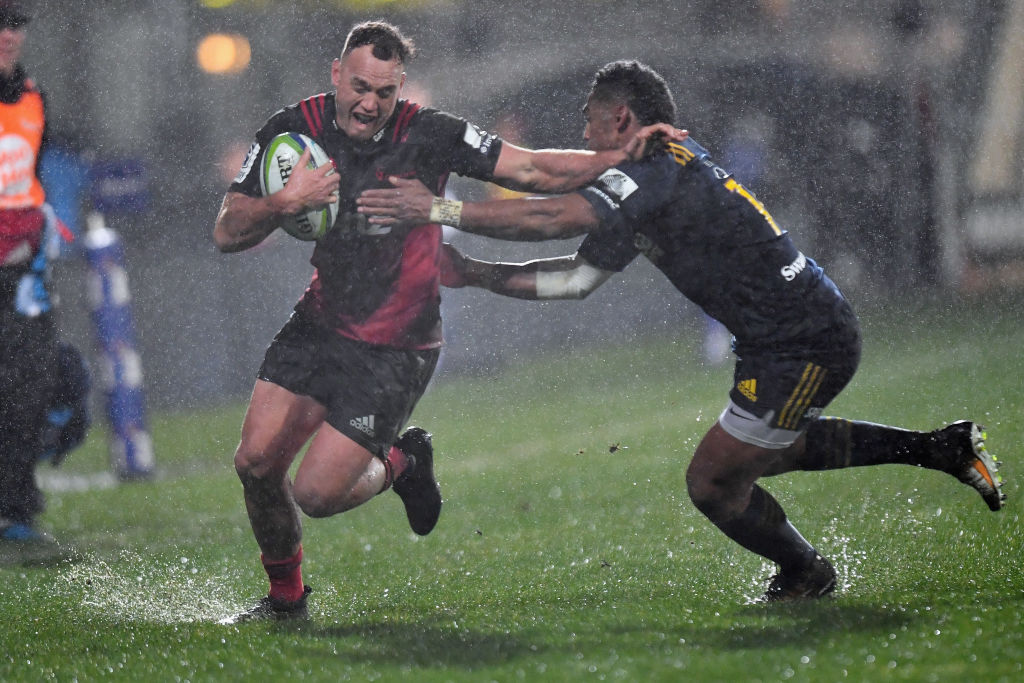 If the weather stays as awful as it has been, stick the mortgage on the Crusaders. Brutal. Effective. Inevitable. Play in these conditions every week and the Crusaders would be unbeatable.
If Christchurch needed any sort of reminder that a roofed stadium is a must for future plans this was it. Then again, despite the scoreless second half, when their team plays this well locals probably won't complain.
For the neutral, it was hard to escape the feeling this match could have delivered so much more. But there was also no mistaking the fact the Crusaders thoroughly deserved their 17-0 victory.
With a state of emergency declared in parts of the city, and some 15 mm of surface water resting in sections of the ground, conditions were always going to play a major role and favour the home side's All Blacks-laden pack. To their credit, they dictated proceedings perfectly; grinding the Highlanders into the mud with relentless efficiency.
While dire weather kept many locals away, making for a poor quarter-final turnout, the Crusaders thrived in this old-school slug fest. This was a night for traditionalists, not those who tune in for running rugby. Some backs were even reduced to warming their hands.


The Crusaders were supremely dominant in all aspects, banishing successive losses to the Hurricanes and British and Irish Lions leading into the playoffs and emphasising why they went 14-1 during the regular season.
On countless occasions Scott Robertson's men methodically constructed 15-20 phases with Bryn Hall in the boot directing his troops. Ball retention was superb. Pressure turned into points. It was one-way traffic from the outset.
The Highlanders arrived with a plan to back their kicking game - even attempting grubber restarts. But they didn't execute it well - too often kicking in attacking positions.
Anytime they looked like threatening; anytime they made ground they kicked the ball away. It forced them to play the vast majority of the match without the ball. The Crusaders were all too happy to bang it back with interest. It wasn't just the Crusaders' kicking game that was superior but their chase line, too.
Liam Squire didn't help the visitors with an early yellow card for a high shot on Crusaders playmaker Richie Mo'unga. From then on, really, the Highlanders were either defending or backpedalling. Their scrum and lineout struggled - Kieran Read and Sam Whitelock prominent here - to the point hooker Liam Coltman was pulled for Ash Dixon after 34 minutes.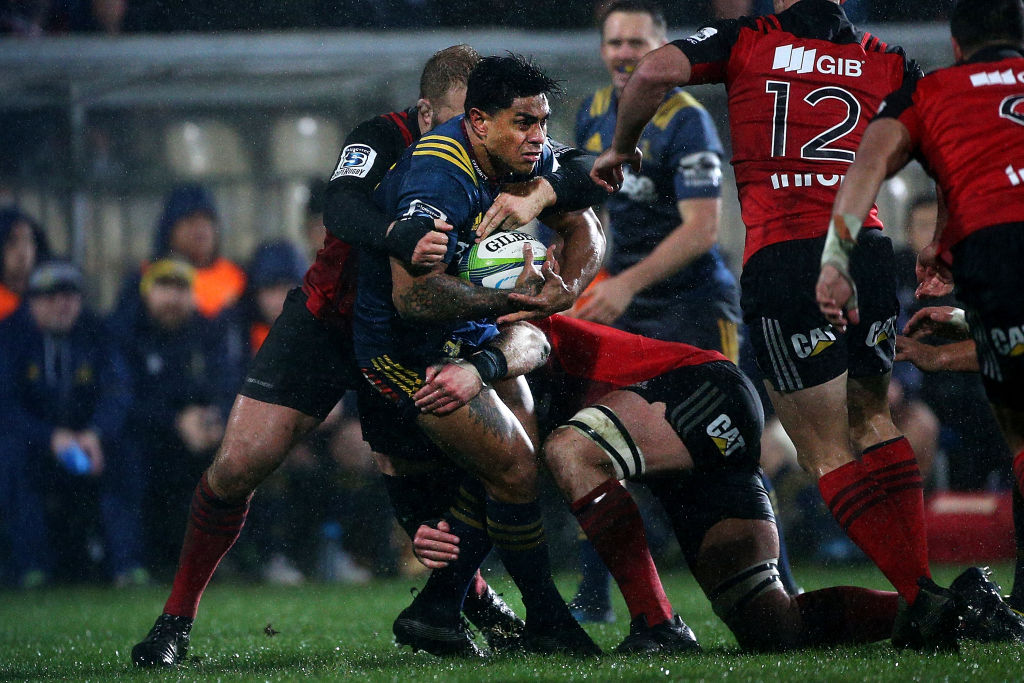 With Mo'unga battling off the tee, missing three attempts, Whitelock's captaincy, as it has been all season, came to the fore as the Crusaders turned down three shots in the first half; two of these resulting in tries from persistent pick and drive. Death by a thousand short carries - Jordan Taufua was a standout with ball in hand.
Given the disparity in possession, the Highlanders defended gallantly. It was energy-sapping stuff. They tried hard to shift the ball in the second half but couldn't spark anything; couldn't get anywhere near the same pace and tempo with a wet ball compared to that they normally enjoy under the comforts of their Dunedin roof.
It was a disappointing way for Tony Brown's tenure as Highlanders coach to end - the former All Blacks first five-eighth now off to join Jamie Joseph in Japan. Assistant coach Scott McLeod, making the step up to the All Blacks as defence mentor, and Malakai Fekitoa, off to French club Toulon, also signed off.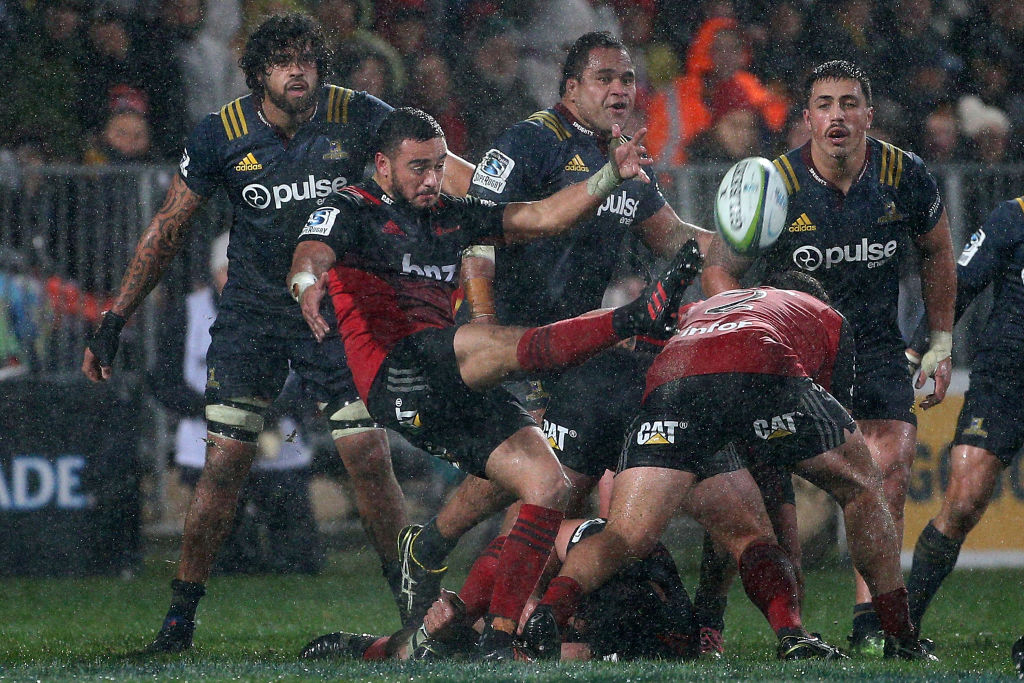 No doubt the Highlanders endured a difficult build-up, only arriving in Christchurch at 1.30pm on game-day after their flight out of Dunedin was cancelled on Friday night.
The reality, though, is the result would not have been different in these conditions no matter when they arrived.
With this result the Crusaders made it three wins this season over their southern foes and assured they'll be at home again next week against the winner of the Stormers and Chiefs.
With their pack laying this sort of platform, it will need a mighty effort from either team to prevent the Crusaders reaching another finale.
Earlier, the Highlanders managed to get out of a flooded Dunedin by air on Saturday morning.
They had planned to leave on Friday, but the flight that was to take them was cancelled due to fierce wind.
Dunedin Airport chief executive Richard Roberts confirmed late this morning the flight had left.