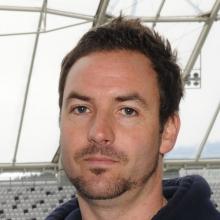 Otago Boys' High School First XV coach Ryan Martin has landed a job in Singapore coaching the Asia Pacific Dragons in the new Global Rapid Rugby competition.
Martin will be the head coach and will have to get a side together to be ready to play in a couple of months.
The Global Rapid Rugby competition is the brainchild of Australian mining billionaire Andrew Forrest, who was a vocal critic of the decision to dump the Western Force from the Super Rugby competition in 2017.
Forrest organised a series of games involving the Force in the middle of this year and has now come up with the Rapid Rugby competition which involves sides based in southeast Asia and Australia and Fiji.
Martin has an impressive coaching pedigree and has always wanted to move up the coaching ladder.
He has coached the Otago Boys' High School First XV since 2011 and has always had the school side team in the top echelon nationally. It won the Highlanders competition four years in a row before the competition was disbanded after the 2015 season. It won the Otago premier schools competition this year, beating John McGlashan College in the final.
He also coached Otago age-group sides, the Kaikorai premier side, and the New Zealand Schools Barbarians team for three seasons.
This season he was appointed as the attack coach for the Otago Mitre 10 Cup side, a position in which he impressed.
Martin, who is in his late 30s, left for Singapore earlier this week. He will head a side which has played a few games over the years but this will be its first serious stint in playing in a fully competitive competition.
Martin, a former premier club halfback, has always held ambitions of wanting to be a fulltime professional coach in the sport and now gets that opportunity.
He is a meticulous planner and smart operator who has a real passion for the game.
It is unclear where the players for the Dragons will come from but Martin may have to look back to New Zealand for players as rugby is not a major sport in Singapore.
The Sunwolves have some games in Singapore in the past couple of years in front of sparse crowds.
The Japanese franchise is scheduled to play two games in Singapore next season.
The Rapid Rugby competition involves eight teams from Australia, Fiji, Hong Kong, Japan, Malaysia, Samoa, Singapore and one other county, believed to be the United States.
The preseason will start next month with the competition set to begin in February and run through until June.
The games will be played under different laws created to make the sport more attractive for the spectator and have the ball in action for longer.
Games last for 70 minutes, and there are time limits for scrums and lineouts. Players can no longer kick to touch on the full from behind their own 22m line.