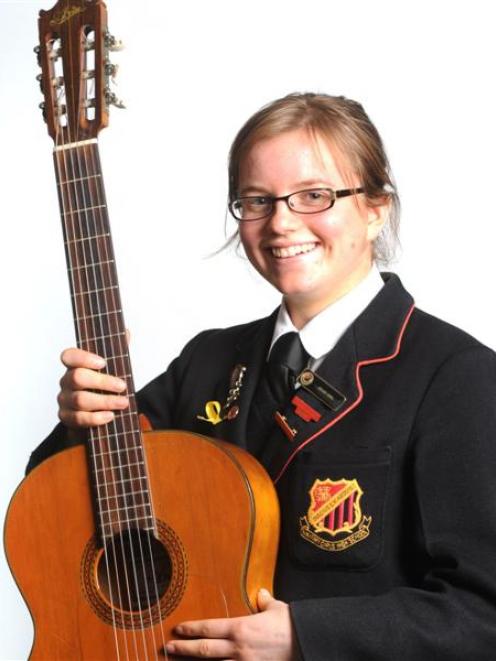 As a young woman with an acute awareness of other people's needs, Hanneke Lewthwaite (17) is destined to fulfil her dreams of helping others.
The Waitaki Girls High School's head girl's empathy stemmed from living in Pakistan until she was 5 years old.
Now she is involved in Amnesty International and Tear Fund.
This year she returned to Pakistan to ''reconnect with old memories''.
She and her parents spent three weeks staying in a school at which her older sister teaches.
One activity Hanneke thrives on is playing the guitar.
She started playing four years ago. ''I just jam around with friends. I just love, love, love music,'' she said.
Her interest is mainly in classical guitar and she now teaches others. ''I like making things that sound beautiful and sharing talent with other people.'' Being captain of the school's First XI football team is a great stress-release. ''I just love having fun with the girls in my team,'' she said.
Hanneke excels academically.
In 2007 and 2008 she received academic excellence awards which recognise her high standard of achievement throughout NCEA studies.
She now studies sciences, mathematics and English.
In her spare time Hanneke is part of a church youth group which does a range of ''different activities'' around town and she likes to spend time with her friends and family. ''I'm quite a family girl,'' she said.
Achievements: Head girl; best speaker in debating 2008; best actress 2008; captain of First XI football team; guitar teacher; conductor of Ferguson House Choir 2009; academic excellence awards 2007 and 2008;
Role model: ''I have a strong faith in God''. Her grandma also inspires her because she always thinks about other people and is well-respected.
Hopes for the future: ''Next year I'm hoping to go to Africa and join my friend in the Congo.'' She would spend eight months working in a school and hospital there before beginning health sciences study at the University of Otago.