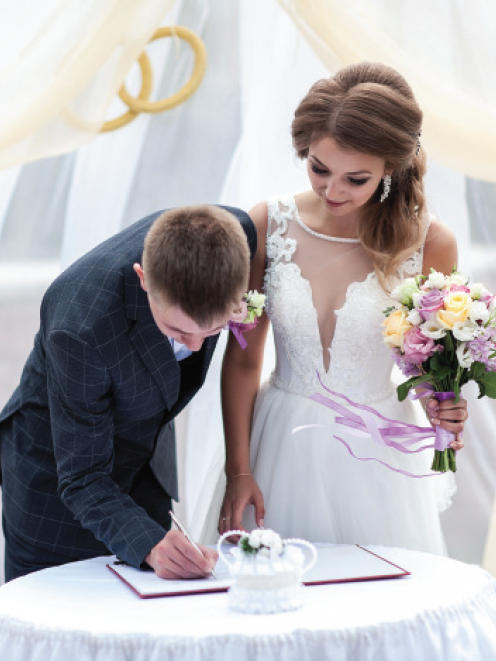 Covid-19 has understandably had a major impact on weddings, with the number of people choosing to get married dropping to record lows.
But while many may be choosing to postpone their nuptials so that family and friends from overseas can attend, there are still plenty of couples forging ahead with their plans.
While it's not the most romantic part of those plans, getting the paperwork sorted is definitely the most important. Because you're not really married if it's not legal.
In New Zealand there are two ways to get married or have a civil union:

By a registered marriage celebrant
You can choose:
When and where you'll get married.
To write your own vows.
A religious or independent celebrant.
To find a celebrant visit celebrants.dia.govt.nz (only registered celebrants can perform weddings or civil unions in New Zealand). You will need to arrange your celebrant before you can get a marriage licence. The cost varies.

Registry ceremonies
Registry offices have not been available for ceremonies in New Zealand since 2019.
But registry ceremonies remain a popular option for many, although they must be held on a weekday and not on a public holiday. A registry ceremony has a set cost ($240 in total) and standard vows.
Step 1: Decide where to get married in New Zealand. You'll need to arrange the celebrant and venue, and remember guests are limited to 20 people.
Step 2: Apply for a marriage licence at least three working days before the ceremony, to confirm that it's legal for you to marry.
Step 3: Arrange witnesses - you'll need to bring two to the ceremony.
Step 4: Get married. Registry ceremonies follow a script and you must use standard vows. Your celebrant will give you a "Copy of particulars of marriage", and will register your marriage with the government.
For more detailed information, visit: www.govt.nz/browse/family-and-whanau/getting-married/how-to-get-married-in-nz/registry-ceremonies


GET A MARRIAGE LICENCE
You have to arrange a marriage licence at least three working days before you want to get married. If you're being married by a celebrant, you'll need their name, and the location and approximate date of the wedding when you apply.
GET MARRIED
Your celebrant will register your marriage and give you a 'copy of particulars of marriage'.
GET A MARRIAGE CERTIFICATE
If you need to show anyone legal proof of your marriage, you can order a marriage certificate. It costs $33 to have one sent to you, and it will show your full names, your dates and places of birth, your occupations, your home address when you got married, parents'
full names, the date and place you were married.
CHANGING YOUR NAME
If you want to change your last name after you're married, you don't have to do anything special, but places like banks or government agencies might ask to see a copy of the marriage certificate. (Source: New Zealand Government)
TYING THE KNOT OVERSEAS
While New Zealand's borders may be opening up to some countries in the foreseeable future, an overseas wedding remains an unpredictable and risky option. But if you are considering that, most overseas marriages are valid in New Zealand. Check with the country's officials to see if you need to do anything there. Your marriage will be registered in the country where it takes place, so you don't need to register it here.