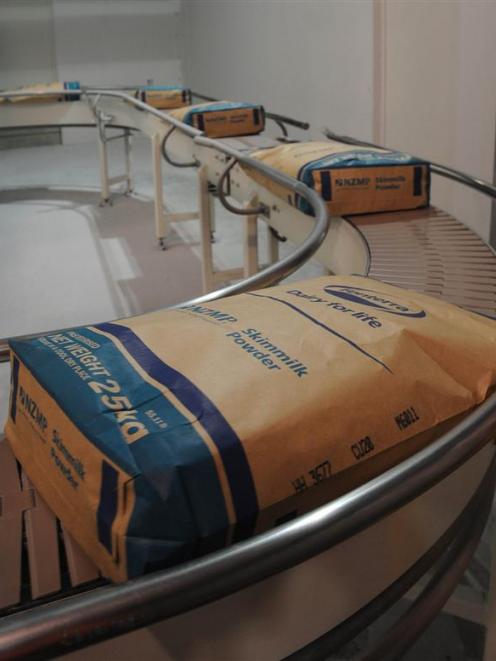 The first lift in GlobalDairyTrade prices since February is seen as a hopeful sign of prices stabilising.
However, economists cautioned it was difficult to read too much into one auction result.
Breaking a string of eight consecutive falls, this week's auction was up 0.9%. Butter milk powder was up 17%, casein 4.6% and whole milk powder and cheddar both up 2.4%, while anhydrous milk fat was down 3.8%.
ASB rural economist Nathan Penny expected prices to stabilise further as production growth slowed, before recovering over the second half of 2014. For now, prices remained under pressure.
The risk remained that prices would stabilise at a level lower than the bank previously expected - the 4% fall in the previous auction was more than it had factored in, Mr Penny said.
The bank was also keeping a watchful eye on upcoming dairy auctions and other dairy market developments.
After record production and average yields in the 2013-14 season, attention was beginning to turn to what New Zealand might produce next season.
ANZ's latest Agri-Focus said Fonterra's initial estimate of a 2% increase was conservative, given trend growth in recent years had been close to 6%.
At this stage, the cull cow kill had run 7% ahead of the five-year average, implying no large retention of budget or extra cows for next season.
However, estimates on the number of new conversions coming into production varied from 80 to 150, implying an extra 1% to 2% increase in cow numbers.
While ''mother nature'' would have the final say, it seemed unlikely in the short term that average yields could be pushed higher, given the dramatic increase this season and a lower milk price forecast for the next, the report said.
The other dynamic behind the conservative production estimate was the increased competition Fonterra was facing to secure milk supply.
Existing dairy companies were expanding and a new competitor - Oceania Dairy, a subsidiary of Chinese company Inner Mongolia Yili Industrial Group, which is building a $214 million dairy factory at Glenavy - was set to enter the market.
That implied Fonterra's forecast of total New Zealand production was likely to be higher than 2%.
Rabobank's agribusiness monthly said market conditions had softened due to expanding global milk supply combining with a temporary lull in Chinese import activity.
Production was in positive territory across all major export regions, excluding Argentina.
After ''frantic'' purchasing in the first quarter of the year, Chinese importers had exited the market as they sought to run down accumulated inventories.
Those lower prices were enticing other buyers back into the market but demand had not been strong enough to soak up excess global milk volumes, the report said.