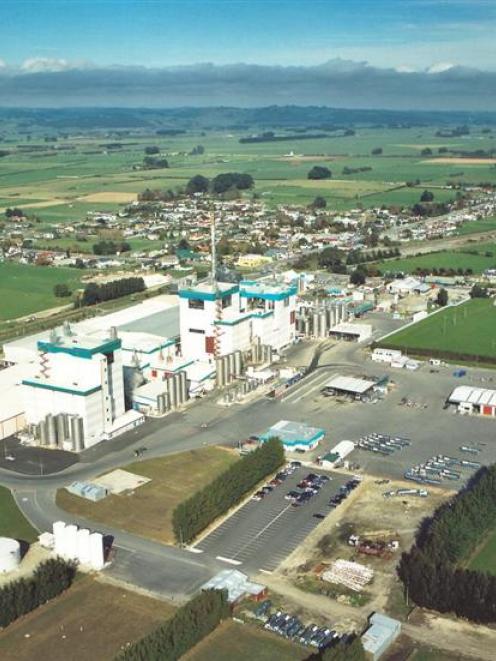 Nearly 1kg of carbon dioxide is generated in producing one litre of milk and 85% of the greenhouse gas emissions are generated on-farm.
An 18-month long carbon footprint study by Fonterra has revealed 940g of carbon dioxide equivalent (CO2) is generated for every litre of milk produced by the dairy industry.
Of the greenhouse gases generated on-farm, 59% was methane, 17% CO2 and 24% nitrous oxide.
Processing and manufacturing accounted for 10% of emissions and distribution 5%.
Fonterra's manager of sustainable production, John Hutchings, said the study confirmed what had already been determined by Lincoln University, that farms generated the most greenhouse gas and that overall New Zealand was an efficient dairy producer.
But, comparing the New Zealand dairy industry's carbon footprint with other industries was not possible, because different methodology was used.
"We've discovered nothing to suggest earlier work done by Lincoln University was wrong and that we're positioned well."
In 2007, Lincoln University's agribusiness and economics research unit calculated that the UK produced 34% more greenhouse gases per kg of milk solids, and 30% more per hectare on-farm than a New Zealand dairy farmer.
The Fonterra study was partly funded by the Ministry of Agriculture and Forestry and was done by the University of New South Wales, Scion and AgResearch.
Mr Hutchings said in an interview that CO2 emissions were measured through each stage of the product life-cycle, from on-farm and farm-related inputs to produce raw milk, through to manufacturing and transporting to overseas markets.
The results reinforced the issue of methane produced by dairy cows but also dispelled as a myth debate about food miles.
Farmers and dairy companies in the United Kingdom have claimed that transporting food around the world added to global warming, but the study showed it was not the issue its supporters claimed.
"It's a very small percentage and indicates clearly the food miles debate should be parked up. The carbon footprint through the full life cycle of a product was where the debate should be," said Mr Hutchings.
The chairman of Fonterra's sustainability leadership team, Barry Harris, said the company was taking the lead by acknowledging the environmental impact of food production and that it was taking seriously the challenge of reducing emissions.
There had been progress, he said.
The New Zealand Pastoral Greenhouse Gas Research Consortium was working with scientists to find ways of reducing methane and nitrous oxide and the Government has announced a research centre to find solutions.
"Incremental improvements in the quality of New Zealand herds have already reduced on-farm emissions per kilogram of milk solids produced by about 1% per year since 1990," Mr Harris said.
Fonterra has also reduced carbon emissions from processing through co-generation, improving waste water treatment, heat recovery and improving transportation.
Announcing the greenhouse gas research centre, Agriculture Minister David Carter said it would most likely be run by a Crown Research Institute and look at ways to reduce emissions and at the same time improve on-farm efficiency.
NZPA reported that the Government had funded seven carbon footprinting projects in the dairy, kiwifruit, wine, lamb, forestry, berry fruit and onion sectors.
Details of the kiwifruit study have already been released, showing Zespri, the world's biggest kiwifruit exporter, found that each kilogram of its New Zealand-grown green crop eaten in Europe generated the equivalent of 1.77kg of carbon dioxide in greenhouse gases.
Gold kiwifruit - about 20% of exports - creates a little less.
The Zespri study measuring the "life cycle" of exported New Zealand kiwifruit showed 41% of the greenhouse gas emissions from supplying European consumers arose from shipping the fruit 20,765km.
Similar studies of the wine industry - which has already completed its report - apples, and lamb are due to be released next month and the beef sector will lay out its figures in August.
Forestry, berryfruit and onions are also expected to come under scrutiny.