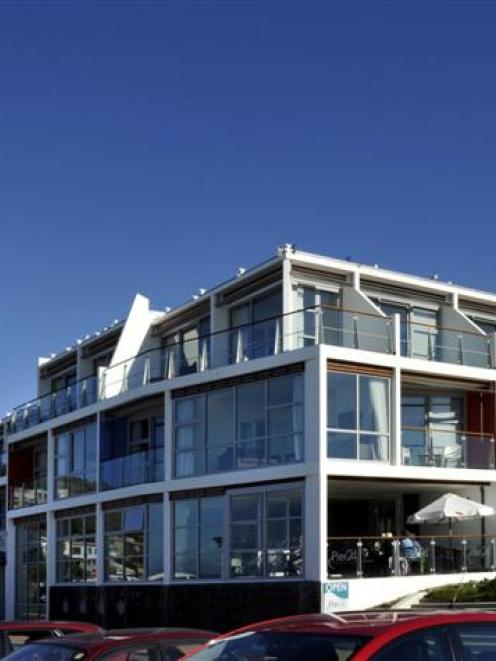 St Clair developer Stephen Chittock and Calder Stewart Property - who together built 26-room boutique St Clair Beach Resort, valued at $14 million - have parted company, with Mr Chittock retaining no stake in the award-winning hotel.
After community speculation earlier in the week, Calder Stewart chief executive Tony Allison and Mr Chittock confirmed yesterday that Mr Chittock's one-third shareholding in the enterprise had been bought by Calder Stewart for an undisclosed sum.
Mr Allison said it was time for the resort/hotel development to "move to the next phase of investment", prompting the buyout of Mr Chittock's 33% stake. Calder Stewart and two other investors would inject an unspecified amount of cash into redeveloping a vacant commercial site on the hotel's ground floor.
Mr Chittock said there "had not been a cross word" over the buyout, and Mr Allison maintained the respective companies retained a "sister relationship" with their complementary businesses in the area. The pair remain joint-venture partners in a Beach St section next to the hotel.
Mr Allison said hotel expansion on to the section "was still being considered" but there were no plans yet to go ahead.
The pair had been in a 50:50 joint venture, with Mr Chittock's share tied up in Front Row Investments Ltd, of which he said he had a two-third share - which equates to a 33% stake in the entire venture.
Still to be agreed on was which restaurant - the hotel's Pier 24 or Mr Chittock's Swell - would retain which staff members, with Mr Allison saying two jobs could be lost from the hotel at a later stage.
In July 2007, it was announced Mr Chittock and Calder Stewart were to build the three-storey hotel, including an 18-car basement car park, restaurant and bar and commercial premises.
During construction, it was estimated the hotel would cost up to $6 million to build and be valued at $8 million-$9 million, but the final cost of land and construction alone was more than $10 million.
Mr Allison, who declined to say what Mr Chittock's stake was worth because of commercial sensitivity, was asked if construction costs had escalated and prompted the share buyout.
He said, "No, the extra cost had nothing to do with it." He explained the construction cost was 9% over budget. He said the building shell was completed for between $7 million and $7.4 million, not including land costs, fit-out or other extras, and a sale value would be about $14 million.
Mr Chittock also rejected suggestions that escalating construction costs had any bearing on the share buyout, saying "the construction budget came in within 10% [of forecasts]".
During the early 2000s, Mr Chittock's companies bought or held interests in up to nine of 16 properties (five commercial properties and 11 residential properties) within the Esplanade block.
After redeveloping the Majestic Mansions 12-apartment block in Bedford St, he sold the complex in March last year for an undisclosed sum. Two houses in the Esplanade block were taken off the market when they failed to attract buyers interested in development.
Mr Chittock said he retained 100% interest in the Esplanade Motels and Apartments complex and Swell restaurant - the latter an estimated $400,000 conversion of a modest beachside home bought for $1.3 million.
Two separate $9 million apartment development projects mooted in the past by Mr Chittock - on the beach side of the Esplanade or the other directly behind in Bedford St - were now "under review" and remained otherwise constrained by parking requirements, both on site and for the public, he said yesterday.
Three adjoining residential properties in Beach St and the Esplanade, which were bought for about $2.8 million, were demolished by the joint-venture partners for development as the hotel site in late 2007.
The hotel was opened in December 2009 and in October last year won the Hospitality Association of New Zealand's Award for Excellence as the country's best new or redeveloped accommodation award.
In October 2006, the area was rezoned from residential 1 to local activity 2, allowing commercial activity for small-scale businesses, retail shops, apartments and restaurants to be built as of right, without public notification. The Dunedin City Council spent more than $6 million rebuilding the Esplanade seawall and redeveloping the landscaping in 2004.