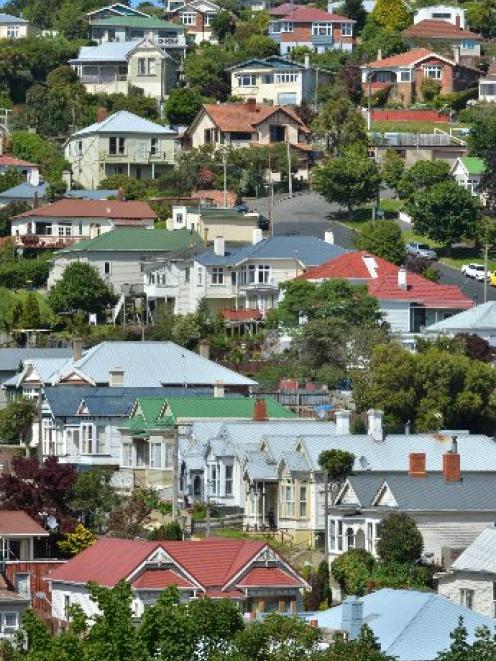 House prices are being picked to continue to rise for the year and flagging sales numbers get a boost, before hitting a ''pervasive slowdown'' in 2015, according to Westpac economist Dominick Stephens.
The housing market, in not only residential sales but overall construction supply and demand, remains a key issue for the Government, opposition and Reserve Bank this year.
While monetary policy focuses on restraining inflation, the Reserve Bank is most alarmed at housing inflation. New Zealand's 2007 housing and property bubble hugely undermined the financial markets, investors and households.
The Reserve Bank's loan to value ratio (LVR) restrictions, which began last October, suppress the extent of banks' lending to people with less than a 20% deposit and are now acknowledged to be removing many national sales in the under-$400,000 bracket and, in Dunedin, the under-$300,000 bracket.
However, actual house prices beyond the $400,000 bracket are climbing, with the national median REINZ up 10% at $440,000 while QV's average national values for March were up 8.8%, at $466,665.
Mr Stephens said, in Westpac's most recent ''home truths'' monthly comment on housing, that the drivers of the recent market slowdown were obvious.
''The Reserve Bank's LVR restrictions have led to a drastic reduction in lending to first-home buyers, and mortgage rates have risen sharply,'' he said.
Before the LVR restrictions, some bank's portfolios amounted to holding 30% of the riskier less than 20% deposit loans, but they had collectively hauled back, not just to the Reserve Bank's preferred 10%, but on average about 6%.
''Banks have clamped down too hard on lending to first-home buyers - [and] as they they loosen up in the near future, the market will get a little boost,'' Mr Stephens said.
Mr Stephens questioned conclusions of recent housing data, from both government agency Quotable Value (QV) and the Real Estate Institute of New Zealand (REINZ).
He said QV data was based on settlement dates, reflecting sales negotiations completed up to three months earlier, while REINZ's ''house price index'' may be skewed by the decline in cheaper housing, and subsequent rise in median prices with more higher priced homes.
''The Reserve Bank's mortgage restrictions have drastically reduced sales of low-price houses, while leaving sales of higher-priced houses broadly unchanged,'' Mr Stephens said.
ASB economist Daniel Smith said housing market activity had continued to ease in March, although that impact was mostly visible outside Auckland and Canterbury.
Low levels of inventory continued to push prices higher in Auckland and Canterbury, he said.
'' The rate of house price appreciation has only eased marginally from mid-2013,'' Mr Smith said.
He expects the OCR will rise at the review next Thursday and another two hikes are anticipated during the rest of the year.
''Higher interest rates should ease housing market pressures further,'' Mr Smith said.
He said scrutinising the number of days taken to sell a property was an indicator of housing market pressures, saying the sector in general looks to be ''holding fairly stable''.
Days to sell hit a low of 33 in June 2013, and had eased to around 35 or 36 days since the LVR restrictions came into effect.