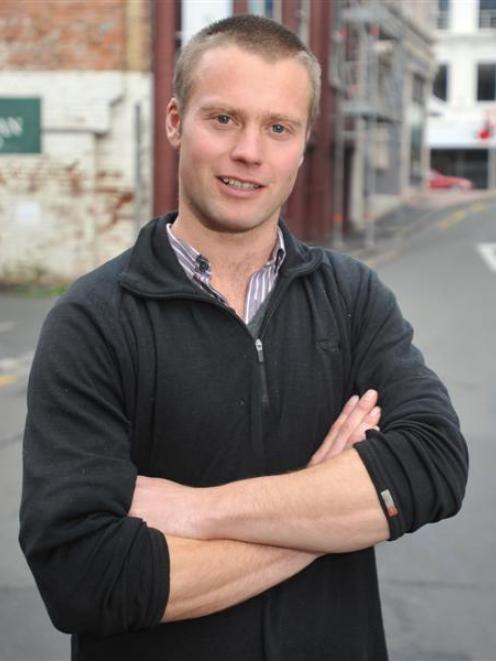 He is a rally-driving farmer with a bent for business.
Rhys Gardner reckons rallying, start-up businesses and farming have a lot of similarities, such as dealing with uncertainty.
And in a world that was becoming ''faster and faster'', being able to stay calm and focused in uncertain situations was important, he said.
Mr Gardner (32), who grew up on a farm in South Otago, has a passion for business development, leadership and people.
He studied at the University of Otago's School of Business before returning to the farm and also establishing a tourism company.
He joined the Upstart business incubator in Dunedin for two years, working with start-up companies, while doing a programme for future leaders, before getting back into farming.
He now operates a 200ha property, running several thousand stock units, with some help from his father, Howie, who farms nearby, and grandfather Clyde.
He acknowledged he was lucky to work with his family, in a relationship with no tension.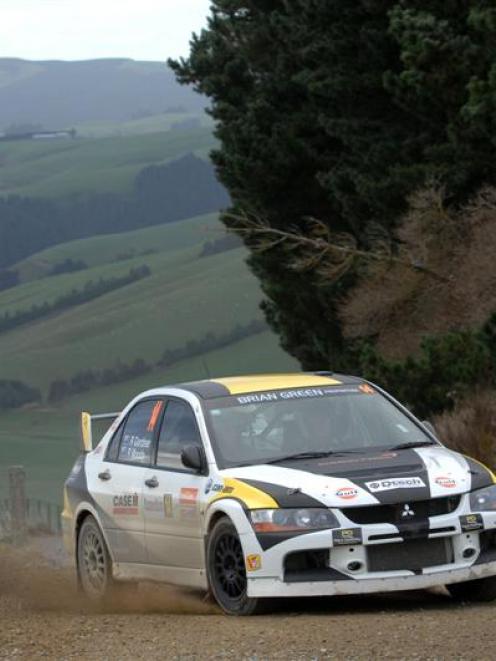 He had a strong interest in farming, and it was grounding for him, Mr Gardner said.
''It's a piece of stability where I don't have a lot of stability in a lot of the other stuff I do.
''Even though farming is dynamic and challenging itself, it's always in the same place all the time,'' Mr Gardner said.
Getting involved in rallying was ''almost inevitable'' as he had raced motocross bikes since he was at secondary school and grew up on a farm that was on the Catlins Coast Rally route.
He reckoned his father got frustrated with the farm motorbikes being ''treated badly'' and put him on a motocross bike when he was about 12.
The year 2012 had been a good one for Mr Gardner as wins included the Catlins Coast Rally and the Allcomers section in the Rally of Otago.
Since that year, he had been on a steep learning curve, both in terms of getting the car sorted and team systems right.
Engine failure has meant missing the next round of the national championships, which effectively ended his season, but he was philosophical about it.
''It's not a bad thing. We've moved so quickly the foundations aren't in place.
''It's like a start-up company that has no resources. You can't afford to make a mistake.
''While that drives you to do things right, at the same time it creates a lot of pressure and stress,'' he said.
His focus was now on the next season and, probably even more so, the following season.
Rallying was all about focus; it demanded extreme concentration with harsh consequences for mistakes, and your attention could not lapse for a millisecond, he said.
But even when reaching top speeds of about 220kmh, he found the sport very calming.
''I'm calmer when I get out of the car after a good stage than any other time. It's almost like high-speed meditation,'' he said.
Last year, he was selected for the Elite Motorsport Academy, run by High Performance Sport New Zealand.
When it came to top-level performance, whether business or sport, it came down to being ''completely immersed in what you're doing with 100% concentration'', Mr Gardner said.
There was no room to think about the corner that you just made a mistake at, or the result of a race, Mr Gardner said.
It was also about noticing the subtle, little changes.
There was no difference between him noticing the shape of a tree, indicating the way a corner was going to go, and a subtle change in some crops on the farm because of pests or the climate, he said.
His rural upbringing was valuable, he said.
Rallying was a sport that required you to be flexible and ''able to do everything'', especially when there was no budget.
As his team was ''completely underresourced'', the only way he could possibly compete at a high level was by taking a smarter approach, a challenge he enjoyed, Mr Gardner said.
It pushed him to be very resourceful and innovative as to how he went about things.
He had started speaking publicly last year after undertaking some training with a Dunedin toastmasters group and began doing it commercially this year.
His topics depended on the audience and he treated each speech as if it was a rally, doing his research on who was there and what kind of message they would enjoy and find inspirational and ''built it to suit''.
He often talked about rally driving, start-up businesses and farming.
What he was really interested in was leadership and helping companies progress and the next stage was working with companies on a more integrated basis.
He loved public speaking, in particular using his commercial model in which he presented a story or challenge that started a discussion within a company's team on what they needed to do to advance.
He wanted to work with a small group of companies which were partners in his rally team, Mr Gardner said.
When it came to rallying he had some goals, the biggest being to go as far as he could and be the best driver he could be.
''That's kind of simple. You can only control where you end up, to a point,'' he said.
Asked about how he managed to balance everything, Mr Gardner said he tried to build a structure to support a busy life.
That included good nutrition and mental training to ''stay centred and focused in the middle of it all''.
''I'd just about describe rallying as a mental illness. You're asking for both sides of the roller coaster.
''You're going to get the ups, but the downs are going to be just as severe. It's brutal,'' he said.
But having to ''pick yourself up and carry on'' toughened you up, he said.
He admired World Rally Championship drivers for their ''unreal'' ability to stay so focused, no matter what happened.
Mr Gardner acknowledged the ''huge amount of help'' he had received from people over the past five years, with many contributing funding, support and guidance.