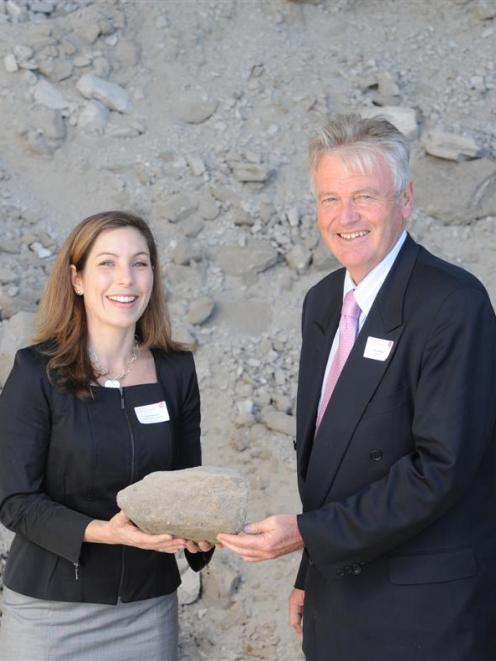 A multimillon-dollar fertiliser export business was launched decisively on the Taieri Plain yesterday with a massive inaugural export consignment of 1000 tonnes heading to Australia next month.
Privately owned Sydney-based Featherston Resources has since 1997 poured more than $10 million into research and development for commercialising a large diatomite deposit in Middlemarch; recently completing construction of an almost $1 million processing plant near Mosgiel.
Chief executive Emma Weston said the large Australian wheat belt was initially being targeted for export, but numerous types of applications were being investigated, the New Zealand dairy sector having been identified as a main potential market.
The Middlemarch quarry contains an estimated 20 million tonnes of diatomite, drilling results from 40m deep to beyond 150m revealing an estimated 6 million tonnes as being commercially viable.
Ms Weston said Featherston is targeting annual production of 10,000 tonnes - split 50:50 for export and domestic use - which at present prices of $A695 ($NZ944) a tonne equates to $NZ9.4 million in annual sales.
"We're comfortable at 10,000 tonnes but the plant should be able to easily push to 20,000 tonnes," Ms Weston said.
The Middlemarch diatomite has high levels of opaline silica and carbon (organic) matter.
Once it was quarried and dried, nitrogen and phosphorous were added, along with any other trace elements as required for different customers.
Featherston chairman Tim Goodacre said Featherston had contracted an Australian distributor and had about 4000 grain-growing clients, including many already under contract.
"Each batch can be individually customised to what a client needs," Mr Goodacre said.
Before the opening ceremony, with more than 50 guests, including southern shareholders and Dunedin Mayor Dave Cull, Mr Goodacre said farmers and horticulturists wanted to move away from fertilisers and soil conditioners containing chemicals and synthetics to use natural and compound products with trace minerals.
Aside from fertiliser to improve crop yields, other investigations are under way into applications for suppression of soil pathogens, which was revealing "good results", and also dealing with established diseases such as crown rot and take-all in wheat, and bacterial blast in stonefruits.
A memorandum of understanding had been signed with potential Indian customers and talks were under way with potential Chinese and Southeast Asian customers, Mr Goodacre said.
It was first confirmed in late 2008 that Featherston was field testing the Middlemarch fossilised diatomite in Australia and around Dunedin as a fertiliser and soil conditioner, as an alternative for the standard hard fertiliser traditionally used on farms.
While the number of Featherston shares on private issue had doubled during the past almost three years, Mr Goodacre said the company would continue with private equity funding.
It had recently been in talks with investors in Hong Kong and Singapore, and in the "long term" the company might consider listing and floating on a stock exchange; either the New Zealand or Australian bourse.
The Taieri plant will have up to eight staff, plus occasional casual workers.
Most of the plant's construction, and crushing and mineral-drying equipment was sourced from local companies, and was built with expansion in mind, Ms Weston said.
---
The facts
What is diatomite?
• Diatomite is the fossilised remains of up to 100,000 different varieties of microscopic water-borne algae called diatoms, impregnated with silica, which when mined resembles hard fertiliser such as limestone or phosphate. Used as fertiliser, an insect repellent in agriculture and home applications and also as a whitewash for buildings.
Featherston Crown Minerals permits in Otago
• A 20-year mining permit from 1993 for mining diatomite within a 174ha area in Middlemarch.
• A five-year exploration permit until mid-2014 covering 2610ha to look for diatomite, lignite, clay and peat near Hindon. Renewal application for prospecting permit for diatomite, lignite and clay over a 3080sq km area covering Middlemarch and Oamaru.
Source: Crown Minerals
---
---
Featherston Resources

• Private company Featherston Resources Ltd was registered in December 1997 and has five directors. The two from New Zealand are John Cook, from the Bay of Plenty, and James McLean, of Auckland, and three from Australia are Tim Goodacre, of Victoria, Christopher Watts, of Victoria, and Emma Weston, of New South Wales.
• In late 2008, Featherston had 57.1 million shares with more than 140 separate shareholders, according to Companies Office records.
• Since then, the number of company shares has grown more than 53% to 87.5 million with 193 shareholders.
• The five largest, each with more than 4 million shares, are AXL Ltd (4.76 million shares), Wellingtonians David Kember, Young Sun Kim-Walker, and Alan Walker (4.48 million), Codlin Brothers Ltd, of Pukekohe (4.12 million), Dunedin men David McDougall and Geoffrey Thomas (4 million) and Aucklanders Sarah Kember, Simon Kember and Richard Riddell (4 million).
AXL Ltd, as the largest shareholder, has a sole director and shareholder, Douglas Best, of New South Wales, and the company's registered office is in Seaford, Victoria, according to Companies Office records.
---