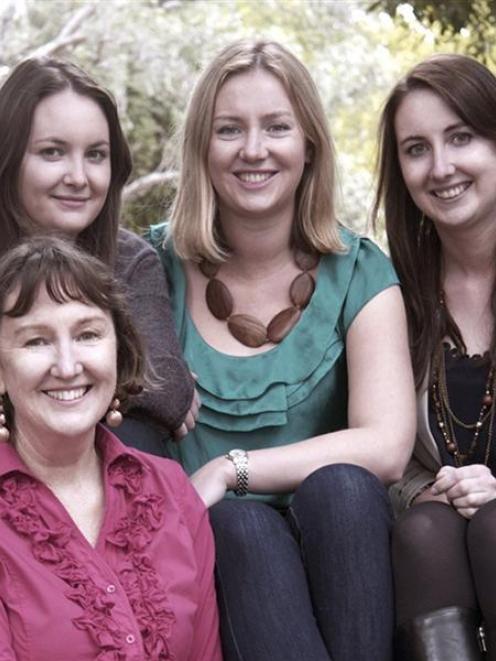 Ring organic skincare business Plantae and ask for a Priest and there could be a little confusion.
For there are four possible options - the company's founder, Carol Priest, and her three daughters Janelle (28) and Jacinta (26), both University of Otago graduates, and Fiona (25).
''We have a joke; if your last name doesn't end in Priest, you're very lucky to be able to work here,'' Janelle said.
In its 13 months of operation, Plantae products have been stocked by 57 stores throughout New Zealand.
The company was also exporting to South Korea, the Netherlands, Australia and the United Kingdom, with opportunities seen in other export markets.
Both Janelle, who has a double degree in commerce and arts, and Jacinta, who has a commerce degree, paid tribute to their tertiary education in Dunedin.
''There is no way that I could be doing what I am doing now if it wasn't for my degree in marketing.
''With this combined degree, I can be involved in both the business management and the marketing roles for Plantae,'' Janelle said.
Jacinta, who runs the finance department, said she could not put a value on her degree and the skills and knowledge she gained while studying in city.
Youngest sister Fiona, who has a design degree from Massey University, was responsible for the packaging and marketing collateral.
It was ''quite amazing'' the three sisters had different skills, with some crossover, so together they could run a business from all angles, with their mother being the experienced product developer and formulator, Jacinta said.
Carol Priest established Carol Priest Natural Cosmetics in 1991 and was a ''pioneer'' in the industry, Janelle said.
In those early years, natural skincare was really only available in health food stores, but it was becoming more mainstream.
Joining the business was always in the back of the sisters' minds. Having grown up among it, it was ''all we've known'', Janelle said.
While they looked at branching out into different careers, they ended up being drawn back to it.
Working as a family had its advantages, although it was also very ''all-involving'' and hard to switch off from.
The quartet got on ''pretty well'' and were always flicking ideas around and discussing issues as they arose.
''Because we all grew up together and perhaps because we are all women, it is easy for us to understand each other.
''Often we know what each other is thinking with no words spoken ... although because we are all women, it is fair to say that there are a lot of words spoken,'' she joked.
Their mother was a very good role model. She was down-to-earth, level-headed, a great problem solver and ''really walks the talk''.
She also did ''a great job managing us'', Janelle said, laughing.
Family members were all equally ambitious and all wanted to progress in the industry.
They wanted Plantae to be seen as the most premium skincare range, while also being authentic.
Janelle was constantly reminded by people what a competitive industry it was.
The quartet recognised that and they had to constantly be marketing and coming up with ways of engaging consumers.
It was not a glamorous industry, rather it was all about knuckling down and picking up the phone, getting yourself ''in front of the right people you need to be talking to'', she said.
Arthur Barnett was the first department store to stock Plantae and there was now interest from other department stores around New Zealand.