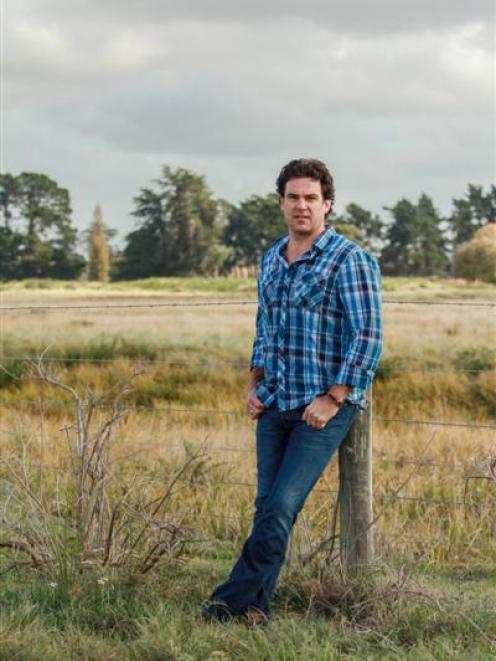 Craig Adams has always loved music.
Years ago, while working in a wool store, the guitar used to come out and there would be a sing-along. But while people told him he had a good voice, Mr Adams (41) never had any training.
Fast forward to now and music has gone from being ''a bit of a lark'' to being semi-professional, including the recent release of his debut album Country High.
For the past two years, he has been a finalist in the male artist of the year section at the New Zealand Country Music Awards.
Originally from Wanganui, Mr Adams has worked in the wool industry all his life. He was attracted by the rural lifestyle and it led to a passion for wool, particularly fine wool.
He came to Dunedin 20 years ago, supposedly for a couple of months, but loved it so much his tenure in Otago extended until two years ago.
He and his family then shifted to Christchurch, where he is commercial manager for the New Zealand Merino Company.
There was something special about farmers, particularly those in the high country, where he was working with fine wool growers, he said. He loved the people, environment that they both worked in, where the wool came from and how they had to battle with the climate to get a ''beautiful product'' to the marketplace.
In his previous role, based out of Cromwell, his main role was looking after relationships with the company's key wool growers.
Now based in the head office, his role encompassed that but was also out in the marketplace working with key brand partners and customers. He said he enjoyed that challenge.
Mr Adams formed a band for a merino conference a few years ago with some wool growers who played instruments. They played six songs, it went very well and ''that's where it started''.
Music was a family affair with his wife Katrina as manager - ''she does a fantastic job - and children Molly (9), Isaac (8) and 6-year-old twins Georgie and Andre - enthusiastically part of the ''marketing team''.
''They are my biggest supporters,'' Mr Adams said.
It had taken two years to get the album out but he had to make sure he had the balance right. His work and his family had to take priority, he said.
His work and his music were a good fit as inspiration came from the high country.
Eight of the 12 tracks on the album were originals, including the title track Country High which he wrote after an autumn muster at Mt Nicholas Station.
To perform Country High at the Otago Merino Association's merino excellence awards in Queenstown this year, singing a song about the high country to a group of high country farmers, was ''fantastic''.
His message in his album was to help rural New Zealand connect with city folk and make them understand what it was like to be connected with farming and with those people who were driving the backbone of the country, and how passionate they were about what they did, and also the environment, he said.
Country music was a ''pretty loose'' genre and he believed it was more of a way of life than a music style.
For inspiration, he was inspired by Bruce Springsteen.
''When I'm on stage performing ... I like to really give it everything I've got so it's a really high-intensity crowd interaction sort of performance,'' he said.
This festive season, the Adams family will be packing up the caravan, hooking up the boat and heading to Central Otago, one of Mr Adams' ''favourite places in the world''.
It will be a kind of busman's holiday for Mr Adams, who will play at the Luggate Hotel on New Year's Eve with The Rustlers, then at the Bullock Bar, Wanaka, on January 2, and the Glenorchy races on January 4.
He is performing in a New Zealand showcase at the Norfolk Island country music festival in May next year and taking a tour over, with quite a few merino clients already signed up.