Farmers across Canterbury and the Waitaki are urged to be prepared, as some experience their driest November since records began.
Orari Estate, Lincoln, Christchurch, Ashburton, Oamaru and Waimate each had minimal rainfall last month, prompting a reminder to farmers to prepare for more dry days and weeks ahead.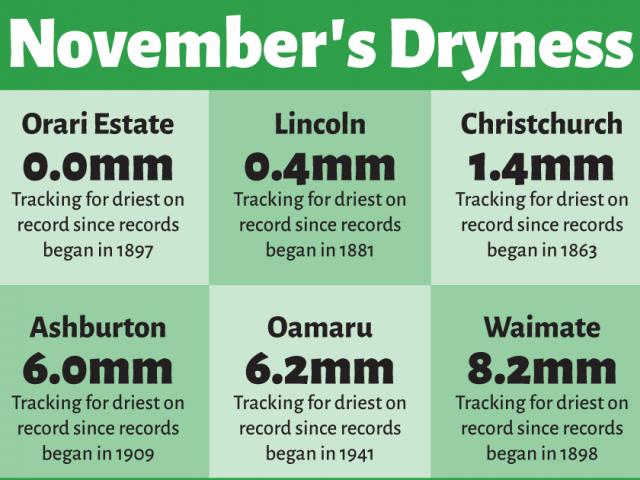 Farmlands agronomist Phil Johnston, who has recorded rainfall for the past seven years in Lincoln, said for the first time he had recorded no rain in November.
''We haven't had any rain since the middle of October,'' he said. ''The lowest before that was 6mm.''
He said although the area had a wet year compared with the past two years, a lot of that rain came at the wrong time.
With much of that farmland irrigated, farmers were urged to take measures to help manage through more dry periods and potential water restrictions.
IrrigationNZ technical manager Steve Breneger said checking equipment was working correctly was one key factor, as it would minimise down time, leakage and delivery problems.
''Some systems may be 20%-50% out and using more water than you need will shorten your irrigation budget significantly. Simple early season calibration checks can save a lot of water over the season and are easy to carry out by doing a bucket test using the app Check it - Bucket Test.''
The test is designed to check irrigators are applying water evenly.
Checking pressure and sprinklers was also recommended, he said.
''Down the track, if restrictions are introduced, re-nozzling might help stretch out water for longer, but this should be done under the advice of a qualified irrigation designer.''
He said irrigation scheduling was a critical element during dry periods, particularly if water supply was likely to be limited.
''With water meters in place, you should be keeping a close eye on how much water is being [used] and regularly reviewing soil moisture levels and crop requirements.
''Sitting down and planning your water budgets will enable you to work out how best to allocate water over the coming months. If you operate a number of irrigation systems, think about how you could manage these under restrictions. Using your most efficient systems more than your least efficient systems will help you make the best use of limited water.''
Mr Breneger also advised farmers to limit irrigation during high winds or extreme daytime temperatures, ''to make every drop count''.
-By Alexia Johnston