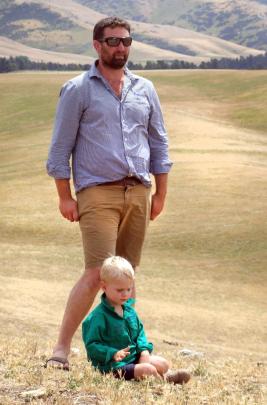 Think of the Armidale farming operation in the Maniototo and the word "quality"  springs to mind.
It is a family operation in every sense of the word and the Paterson family is justifiably proud of what they have achieved. Young Hugo (5) and Bede (3) Paterson — already keen  farmers — are  the sixth generation on the Gimmerburn property.
Last week, the Paterson family hosted a field day, as winners of the New Zealand ewe hogget competition, an accolade adding to their  considerable list of accomplishments.Armidale is farmed by Allan and Eris Paterson in partnership with their son Simon and his wife Sarah.
The family has had a presence at Armidale since the early 1880s, when a small block of land was first drawn.
It has passed through subsequent generations and grown to encompass a landholding of 2054ha.
The Armidale merino stud was first registered in 1940 by George Paterson but, due to the war, the registration lapsed. In 1956, it was re-registered by Allan's father Bruce.
The family won both fine wool and crossbred categories in this year's ewe hogget competition, with the overall title going to their crossbred flock.
Competition convener Stephen Rabbidge said they had proven their genetics were "absolutely spot on" by winning both categories in one year.
There were 150,000 hoggets judged nationwide in this year's competition  which  identified excellence "in every way" in the sector.It made farmers think about what they had done, what they were doing and, most importantly, what they were going to do, he said.
Allan Paterson said he was indebted to his parents and grandparents for what they had done. When his forebears originally drew that first block — where the Armidale base now is — there was not a tree in sight.
"How they survived ...  they had to be tough. I really admire them," he said.
It was great to see the next generation come along and they would hopefully take the place "to another level".
He spoke of the importance of discussing farm succession with family early on so everyone knew what was happening.
Their other son Ben was married to a dentist in Alexandra and was practice manager at the clinic.
Allan and Eris were now pulling back from the day-to-day running of the property.
"I'm back to being the boy, where I started. I'm enjoying that aspect of it," he said.
Farming today — "with the bureaucracy and everything else" — meant a need to be very computer literate, something he had not kept up with.
He found it "easier just to work", he said.In the past, the Patersons had looked at leaving Gimmerburn for somewhere with a more reliable rainfall.
But the main  thing that had kept them there was water — a "fantastic" irrigation scheme — and they could not find anywhere else that gave them the returns  this country did.
"So we're still here", he said.
Stock was "everything" to the family and they put a lot of emphasis on making genetic improvement, Simon said.
This year, about 4450 ewes were put to the ram, comprising about 1100 halfbred ewes, 1000 stud merino ewes, 1500 commercial merino ewes, and about 850 commercial merino ewes to a Romney ram.
They traded cattle and they were a buffer zone — the "first thing to go in a pinch", Simon said.
People often asked what the most profitable stock unit was and that varied; last year it was the halfbreds, this year it would be the merinos. Both were extremely profitable and they complemented each other in their farming system. But whether  merinos or  halfbreds, they were "all about quality". Getting a quality fleece  was key; they also needed to have good conformation and an ability to handle the environment "particularly if the pinch comes".
Benchmarking in the merino flock was a priority. Their merino ewes averaged 19 micron and consistently cut 6.5kg greasy. Their hoggets averaged around 17.5 and cut  less than 5kg.
They were consistently achieving 120% plus at lambing,  and 90% of the ewes mated were rearing lambs at tailing.
Wether lambs were achieving growth rates that allowed them to be killed before the winter while their ewes were still industry-leading for wool weights.
Their average wool value per halfbred hogget was $29.63 in 2016-17, and $52.70 for  merinos.
They did not mate hoggets, as  they did not believe it was an option in their environment. They wanted to get their hoggets in good order and maintain that condition.
Allan believed a lot of people forgot about the value of wool on fine wool sheep and what it did for their returns.
It was  relevant to keep focusing on quality; strong wool had potentially lost sight of quality and had struggled to make headway, with synthetic fibres getting ahead of it, Simon said.
Also, eye appraisal and stockmanship  was very important to the Patersons.
"Don't just assume figures are going to mean you've got a sheep in front of you that's going to suit your place," he said.
Quality was "extremely important" for them. They fed their sheep well and all those important little points around quality gave them that "extra kick".
The Patersons were always trying to challenge themselves and entering the ewe hogget competition was another step in the benchmarking process for them.
"It's a family operation and we're extremely proud of what we're doing. I'd like to think we're heading in the right direction with genetics," he said.
PGG Wrightson Wool business development manager Craig Smith spoke of the partnership between the Paterson family and Norwegian high-performance wool clothing company Devold.
Acknowledging the family for "what they've done and how they grow their wool here", he said their 12 months of hard work went into producing beautiful garments.
Those garments now had the Armidale name on them and a story about the family, which was an exciting opportunity, he said.
Simon said animal health was traditionally a real strength of the property because of the lack of rainfall.
Going forward, with the intensification from irrigation, they were looking at worm resistance  from a breeding perspective.
Footrot was a massive challenge for many in the fine wool industry and there was a lot of work being done on it,  which they were trying to be involved in.
There was now about 170-odd ha under irrigation and it had "made" the property, Simon said.
Border-dyke irrigation, which was getting to the end of its life span, was being replaced with pivot irrigation, with environmental benefits.
The Maniototo irrigation scheme was an "extremely valuable" scheme and they could still farm sheep and beef extremely profitably.
During one stop on the farm tour, Simon explained how an area that used to run two stock units per hectare per year could now run 16.
The pivots would hopefully take away the need to sell store lambs while there had also been other benefits of water —  only since irrigation had they had been able to establish decent tree lanes. Eris Paterson was due a lot of credit for the tree lanes on the property, her son said.
In 1974, George Paterson — Allan's brother, who was managing the property at that time, and who is still an important part of the operation — planted 2500 trees. Not one grew.
In such an environment, they had farm extremely conservatively. If they were over-stocked, then it could lead to windblown erosion which could then get into waterways and cause issues, Simon said.
How intensification was going to impact on merinos, which liked being run semi-extensively, was something that would involve some "figuring out".
When it came to  environmental issues, for them it was about knowing where they were at, where the potential future risks were and then doing their best to mitigate those.
Among those attending the field day was English agronomist Harry Abell, who was very impressed with what he saw.
From the East Midlands, he had worked for a spraying contractor in Methven 10 years ago and was enjoying a return visit.