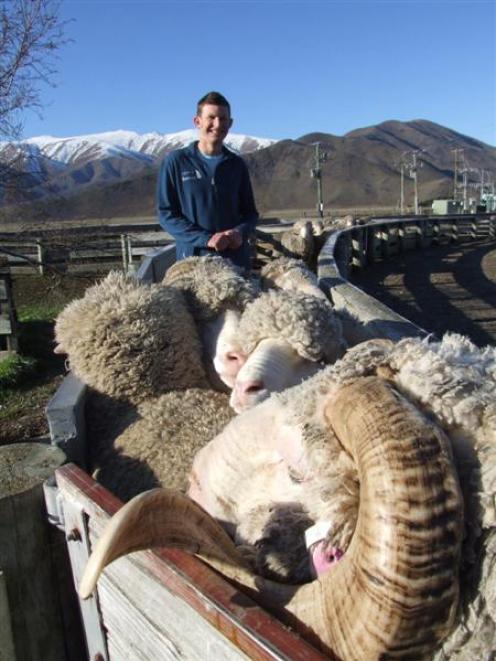 Stud sheep breeding is in Ben Sutherland's blood.
Mr Sutherland (19), who comes from Benmore Station, near Omarama, has inherited a long standing family interest in and passion for farming.
His great grandfather, H. J. Andrew, farmed Punchbowl, near Maheno, with well known Southdown and Poll Dorset sheep studs, while his grandfather, Jim Sutherland, founded the Benmore merino stud.
The Benmore stud continued today, under the stewardship of Ben's father, Bill, and uncle, Andrew Sutherland.
Earlier this year, Mr Sutherland, who is in his first year studying for a B.Com (Ag) at Lincoln University, travelled to Australia to compete in a merino junior judging competition which was held at the Sydney Royal Easter Show.
Last year, he won the Mackenzie Waitaki section of a junior judging competition, which he has entered for three years.
The winners and runners up from competitions held in Otago, Marlborough, Mackenzie Waitaki and Canterbury then went on to compete at the national final held at the Canterbury A&P Show.
Mr Sutherland won the final and received the Lady Isaac Scholarship, a return trip to Australia to compete in the Australasian competition.
It was an ''awesome experience'' to compete in Sydney, particularly against the backdrop of the Royal Easter show, which was Australia's largest annual event, attracting close to 900,000 people each year, he said.
Competitors had to judge two classes, comprising four rams and four ewes, and then place them in order, before speaking and justifying the placings.
The sheep were quite different to what Mr Sutherland was used to in New Zealand. They were a bigger and bolder type and were also show prepared, he said.
Mr Sutherland, who was placed about sixth, was grateful for the support of the New Zealand Merino Stud Breeders and New Zealand Merino Company.
He also had an opportunity to meet some Australian stud merino breeders. The environment and the stock themselves were very different to New Zealand, he said.
Growing up on Benmore Station, he had picked up plenty of tips when it came to judging sheep, from being within earshot of his father and uncle.
''They know what they are on about,'' he said.
Bill and Kate Sutherland, and Andrew and Deidre Sutherland, farm Benmore Station, a 5400ha property, and also the 3800ha Ahuriri Downs.
Next year, the Sutherland family will mark 100 years on Benmore, which was first taken up in April 1857 by Ronald McMurdo, and George and Edmund Hodgkinson.
It had been an ''amazing place'' to grow up and, having lived in Christchurch for five years while he was at boarding school, Mr Sutherland had learned to appreciate the beauty of where he came from.
He expected his stock judging experience would prove useful in the future, which, once he completed his tertiary studies, would involve working in the agricultural industry.
''I'm just passionate about farming. I couldn't really picture myself sitting in an office all day.''