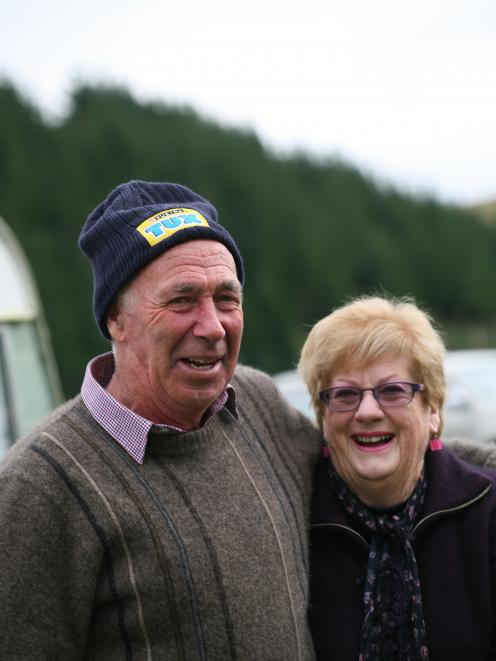 Behind every successful sheep dog trial club there are always hardworking volunteers, but it would be hard to beat Hamish and Anne Steele's record of service.
In 2009 the New Zealand Sheep Dog Trial Association officially acknowledged the Timaru couple as a ''central driving force'' and gave them an award for their leadership and years of hard work for the Levels Collie Club, the Canterbury Centre and the association as a whole.
But the Steeles' contribution did not stop there.
This year, 50 years on from his appointment as Levels' secretary-treasurer, Mr Steele still holds the role and Mrs Steele is equally indispensable as his right-hand woman.
Formed in August 1958, the Levels Collie Club is Canterbury's youngest sheep dog trial club.
Nowadays its trial grounds are on the France family property, above Albury, and are designed so each of the four courses is visible from the club's cookshop.
As with many of the district's farming families, the Steele family history has become entwined with that of the dog trial club.
Mr Steele's involvement in an official capacity began in 1964 when, not long after he returned from studying at Lincoln University, he and brother Chris joined the committee.
The following year he was hit up for the secretary's post, and ''they haven't got rid of me since'', Mr Steele said.
But family involvement began with Mr Steele's father, Les, who was appointed patron in 1974.
You could say Mrs Steele married into the job.
The young Anne grew up on a fattening property in Hawea that ran Romney and half-bred sheep, so it was natural she would run her own team of dogs.
When she was 21, the family moved to Timaru and she brought her dogs with her.
One night she arrived home after work at the chemist's to find ''all these guys in the house''. Six years later, one of those guys ''got around'' to asking her to marry him, she said.
The year they were wed, 1967, she set to work alongside Mr Steele and in 1973 her position was given official recognition - she was appointed assistant secretary.
In 1997 she added cookshop convener to her CV.
Supported by a ''damned good crowd of girls'', the club became renowned for its three-course meals and judges' lunches.
Mrs Steele kept her own dog team after they married, often picking up older dogs ''retired'' by triallists, and she has taken her turn at campaigning dogs over the years.
Mr Steele senior shared the family property between his two sons. Mr and Mrs Steele farmed The Brothers until 2008, while Chris and wife Wendy farmed neighbouring Langley Downs.
Langley Downs is now in the hands of Mr Steele's nephew after Chris' untimely death in a tractor accident in 1975.
While at The Brothers Mr and Mrs Steele raised two sons, Angus and Calum, ran sheep, beef cattle, deer, and meat and fibre goats, kept a bountiful garden, fed shearers and labourers magnificent meals, and still found time to make a significant contribution to many community groups - including the Pleasant Point Gymkhana, now known as ''Get to the Point''.
Elder son Angus was a new baby in 1980 when his mother was appointed convener of meals for the filming of
TV's The Dog Show, fronted by John Gordon.
Younger son Calum ran dogs when he was 8 or 9, skills he has taken with him to Australia, where he works as stock manager. Understandably, the couple's organisational skills have become legendary.
In 1979, when Levels was chosen to host the island championships for the first time, Mrs Steele was obvious choice as secretary, and again when the South Island and New Zealand Championship trials were hosted in 1984.
Very much hands-on, they have provided sheep and materials, run field days and working bees, and organised the drive and yard events at local shows on top of the usual secretarial duties.
Mr Steele is a judge, was Canterbury Centre president in 1974 and is Levels' delegate to the Canterbury Centre and a member of the organising committee for this year's South Island and New Zealand championship trials.
Levels will run the short head and yard event for the championship, an event it ran for the island championship in 1979.
While the move to town has meant downsizing in some ways, it has not meant slowing down and it certainly has not meant giving up dogs.
The Steeles still have the lovely garden and a menagerie of animals, including five working dogs - two heading, two huntaways, and a pup to care for ''when he disappears to dog trials''.
''They grow to be like your friends,'' Mrs Steele said.
''They are working dogs and part of the job but they're still your mates, part of your family,'' Mr Steele said.
The couple were part of a ''big group of semi-retired cockies'' - dog triallists from eight or nine small blocks who formed a core of the Levels club, he said.
He goes to about 20 trials a year - it's his substitute for golf.
''You meet a lot of good people ... people all over the country.''
And he still goes mustering.
''It keeps the dogs fit and me fit.''
Despite secretarial duties taking precedence, he has enjoyed success as a triallist.
A real highlight was when he, with Speck and Sue, was selected to participate in The Dog Show.
Those chosen to take part in the popular series had to be among the top 10 New Zealand triallists, he said.
Dog trialling had remained largely unchanged over the years, Mrs Steele said. It was still universally popular, still a sport for young and old and success still came down to how the challenges unfolded on the day.
However, there had been some modernisation.
Some clubs used laptops to collate entries and results.
''[But] I still do it the same old way,'' Mr Steele said.
Pressure of time and work meant the clubs held shorter events and at least one day of the trials was on a weekend so young shepherds could attend.
Land-use changes in the district meant finding sheep was more difficult but the Romney-based flock used at Levels continued to be supplied, largely by the France and Steele families.
A few ''dairy cockies'' now campaigned dogs alongside their shepherding mates, Mr Steele said.
''Sheep numbers are down [but] dogs are still the basis of the high country muster,'' he said.
''There are a lot of really good dogs [nowadays] trained by good trainers,'' Mrs Steele said.
It was possibly the reason behind some quite experienced triallists not qualifying for the championships this time, she said.
Health and safety regulations changed how some things were managed.
Traditionally, girls brought a salad or a square and the boys provided the meat to be cooked in the cookshop, Mrs Steele said.
But now meat was prepared in approved premises and brought in.
In the past, a long drop was provided for ''the ladies'' and the blokes took care of themselves; now, portable toilets must be provided.
- by Ruth Grundy