Brendon Cross is the sixth generation to farm amid the spectacular beauty of the Otago Peninsula.
He and his wife Paula's vision for farm sustainability was rewarded recently when they were named supreme winners in the Otago Ballance Farm Environment awards.
At a field day last week, judging co-ordinator Judy Miller described it as a successful farming operation that incorporated the complexities and challenges of farming in a semi-urban environment.
Mr and Mrs Cross were a quietly determined couple with a methodical and co-operative approach to farming sustainably in such an environment.
Farm management balanced production and sustainable land use and there was a strong focus on protection and enhancement of the environment and biodiversity, both on farm and in the community, Ms Miller said.
Mr and Mrs Cross, their children Thomas and Hannah, and Mr Cross' mother Annette live at Roselle Farm, a 200ha property 2km from Portobello.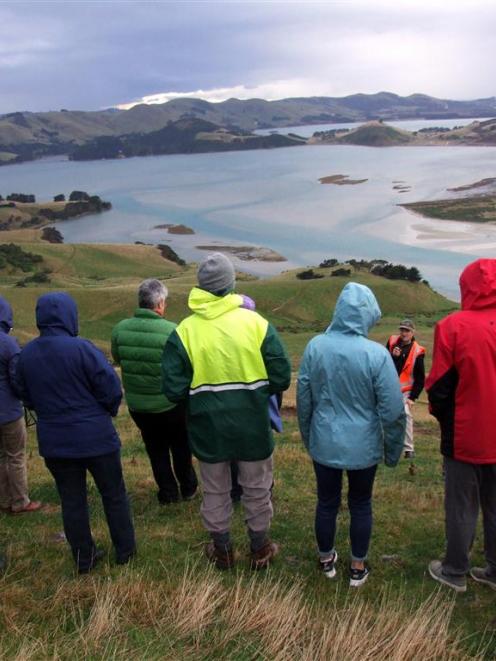 The couple lease four other blocks, giving them a total area of 806ha, or 613ha effective, carrying about 5000 stock units, comprising 95% sheep and 5% cattle.
It was 1863 when Mr Cross' great-great-great grandfather James McCartney bought 20ha at the top of Weir Rd.
The property was used to milk cows with the milk sold to the local creamery and skim milk used to fatten pigs.
Other properties were subsequently added over the years and, in 1957, Roselle Farm became a sheep farm.
Brendon Cross was in his early 20s when he took over running the property, following the sudden death of his father Ron.
Ron and Annette had developed the farm throughout the 1970s and early 1980s, with access and fencing improved and poplars and willows planted for land stabilisation.
Brendon and Paula, who teaches at Broad Bay School, bought the farm in 1998 and were originally running 1500 ewes and 350 hoggets.
Over the years, they monitored and set goals involving stock and land-care.
They wanted to see a future in farming where both land and livestock were well cared for and protected.
As well as aiming to make farming a profitable business so they could afford to put resources back into projects involving land protection, they were aiming to make it a sustainable business for future generations.
The farming operation, which has 38 neighbours, was run by Mr Cross and a full-time worker, with family helping out at weekends and during school holidays.
They run a Romney ewe flock, with a focus on selling a high number of store lambs, with more than 60% sold at weaning.
Their lambs were sold to Hamish and Amy Bielski, who were guaranteed buyers each year, and it was an arrangement that worked well, Mr Cross and Mr Bielski said.
Their aim was for an efficient, easy-care breeding ewe that lambed 150%, producing lambs that averaged more than 30kg at weaning.
Ewe weights had dropped and scanning had increased as their flock had become more efficient due to breeding, Mr Cross said.
Their "A'' flock of ewes was mated to a Romney ram, while B flock ewes went to a black-face ram, and all 2-tooths were mated to Romney rams.
They also have 30 cows.
Mr Cross was comfortable leasing land, saying they were looking to add value to their home property and it was about being open and having good communication.
They were looking after land "for the next person'' and improving it and he did not feel it was any different to the land they farmed at home.
The Hereweka/Harbour Cone block, leased from the Dunedin City Council, has the distinctive Harbour Cone at 315m above sea level.
It includes historic lime kilns owned by the Otago Peninsula Trust and 6.5km of public walking tracks that are open most of the year.
Mrs Cross said it was great people could enjoy the scenery.
"It's a beautiful place and if it can be shared by many people, that's a good thing.''
Nicola McGrouther said Mr and Mrs Cross had a strong commitment to water quality.
They had started testing water, prioritised riparian fencing, assessed stream health and developed an environmental management plan.
They intended to keep visually checking streams, fixing any obvious problems, and testing water quality to build up a long-term record of stream health to make sure they were on track.
Ms McGrouther encouraged farmers to borrow a stream health monitoring kit from the Otago Regional Council but said a visual check could tell a farmer a lot.
If a stream looked bubbly and clear, with lots of "cool bugs flitting around'', then water quality was "pretty good''.
But if it looked pugged, you could not see the bottom and there was a lot of sediment, then there was a problem, Ms McGrouther said.
Geckos had been identified in one area on the farm and Mrs Cross said they intended to fence off that area and plant tree species that geckos liked.