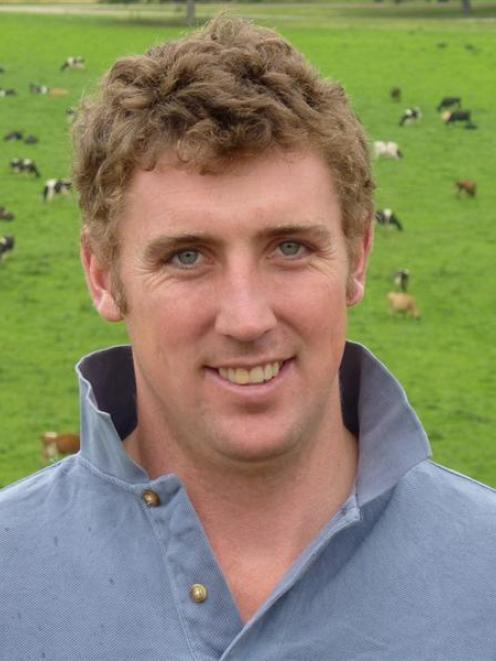 A strong involvement in Young Farmers, which included helping to raise $70,000 for the Christchurch earthquake appeal, has paid off for lower order sharemilker and equity partner Greig Moore.
Mr Moore (26) received the Federated Farmers of New Zealand leadership award at the Canterbury North Otago Dairy Industry Awards.
He has been involved with Young Farmers since June 2008, when he moved to North Otago and wanted to meet people. He contacted Young Farmers' head office in Methven and was "pointed in the right direction".
He started attending Five Forks Young Farmers Club meetings and, after six months, became vice-chairman.
He became secretary a year later - "because they didn't have anyone else to do it" - and he was elected North Otago district chairman in January this year.
Mr Moore has twice entered the Young Farmer Contest and last year was placed third in the Aorangi regional final.
He enjoyed the experience, saying he was not expecting to do so well in his first regional final, and he was "really stoked" with his performance.
This year, Mr Moore decided to take a year off from the contest, as he was in the Canterbury North Otago sharemilker/equity farmer of the year.
Instead, he enjoyed organising the North Otago district final, which was held in conjunction with the North Otago A and P show in February.
He might have another crack at the contest next year.
Five Forks farmer Jeff Thompson came up with the idea of the earthquake fundraiser which was held in conjunction with the weekly Waiareka stock sale in Oamaru.
The 240 donated sheep and 72 cattle sold for a total of $68,500, with Young Farmers topping up the proceeds to $70,000. The donation was split equally between the Red Cross and Salvation Army.
Because he was busy with the sharemilker/equity farmer contest, Mr Moore said he did not want to take full charge of the fundraiser, but agreed to be Mr Thompson's "2IC".
They organised the fundraiser in just a week, with the support of trucking firms and livestock agents, and Mr Moore initially thought they might raise $10,000 which would be "pretty good". He was blown away by the final tally.
When he entered the sharemilker/equity farmer contest, Mr Moore set himself the goal of winning a merit award.
He was "stoked" to make the second round of judging and the top six, and thrilled to winthe leadership award.
The contest had been a great opportunity to compare himself against others in the same field and see how he was doing.
He got good feedback from the judges and learned a lot about budgeting and things he needed to improve on. He will head to Wellington at a later date for a leadership course.
Being involved with Young Farmers had been a great way to meet other young people, get out in the community, "do some good" and learn some leadership roles, including meeting skills.