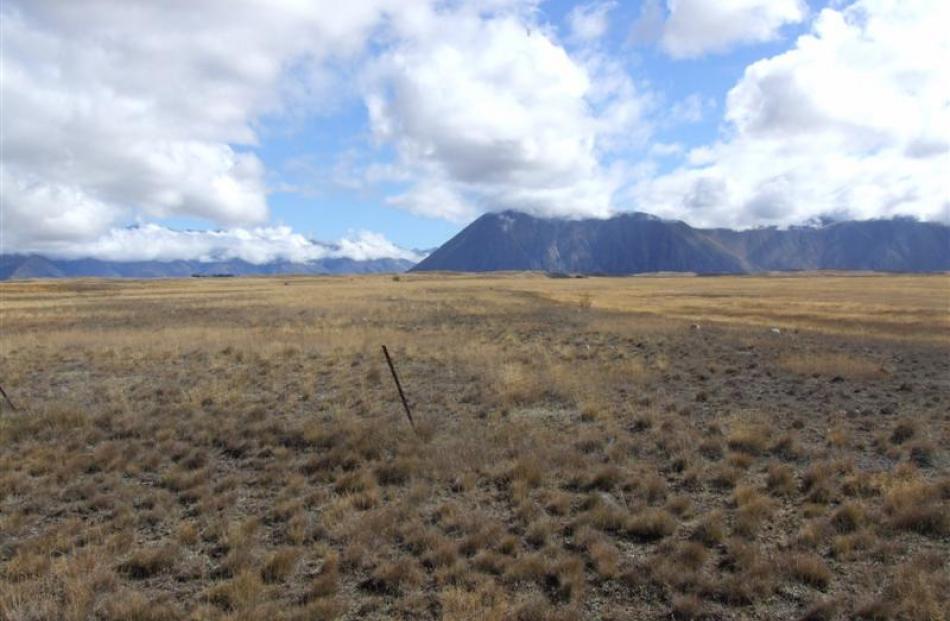 Kees Zeestraten has spent close to $3 million trying to get water to irrigate Ohau Downs.
He admitted he was ''gutted'' it had cost so much to get to that point - and still not have water.
Meanwhile, the flats of the 5200ha Omarama property, where he intended to do his irrigation development, were, as North Otago Federated Farmers high country chairman Simon Williamson said, ''pretty depleted'', with hieracium taking over and tussocks struggling to survive.
''In general, you would not say it's in great health. It's certainly not knee-high tussocks waving in the wind,'' Mr Williamson said.
Mr Zeestraten, who has dairy farms in Southland, bought Ohau Downs in 2004.
His original intention was to irrigate on the flat, with water through the Mackenzie Irrigation Co, and make seven farms, each milking 1000 cows.
But after going through hearings and appeals, he was now down to three sites, each milking 1400 cows, in indoor operations. Gross turnover was estimated in the vicinity of $20 million.
He had incurred costs of close to $3 million through that process. The mediation process in the past 18 months had cost about $500,000. It appeared Ohau Downs might have a mediated solution with 80% of the appeal parties, he said.
In 2012, Mr Zeestraten purchased neighbouring property Glen Eyrie Downs, after the company which owned it went into voluntary liquidation.
Southdown Holdings, of which Mt Maunganui businessman Richard Peacocke was a director, had proposed establishing six dairy farms, running up to 7000 cows on the property.
The company pulled out of the process, because of what it was going to cost in the next three to five years, and the property was put on the market.
It made ''complete sense'' to add it on to Ohau Downs, allowing Mr Zeestraten more flexibility with his plans, he said.
The total spent on Glen Eyrie Downs, by the previous owners, including the purchase price, was more than $11 million. About $2.2 million had been spent on clearing wilding pines on the property.
Clearly frustrated about the situation, Mr Zeestraten said he had ''given it everything to try and make it work for everybody''. To still not be seeing light at the end of the tunnel was ''pretty gutwrenching''.
He saw what could be done to hold up the process as ''nearly as blackmail''. Those opposed to his development did not want to see any dairy cows in the area, he said.
Asked what their concerns were, Mr Zeestraten said, ''You can think of anything, anything you like.''
''I get the feeling it doesn't matter what you do, it's never enough. That is the feeling that I'm getting though the process,'' he said.
Mr Zeestraten was also running merino ewes ''very holistically'' and growing feed for grazing dairy cattle. There had not been any grazing pressure put on the flats, he said.