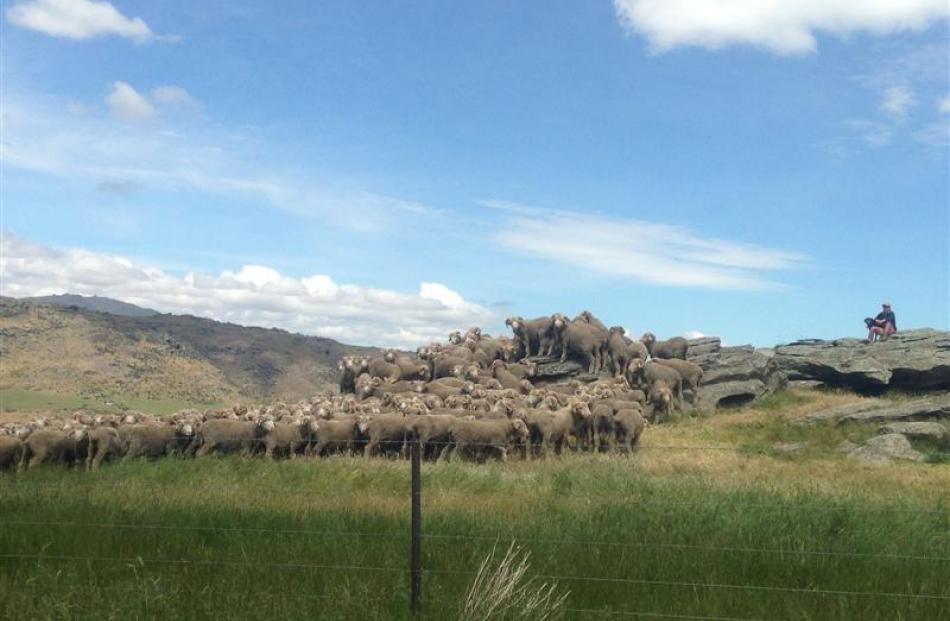 If it were not for rabbiters, the Campbell family would not still be on Earnscleugh Station.
From the mid-1980s to the mid-1990s, the future of the vast Central Otago high country property hung in the balance.
Plagued by rabbits, they were in ''serious strife'' and it was an ''absolute nightmare'', Alistair Campbell told about 300 people attending a field day at the property on Friday.
Today, 21,000ha Earnscleugh Station is a far cry from the barren landscape of those rabbit-plagued years when some areas resembled a desert, without a blade of grass.
Rabbit numbers have been very low since the late 1990s, allowing for dramatic recovery of both native and exotic grasses on the property.
Mr Campbell paid tribute to the rabbiters who had worked on Earnscleugh, saying a great deal of thanks was owed to them. Rabbit control remained the top priority in all management decisions on the station and a full-time rabbiter continued to be employed.
An impressive family farming operation - along with some stunning views - was outlined at the field day, which was hosted by the Otago Regional Council, Beef and Lamb New Zealand and the Ballance farm environment awards.
Both Alistair Campbell and his son Duncan, who is in charge of day-to-day management of the property, share a passion for livestock - along with an aversion to machinery.
''We hate it,'' Alistair said succinctly.
The Campbell family won three awards in this year's Otago Ballance farm environment awards - the Beef and Lamb New Zealand livestock farm award, Otago Regional Council sustainable resource management award and Alliance Group quality livestock award.
BFEA Otago regional judging co-ordinator Judy Miller said the family showed passion, enthusiasm and a desire to succeed.
Earnscleugh Station was bought by Mr Campbell and his wife Judith in 1981, with a group of prominent Dunedin businessmen as partners.
Previously, Mr Campbell had farmed Te Aka, on the shores of Lake Aviemore. He was attracted by the sheer scale, scope and large stretch of warm country that Earnscleugh offered.
A large-scale development programme was embarked on and stock numbers increased from 15,000 units to 22,000.
But it was short-lived. As bait avoidance became an ever bigger problem, rabbit numbers escalated out of control and stock numbers dropped back to 15,000.
In 1990, the Government introduced the Rabbit and Land Management Programme. The aim was to reduce rabbits to a manageable level and withdraw from subsidising rabbit control entirely at the end of the five-year term.
After some initial problems and a total cost of more than $2 million ($800,000 paid by Earnscleugh), the programme proved very successful.
With the aid of permanent rabbiters and also the rabbit-killing virus RHD, rabbit numbers have been very low since the late 1990s.
Rabbiter Bill Linwood said they had gone back to using some traditional methods, such as ferrets in warrens, while ''dogging'' still had a place. No recreational shooters were allowed on the property.
Otago Regional Council director of regional services Jeff Donaldson said rabbits on Earnscleugh had long been a problem, dating back to before the Campbells arrived. It was the most rabbit-prone part of New ZealandRHD was a tool ''not a silver bullet''.
Earnscleugh was still getting considerable value from the virus as a secondary control tool.
The council had not intervened on Earnscleugh since 1997, which was ''full credit'' to the Campbell family.
Otago still had a major problem with rabbits and the importance of rabbitproof netting between pastoral farming and lifestyle blocks was becoming more obvious.
Work was being carried out, both in Australia and at Lincoln, to identify a more virile strain of RHD but that was a ''long way off'' and secondary control was still vitally important, Mr Donaldson said.
Earnscleugh, which ranges in altitude from 170m to 1850m, has a Mediterranean-style climate, with hot, dry summers and cold, dry winters.
The Campbells eventually bought out their business partners in 2003. Son Duncan came home to the farm 10 years ago, after completing an agricultural science degree, doing stud work in Australia and travelling overseas, while daughter Jessica is an accountant in Dunedin.
The property now runs 26,000 stock units and includes three cattle and six merino sheep stud operations involving more than 6000 individually-recorded animals.
The Campbells produce just over 100,000kg of wool annually at an average of 16.6 micron.
The Hereford stud was started in 1977 while they were still at Te Aka and they shifted it to Earnscleugh.
They found selling 20 to 30 bulls was ''totally uneconomic'' for the amount of time and effort being put in and decided they either had to sell 100 bulls or ''get out of it'', Alistair said.
There was no market for 100 Hereford bulls, so they added an Angus stud and later a composite stud and now sold about 100 bulls each year.
New Zealand Merino Company production science projects manager Dr Mark Ferguson said genetics were a key focus at Earnscleugh and the Campbells ''walk the talk'' when it came to genetic gains.
While NZM was predominantly a wool marketing company, it had recently been trying to help fine-wool producers improve their productivity and profitability.
Something common to all agriculture was the cost-price squeeze, with
costs increasing but commodity prices not rising at the same rate.
Genetics offered a real solution for the cost-price squeeze and he challenged those attending the field day to think about how they could optimise genetic gains in their own commercial flocks.
It was also important to think about the costs associated with running the animals and the traits that could reduce costs, such as reducing wrinkle and worm resistance in merinos. That was as important to think about as profitability or productivity.
The technology that underpinned all of that was Estimated Breeding Values (EBVs), he said.
Dr Ferguson's role was centred on breeding the perfect sheep. There was no one perfect sheep but he believed using quantitative genetics and genomics tools could change profitability on hill and high country properties.
Research scientist Dr Barrie Wills said vegetation was a key factor in the Earnscleugh operation.
Good cover was needed on such land and for it to be managed sustainably, through stocking.
Dr Wills, who runs Central Environmental Services, a business providing a high-country environmental monitoring, reporting and advice service, has been working with the Campbell family.
Various blocks had been selected and permanent transects set up, ranging from the lower country to about 1400m above sea level, and they were ''quietly improving'' the cover on the property.
''Essentially, what we're trying to do is get a handle on the vegetation and also provide Alistair and Duncan with information about what they can do in terms of management to keep good growth on these soils,'' he said.
Giving farmers a better picture of what was going on was helping their understanding of the environment and how to sustainably manage the land.
There would also be spin-offs in terms of marketing, he said.
Simon Saunders, deputy chairman of the New Zealand Farm Environment Trust, said the ''take-home message'' from the day was how the Campbell family had been able to understand their resources and use them to best effect.