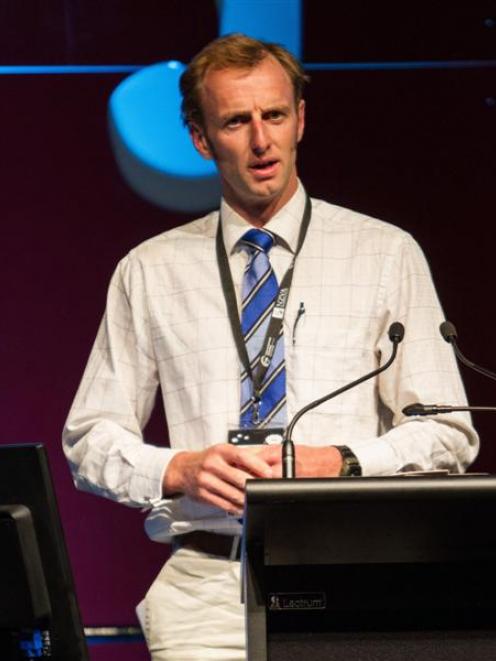 When people ask vet Dave Robertson what he does in his job, his usual reply is that he ''scans cows and talks about sheep''.
Mr Robertson, a partner at the Veterinary Centre, based in Oamaru, graduated with a degree in veterinary science from Massey University 10 years ago.
He grew up in West Otago, in a family which has a long association with sheep breeding.
He had his own Romney stud when he was young - these days he has a Southdown stud - and has always been interested in genetics and production animals.
He decided to become a vet, saying it was the ''next best thing to farming'', and he had no regrets about his chosen career path.
After graduating, Mr Robertson spent two and a-half years in central Hawkes Bay, mainly working in sheep and beef and also became involved in embryo transfer.
It was an area with lots of high-performing sheep flocks and Angus cattle, he said.
That was followed by a two-year stint in the UK, doing locum work, which provided valuable experience.
On returning to New Zealand, Mr Robertson worked in Canterbury for a year before he and his wife Abby, also a vet, moved to North Otago in 2008.
Part of the attraction of coming to the area was being a mixed-practice vet and the couple, who have a young family, were very settled in the district, he said.
He enjoyed the work and the practice, saying there was a very good team of experienced vets who had expertise in different areas and it was a good collegial environment.
Because of the size of the practice, he was able to focus on sheep production, an area of special interest.
Earlier this year, Mr Robertson presented a paper at the eighth International Sheep Veterinary Congress in Rotorua.
The congress, held every four years, had the theme Connecting Sheep and Science and attracted 450 delegates from around the world.
Mr Robertson's paper was on the comparison of Tylosin and Lincospectin for the treatment of footrot in merino sheep, the result of a project working with Andrew and Lynnore Templeton, from the Rocks, at Middlemarch.
It was the first phase of a several-phase project and he was grateful for the support of Mr and Mrs Templeton for allowing him to do the trial, and also to present the work that was done.
Mr Robertson, who said he used a novel presenting format at the congress, was later awarded best practitioner paper for his presentation.
He found footrot an interesting disease complex and he had also been involved with Merino New Zealand's Feet First initiative.
If the industry wanted to be around in the long term, with merinos run on more improved pasture, particularly due to changing land use, then issues concerning feet needed to be addressed, he said.
When it came to footrot, he said former Central Otago vet Chris Mulvaney was the person who had made the biggest impact in New Zealand.
Mr Mulvaney, who spent 25 years in a mixed practice in Central Otago before moving to the North Island, wrote an ''excellent'' guide on management of footrot and that resource had been very valuable to New Zealand farming systems.
But apart from Mr Mulvaney's work, other research, particularly on drugs and strains of footrot, all came from Australia, which was why Mr Robertson wanted to design field trials in New Zealand conditions. And it was not just fine-wool farmers that needed the information, he said.
Mr Robertson said he enjoyed ''yarning'' with farmers and liked talking sheep. He is also leading a sheep course, with a group of farmers in the Hyde-Strath Taieri area, on the lifetime ewe management programme, which is now in its seventh year in Australia.
It was about improving reproductive outcomes of fine wool sheep.