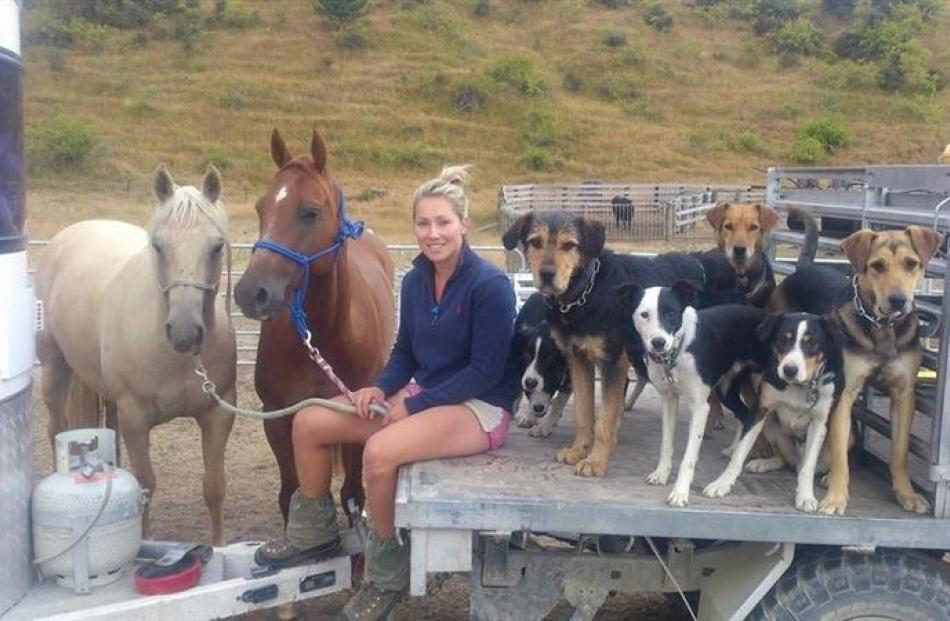 Omarama shepherd Katey Hill has had a stellar rodeo season with her young quarter-horse Boots and is leading the national Rookie of the Year title in barrel racing.
But after such a busy season, with a lot of time spent on the road, Miss Hill (22) made the decision, due to Boots' young age, to ''pull him back a bit'' and finish the season on a quiet note.
She said she was heading to the North Island for several rodeos this month, but was borrowing a mount, and Boots was staying at home on the farm.
Having just turned 6, he had done very well and had a long career in front of him, if she looked after him, she said.
Miss Hill, who had been overwhelmed by the support she had received this season, described rodeo as being like a ''massive family''.
While her goal had been to win the rookie title, she did not realise Boots would go so well this season. She had broken into the open competition and while she hoped to one day win an open title with him, she was in no hurry and intended starting him slowly again next season.
Boots might be an amazing arena horse when he was on the rodeo circuit but, when he was at home, he was ''just a stock horse''.
She spent a lot of time riding him on the farm and that work had proven to be very beneficial, particularly as he was a horse that required continuous work.
''That just makes him,'' she said.
There was a lot of satisfaction involved with producing her own young horse - although Boots had not always been the most easy ride.
On her first ride, he bucked her off but she was undeterred - in fact, she was impressed.
''I was like, 'yes, I'll take this horse . . . this horse had got potential, he's pretty elevated','' she said, laughing.
In those early years, he was a ''nasty wee thing''.
''He just about snapped my femur, broke my foot ... he used to want to back up and try and kick you. He wasn't a nice horse but he's beautiful now,'' she said.
Miss Hill also has a young roping horse and expected she might also end up doing some team roping next season, and possibly some calf roping.
She was looking forward to a trip to Taupo to spend some time with well-known rodeo competitor Bruce Coleman.
Despite coming from a dairy farming background in Canterbury, Miss Hill has always been passionate about sheep and beef farming.
She spent her first 10 years in Culverden and then moved to Oxford, where her parents have a dairy farm.
After leaving school, she studied by correspondence for a diploma in finance and business before heading to the Northern Territory in Australia to work.
She spent two and a-half years there and that was where she first started rodeo, having been taken under the wing of a top rodeo competitor who identified she had both the potential and the passion to do well.
Working in the outback on a 728,442ha property was tough - but also amazing.
''It sorted you out from the boys pretty quick,'' she said.
''It breaks you before it makes you. A lot leave when it breaks you. If you can stick it out for any more than five months, you're doing bloody well,'' she said.
Very few females lasted on camp - where there were no such female frivolities as hair brushes or even moisturiser allowed - ''the only thing you were allowed to take was sunblock'' - but she was fortunate the property owner treated her like a daughter.
She was also very clear what she wanted at the end of her Australian experience - to be able to compete in rodeo, train her own young horses and also shoe them herself.
''I just wanted to be self-sufficient,'' she said.
She did well in rodeo there and was grateful she got a ''head start'' from really good people. Miss Hill also did some steer riding while in Australia and she believed if there was a women's second division steer riding event at New Zealand rodeos, it would be surprising how many women would do it, take it seriously and train for it.
Brought up with motocross bikes and rugby, Miss Hill said her parents were not particularly supportive when she first started rodeo - and they hoped it was ''going to be a phase''. They now realised she was serious about it.
Eighteen months ago, she decided to return to New Zealand and start her young horse, Boots. She and her partner Sam Forsyth live in Omarama, where Mr Forsyth manages a property.
Miss Hill was now doing casual work around the area, which she described as the ''coolest job ever'', accompanied by her team of dogs.
She did a lot of mustering and yard work and the casual nature of the work meant it fitted better into her lifestyle, particularly slotting in rodeos, rather than having a permanent job. She also enjoyed meeting a lot of different people.
Mr Forsyth shared her love of rodeo and was also a keen dog triallist.
Miss Hill always had her own dogs when she was at school and she once did a shearing certificate, as, at that stage, she was keen to be a shearer.
Horses, helicopters and cattle had been her main passion since she was a child - and sheep and beef always won out over dairy farming.
That passion was shared by her sister, who was also a shepherd, while her three brothers were a helicopter pilot, a contractor and a dairy farmer.
Having packed a lot into her 22 years, Miss Hill said she was quite sick as a child, with Crohn's disease, and she had grown up really fast. It also meant she knew her limits.
''I'm really good at putting way too much pressure on myself. It's just been 100 miles an hour all my life but my family are like that as well. We've always been pushed and always been pushed out of our comfort zone,'' she said.
They had also been encouraged to do everything themselves which she believed was ''the best way''.
''Makes you a better person, I reckon,'' she said.