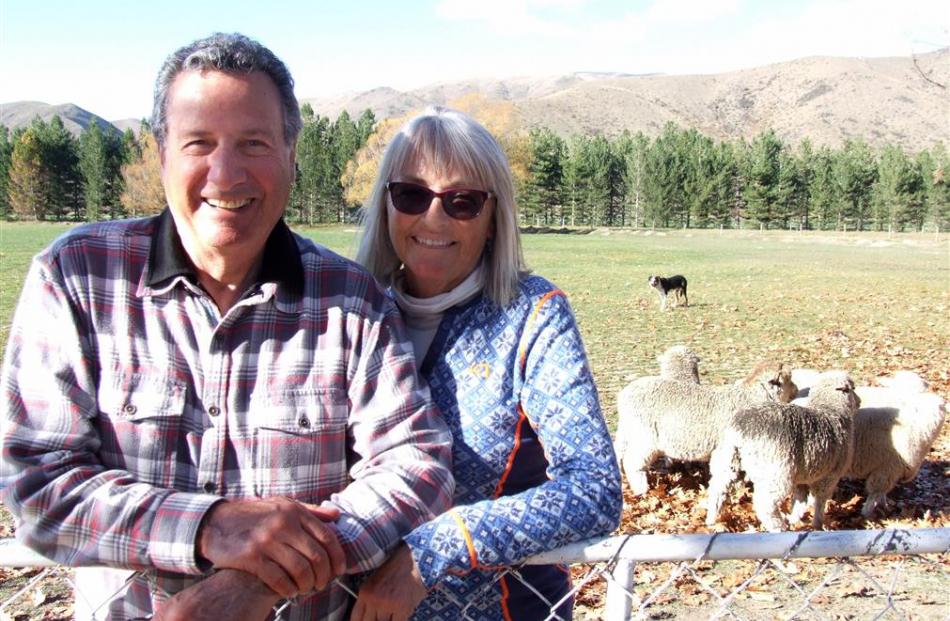 It all began with cold, wet feet.
American couple Peter and Patty Duke were long-time ski instructors before embarking on a business career which has resulted in their launching outdoor apparel brand SmartWool.
The company, based in Steamboat Springs, Colorado, was later sold to Timberland and is now a wholly owned subsidiary of the VF Corporation, which owns other well-known brands such as Wrangler, The North Face and Lee.
After a break away from the industry, the apparel entrepreneurs got back into business, continuing their passion for merino wool with their woollen sock company, Point6.
Their business career in socks started after Mr Duke bought some synthetic socks.
It was a bad move: his feet were the coldest they had ever been in his entire skiing career.
His wife recalled how "mad'' he would get as he poured water out of his ski boots after returning from the slopes every day.
The couple started making some woollen products and, when Mr Duke discovered his feet were now both dry and warm in woollen socks, "the light bulb went on'', he said during a visit to New Zealand.
They opened a small retail store, keen to see what other consumers thought, and sold products to locals and tourists visiting Steamboat Springs.
After a tough period, during which Mrs Duke had breast cancer and Mr Duke broke his hip skiing, they decided to go to their first trade show.
Trying to sell their woollen socks in a synthetic-dominated market, they were perceived as "nuts'', so Mr Duke adopted a novel marketing technique.
He started handing out pairs of socks, telling people to put them on their feet and come back the following day with their feedback.
"People came back saying they were loving their socks. It became our marketing. Once they got them on their feet, they were hooked,'' he said.
"That turned the whole scope of everything around. The rest is really history,'' he said.
SmartWool was launched in 1994 and the business continued to grow, as the world started to "get'' merino wool.
About 2001, after experiencing frustration in Australia, the Dukes came to New Zealand to source wool.
Four years later, SmartWool was sold to Timberland, which was itself bought by the VF Corporation in 2011.
Their time away from the industry meant they were able to observe from a distance.
They started to recognise farmers were "being taken advantage of'' and not getting their fair share for the effort they put in to producing a quality product, Mr Duke said.
It was also a transition time in the industry; consumers were wanting colours and designs, Mrs Duke added.
The wool business was a continual learning experience - "no matter at what level you may be at, there's always more you learn'' - and they started learning about the likes of compacted spinning yarns and the different types of knitting machines available.
They decided to re-enter the industry, focusing initially on socks, and launched Point6 which was named after keeping body temperature at the optimal 98.6degF.
Their aim was to bring a better product to market, using compact-spun merino wool yarns made from wool produced in New Zealand.
The socks' heel and toe areas were reinforced with nylon for maximum durability and the socks were designed for specific sports, such as running, cycling, snowboarding or hiking.
The Dukes wanted to get back to their "mission'' of working directly with farmers, something they had felt was important back in their SmartWool days, to ensure they got the best-quality wool, Mr Duke said.
They were now sourcing their wool from the likes of SH8 Merino Ltd through PGG Wrightson Wool and they were on a mission to work with farmers, in what Mr Duke described as almost a collaborative effort.
He wanted to ensure everyone was making a fair margin, including farmers who could see there was money to be made from farming merinos.
He paid more for his wool yarn than some competitors, yet was able to compete in the marketplace, he said.
Business was good. It had been a more difficult challenge, now they were having to get market share, but they were finding their way, he said.
They were selling between about 500,000 and 600,000 units a year, which was a "good start'', although it would be good to "add one more zero'', he quipped.
They wanted to create a brand and consumer recognition that was quality orientated and was the "go to'' place to buy.
There were plans to develop other products. A glove range was in the offing, and they would probably also get into the likes of base-layer clothing.
The company negotiated a deal with the North Atlantic Treaty Organisation (Nato) for delivery of 200,000 pairs of socks.
Point6 had a 12-strong team, including them, as well as salespeople and distributors around the world.
Not all merino was equal and that was what people needed to be educated about, Mrs Duke said.
Sustainability was also very important; wool was sustainable and they also ensured their wool was sourced from farms where sheep were treated properly, she said.
The couple remain passionate about the industry, Mrs Duke saying they were immersed in their business "24/7''.
"I enjoy it. Everything I've ever done in life, whether teaching skiing or doing this, I try to be the best I can be,'' Mr Duke said.
But there was still time for some skiing, particularly when the grandchildren dragged them out on to the slopes.
SH8 Merino Ltd director Simon Williamson said Point6 socks were available at selected outdoor and PGG Wrightson stores.
Mr Williamson met Mr and Mrs Duke about five years ago at a trade fair in the US and was very impressed.
"They are the godfathers of merino wool in America. Everyone looks up at them,'' he said.
Having been frustrated previously about not having contact with end users of his wool, it had been rewarding to team up with them and see the "top product'' they were producing, Mr Williamson said.
"They know the intricacies of making good socks,'' he said.
Mr Williamson believed there was "huge potential'' for Point6 and, while the merino apparel industry was very competitive, quality would eventually dictate "who comes out the other end''.