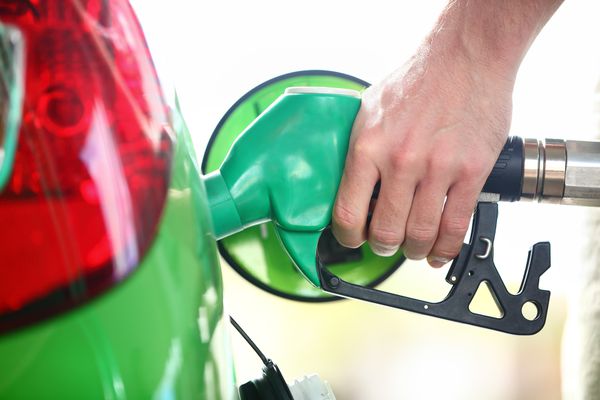 Government ministers say they will act "swiftly" to break supply dominance of big fuel companies with measures to improve competitiveness and transparency in the retail fuel market.
The Commerce Commission has recommended major petrol suppliers face a wholesale pricing regime and have their supply contracts regulated in order to improve competition in the wholesale fuel market.
This comes after a market study confirmed the fuel industry is not as competitive as it should be - and that Kiwis pay too much for petrol.
Among a raft of recommendations in a near 600-page report the watchdog is also regulating wholesale supply contracts to give resellers more freedom to compare offers and switch suppliers.
In response to the findings out this morning, Minister of Energy and Resources, Megan Woods said: "This is about breaking the big fuel companies' stranglehold on supply and getting more competition into the market to benefit consumers."
The study found a lack of competition in wholesale markets and the Government would be introducing the best options to increase competition at a wholesale level, which will filter down to the retail market and prices on the forecourt.
"A more competitive wholesale market means that low cost brands, like Waitomo and NPD, would be able to access cheaper fuel and pass these benefits onto consumers. Other retailers would be forced to adjust their prices or risk losing customers,"  Woods said.
The report also found that fuel dealers and distributors have limited ability to switch suppliers due to restrictive terms in their contracts and the Government would look to introduce a mandatory industry code to regulate the conduct of participants in the fuel industry.
The Government will now take the commission's recommendations to Cabinet with a view to swiftly implementing changes, such as:
• A more transparent wholesale pricing regime
• Greater contractual freedoms and fairer terms to facilitate wholesale competition
• Introducing an enforceable industry code of conduct
• Improve transparency of premium grade fuel pricing
But National says the Government is squarely to blame for Kiwis being "fleeced" at the petrol pump, having milked $500 million out of motorists in just two years through its fuel tax hikes.
National's transport spokesman Chris Bishop said New Zealanders were being ripped off at the petrol pump and it is the Government which is picking their pockets through all the fuel tax hikes it has introduced these past two years.
The extra revenue it has collected from increased fuel excise. For example, road user charges and the Auckland Regional Fuel Tax has already hit $565 million or $319 per household.
"Prime Minister Jacinda Ardern is the fleecer-in-chief. Her Government's tax grab will hit $1.7 billion once further tax hikes -already passed into law – take effect down the line," Bishop said.
Commerce and Consumer Affairs Minister Kris Faafoi said the commission's report confirmed concerns that consumers were paying higher prices for petrol and diesel than could be expected in a competitive market.
The Government would look at requiring retailers to display both regular and premium petrol prices on service station price boards.
"I'll be encouraging retailers to make those changes as soon as possible."
Faafoi also saw merit in adding premium fuel prices to the Ministry of Business, Innovation and Employment's current monitoring of regular grade petrol and diesel margins so consumers have a better awareness of price trends.
"The report has found there is action required in several key areas and the steps we're going to take to address these will make the retail fuel market fairer for all New Zealanders."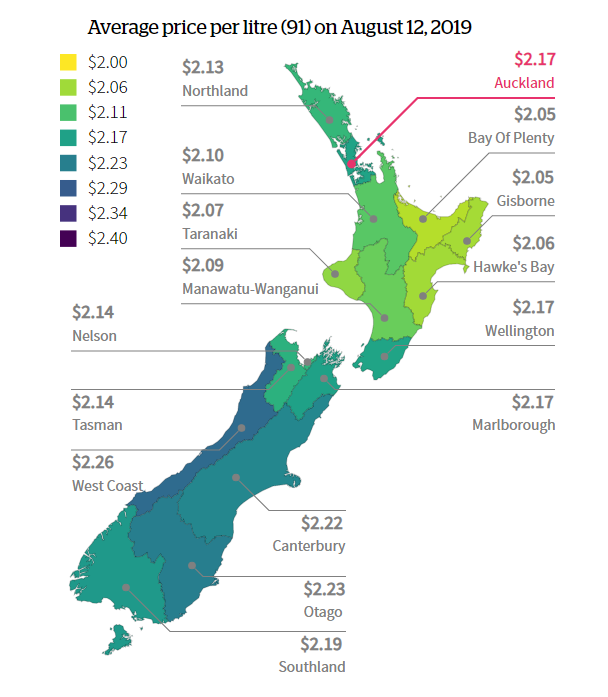 Graphic: Chris Knox, data provided to the NZ Herald by Gaspy
COMMISSION'S RECOMMENDATIONS
The Commerce Commission's recommendations include introducing a Terminal Gate Pricing (TGP) regime to increase trading opportunities for importers and resellers and regulating wholesale supply contracts to allow greater contractual freedom for retailers to compare offers and switch suppliers.
This means the major fuel companies, including Z Energy, BP and Mobil, will be required to offer a spot price at which they will sell fuel to wholesale customers at storage terminals.
The commission warns that it considers ''a credible threat of further regulation if a TGP regime does not facilitate competitive wholesale prices within a reasonable period of time'' would provide incentives for the majors to offer competitive prices.
''This type of regulatory intervention is likely to be lower cost and with a reduced risk of unintended adverse consequences compared to regulated participation in infrastructure sharing arrangements or price control.''
In Australia, the terminal gate price is the price at which fuel companies sell tanker loads of to wholesale customers from seaboard terminals on a spot basis. The minimum amount that can be bought is 35,000 litres.
Australia BP says that by comparing retail prices with terminal gate prices, customers can judge whether they think a service station is charging a fair mark-up.
The Commerce Commission also recommends that the Government regulate to require retailers display premium petrol prices on price boards to better enable consumers to compare the available prices of premium fuels without needing to drive into a station to check the pump price.
Regulations are also urged to require fuel cap or fuel flap stickers specifying the minimum octane level required to avoid customers buying premium fuel for their vehicle when they don't need to or inadvertently buying regular petrol when their vehicle needs premium.
All wholesale contracts should be written in clear and concise language and include a transparent cost-based pricing clause, the commission said.
"We have identified several factors we consider are hindering competition and contributing to these high returns.
"In our view, the core problem is that an active wholesale market does not exist in New Zealand. This is weakening price competition in the retail market."
"The combination of infrastructure sharing and restrictive supply relationships gives the major fuel companies an advantage," commission chair Anna Rawlings said.
"There is a reduced ability for importers to compete for customers of the majors and for distributors and dealers to obtain competitive wholesale supply terms."
The regulator's market study found the country's fuel retailers may be earning close to $400 million a year in excess returns, and few expect any reduction in profitability any time soon.
Analysis of the capital employed by the firms showed their average returns have consistently exceeded the commission's estimate of their weighted average cost of capital since Shell sold its local business in 2010.
However, Z Energy, BP and Waitomo Group all challenged the Commerce Commission's claims that a lack of competition in the fuel sector is delivering participants excess returns.
Z Energy, the country's biggest fuel retailer, argued there were a number of inaccuracies in the commission's draft findings on profitability, including a misrepresentation of Z's 2016-2018 rate of return as about 22%, about double Z's independently reviewed calculations of about 11%.
Following the release of the report shares in Z Energy rose 1% to $4.99, trimming their loss so far this year to about 8%. Z had been an advocate for the type of terminal-gate wholesale pricing the commission has recommended.