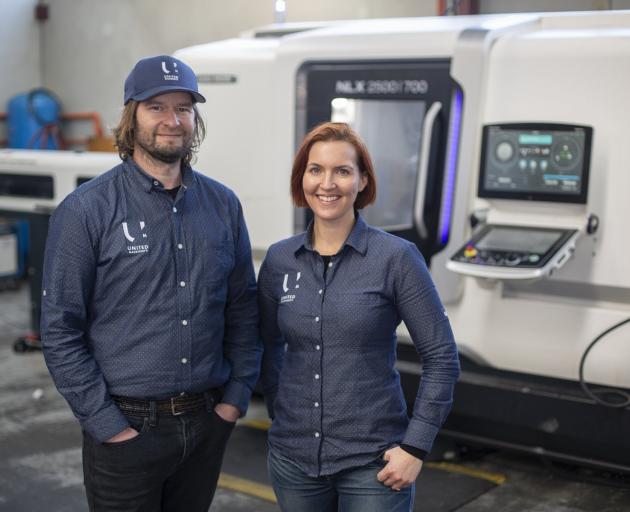 United Machinists chief executive Sarah Ramsay breathed a huge sigh of relief when the wage subsidy scheme was opened up to high growth companies such as hers.
"That wage subsidy will effectively keep us going for two to three months without needing to make any major decisions around staffing.''
Finance Minister Grant Robertson announced on Monday the Government would remove the $150,000 cap from the wage subsidy scheme and allowed new and high-growth businesses to access it.
"It was really good to see those companies, including ourselves ... because we grew exceptionally fast last year, are now eligible, which is great.''
United Machinists had also been contacted by its major clients committing to business as usual once New Zealand's alert level comes down.
Tough decisions would still have to be made for some engineering firms, Mrs Ramsay said.
Only some firms would continue because of the work they provided to essential services.
"For example, my husband will be working this week because we need to manufacture some components for a supplier to the produce industry and they need these components to keep going.
"There are some exceptions ... but otherwise it's business goes on hold for four weeks.''
"It's pretty hard, because obviously, we run machines so we can't work from home.''
Other than her husband, Alex Ramsay, who would work in isolation, the rest of United Machinists had closed down. The company has 18 employees.
Mrs Ramsay said her staff had supported the company's position. Some had offered to take pay cuts and leave without pay.
"What's been really positive for us is we have a great team and we have become eligible for the wage subsidy.''
That wage subsidy worked at at about $15 per hour and the average engineer earned about twice that, Mrs Ramsay said.
She was hopeful the lockdown would only be for four weeks and not much longer.
"I suppose our biggest concern at the moment is that New Zealanders don't play ball and extend the four-week shutdown out by being stupid.
"That is not in anyone's interests.
"It was a pretty brave call from the Government. Personally, I believe it was the right call and if we can have a short, sharp shutdown and deal with this and get back to business as usual quicker , it's going to be good for everyone.''
When the wage subsidy scheme was announced last week, businesses such as United Machinists would not qualify for it as it would not be able to show the required 30% drop in revenue.
In fact it would be near impossible to show that because the company has gone through considerable growth in the last year.
"Obviously, as we scaled at this time last year, we only had a staff of 10 and we also hadn't started building a new facility and investing $1.5million on new equipment, which is all due to arrive in the next four weeks,'' Mrs Ramsay said
"A 30% drop in revenue compared to last year ... we'd essentially be out of business overnight if that were to happen. It's good to be able to have these revised metrics now, which has made us eligible.
"A lot of high-growth companies will be in the same position. Your revenue might be up 50%, 100%, 200% but so are their overheads and costs and that's not easy to quickly unwind, particularly in a capital intensive industry such as ours.''
Mrs Ramsay is also a board member of the Southland Otago Regional Engineering Collective and her advice to other firms was to stick with staff.
"I think it's really important business owners take a step back and think about how they can go out to their teams and ask their staff for concessions before they go make any rash decisions around employment cuts and things like that.
''It's really surprising how much your team are actually there supporting you, when you sit down and have an open and honest conversation with them.
"Sometimes business owners take it on themselves that they're on their own. It can actually be a really rewarding time if you reach out and talk to your people.''