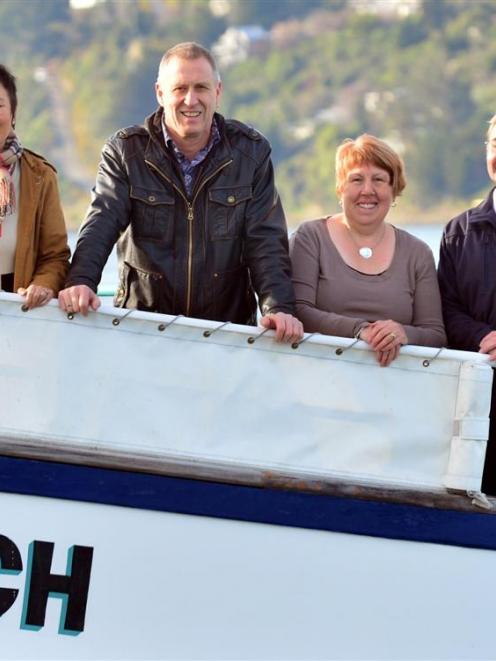 For only the second time in its 28-year history, the popular Monarch Wildlife Cruises Otago Harbour tour business has been sold.
The 60-year-old, 16m MV Monarch is credited with carrying an estimated 500,000 passengers since the harbour tours were started in 1985 by Dunedin's maritime Black family.
John and Jenny Milburn bought the company from founder Colleen Black in December 2001, and this week sold the business to former NHNZ executive Neil Harraway and wife, Dunedin lawyer Anita Chan, for an undisclosed sum.
The pair formally take over next week. They plan no changes and will retain up to 14 full-time and part-time staff required at the height of summer, for the seven-day-a-week, year-round operation.
Mr Harraway said his nature storytelling experience, in film for NHNZ, and later marketing of its award-winning documentaries, would have a new but relevant focus with Monarch's tours.
''It's a return to telling stories, but in a more hands-on way. Friends from Hawaii, Tokyo and Amsterdam who've been on the Monarch all say they are blown away by our harbour,'' he said.
Ms Chan's experience in running a business would also be invaluable, backed up by Monarch Wildlife Cruises manager Lynne Hanley, who is in her 21st year with the company.
Mr Harraway said working with other tourism ventures, especially with cruise-ship passengers visiting Larnach Castle, Taiaroa Head and Penguin Palace, was important.
While just one cruise a day runs during winter, up to five a day are run at the height of summer, plus other private charter bookings.
Monarch
is laid up for annual maintenance for only up to a fortnight a year.
The pair plan to also look at ''themed cruises'', where a geologist, Maori historian, photographer or maritime historian will offer a specialist focus for passengers.
The high-profile Dunedin business has won several awards, including three from New Zealand Tourism, the Otago Chamber of Commerce and Westpac Business Awards, Tripadvisor and Rankers Excellence Awards for its online bookings.
Mr Milburn said he was pleased to be passing the business to a Dunedin-based couple. Mr Harraway has been in Dunedin since the early 1970s and worked initially for the Otago Daily Times, TVNZ and then for several decades with NHNZ. Ms Chan has practised law in Dunedin since 1985.
Mr Milburn said since taking over the business, passenger numbers had risen about 30%. Both turnover and profitability had doubled during the past 11 years, hitting a milestone of 4000 passengers a month in February 2004.
''It's been an absolute privilege to have owned and grown this amazing business for the last 11 and a-half years and to have been involved in showcasing the beautiful Otago Harbour and peninsula and its unique wildlife to thousands of people from around the world and New Zealand,'' Mr Milburn said.
Monarch had averaged about 20,000 passengers a year during the past 11 and a-half years, including a record more than 25,000 one year, while under the Blacks it had carried a total of about 220,000 passengers.
Mr Harraway said about 15% of custom came from cruise ships, 30% from New Zealanders and 55% from overseas tourists. Of the latter, 30% are Australian, 25% English, 22% European and 14% from the US.
''Asian tourists account for about 7% [of Monarch passengers] but that number is growing,'' he said.
There had been several highlights during the Milburns' tenure, from ongoing staff development and positive passenger feedback, to running and maintaining the vessel and being a ''significant part'' of New Zealand's maritime history.
While praising the support of many other local businesses, Mr Milburn said it was a highlight to have supported local schools, sports clubs and community groups by providing Monarch trip vouchers for fundraising, which averaged about $20,000 worth of cruises per year.
He discounted the suggestion of retirement in Wanaka, saying his wife Jenny had bought a fashion business and he was looking at other business opportunities.